Volvo EX90: electric XC90 successor to be unveiled on 9 November
The XC90's all-electric replacement will arrive in 2023, loaded with the latest safety and driver assistance systems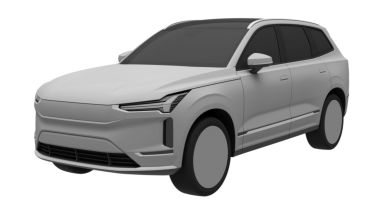 On 9 November, Volvo will unveil the all-new, all-electric EX90 SUV: the replacement for the Swedish brand's flagship seven-seat XC90. The large electric SUV is due on sale in 2023, when it'll face competition from the Tesla Model X, BMW iX and Kia EV9.
So far, the only details about the EX90 confirmed by Volvo are its name, and some of the safety and driver-assistance systems it'll have. As well as an array of five radars, eight cameras and 16 ultrasonic sensors, like parking sensors, the EX90 will also feature LiDAR technology, which stands for "light detection and ranging".
We saw LiDAR technology recently in the Lotus Eletre. It uses laser light to scan the road ahead and detect objects, the benefits of which are that it works at motorway speed, during the day and at night, unlike a camera-based system which requires light. Therefore, LiDAR offers more levels of protection regardless of driving conditions. 
Volvo says its LiDAR can pick up a tyre lying in the road up to 120 metres ahead of the car, or even spot pedestrians up to 250 metres down the road. In fact, Volvo claims with LiDAR accidents with severe outcomes can be reduced by up to 20%, with overall crash avoidance improved by 9%.
This LIDAR technology, combined with other sensors and cameras around the car, allow for other safety systems like pedestrian detection and lane keep assist, plus convenience features, such as surround-view when parking and semi-autonomous adaptive cruise control. The EX90 will also feature two cameras inside, trained on the drive, to monitor concentration and attention levels.
We've yet to see any official images of the EX90, but patent images filed with the European patent office indicate the styling will be largely unchanged from the current XC90 – not that that's a bad thing. We can see the familiar 'Thor's Hammer' headlight design from the XC40, XC60 and XC90 SUVs, however the EX90 will replace their vertical tail-lights with a full-width light bar. Being an EV, the traditional grille has also been covered up to reduce drag.
The EX90 will use the same SPA2 platform as the Polestar 3 SUV being unveiled in October 2022, and could therefore be offered with similar powertrain options. Every Polestar 3 comes with a 111kWh battery (107kWh of which is usable) for a maximum range of up to 380 miles, plus a dual-motor setup for all-wheel drive and around 500bhp. A maximum charge speed of 250kW has also been floated, which could mean a 10-80% charge in 30 minutes if true.
We've yet to see inside the EX90, or receive any details about the cabin. However, it may take some cues from Volvo's 2021 Concept Recharge (above) that previewed its forthcoming flagship EV. The coach-doored concept featured a new 15-inch infotainment screen and a variety of sustainable materials, including responsibly sourced Swedish wool and recycled fibres. 
An updated version of the outgoing, plug-in hybrid XC90 will remain on sale in the UK for some time, alongside the EX90. But, the EX90 will be the first in a new generation of electric Volvos. The company has already trademarked the names EX60, EX40, ES60, ES90, EV60 and EV90, potentially for use on zero-emissions versions or replacements for its other SUVs, saloons and estate cars.
Aside from new models, the brand has already revealed that its third generation of EVs will have their battery packs integrated into the floor for improved efficiency and vehicle stiffness. Volvo announced in 2021 that it's working with Swedish battery company Northvolt to develop lithium-ion battery packs that are 50% more energy-dense than those used in electric cars, promising to offer double the range from the same size battery.
Using this technology, Volvo is targeting ranges of up to 621 miles from its production electric cars before 2030. Volvo also estimates that charging times will be cut in half by 2025 thanks to improvements in battery technology, electric cars' software and charging technology.
New 2022 Mercedes GLC plug-in hybrid now on sale from £62,210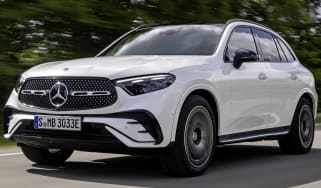 New 2022 Mercedes GLC plug-in hybrid now on sale from £62,210
Complete guide to the Gridserve (formerly Ecotricity) Electric Highway charging network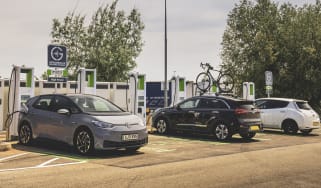 Complete guide to the Gridserve (formerly Ecotricity) Electric Highway charging network
Need to charge your electric vehicle on the Gridserve Electric Highway network? Here's how it works, how much it costs and how to pay
Top 10 best seven-seater electric and hybrid cars 2022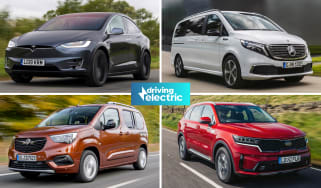 Top 10 best seven-seater electric and hybrid cars 2022
If the regular crop of electrified SUVs and family cars don't provide enough practicality for you, then take a closer look at the range of electric an…
Top 10 best electric cars 2022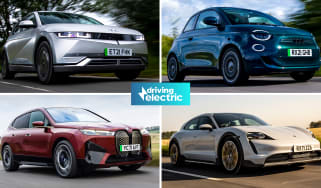 Top 10 best electric cars 2022
Here, we run through our favourite new electric cars that you can buy right now in the UK…