Volkswagen ID.4 running costs
Electric power means fuel costs are low, and company-car tax rules mean the Volkswagen ID.4 is a very tempting business choice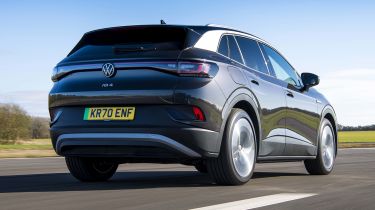 | Insurance group | Warranty | Service interval | 2021/22 company-car tax cost (20%/40%) |
| --- | --- | --- | --- |
| 30 | 3yrs / 60,000 miles | 2yrs / unlimited miles | From £81 / £163 |
The introductory Volkswagen ID.4 1st Edition costs £40,800, while the standard 'Pro Performance' models start at £41,570 for the Life trim level, rising to £45,520 for the Family and £49,990 for the Max.
That means this is a more expensive car than a 64kWh Kia e-Niro, and significantly pricier than a Citroen e-C4. However, it's quite a bit cheaper than the Ford Mustang Mach-E, which is a close rival in 75kWh battery form.
All this means the ID.4 is somewhere in the middle of the electric family SUV market right now – it's not the cheapest car around, but it's also not at the more expensive end of the scale, either. Company-car tax rules mean that the ID.4 has a Benefit-in-Kind rate of just 1% for the 2021/22 tax year, rising to 2% in 2022/23. It's also exempt from the London Congestion Charge until 2025.
Volkswagen ID.4 insurance group
The only version of the ID.4 that's available at the moment has an insurance group rating of 30, which is on par with similarly powerful electric cars such as the Nissan Leaf and Volkswagen ID.3. You can buy fixed-price insurance from Volkswagen, which won't go up or down in price over the first three years, though you're not tied into a contract so you can always change your cover if it becomes cheaper elsewhere  later on.
Warranty
Volkswagen offers a three-year/60,000-mile warranty on all its cars, plus the batteries are covered for eight years or 100,000 miles. These are okay, although a Kia e-Niro comes with a seven-year warranty from the factory and a Hyundai Kona Electric gets five years of cover as standard.
Servicing
You might be used to sending your combustion-engined car for a service every year, but the ID.4 only needs to be looked at every two years – as electric cars have far fewer moving parts. This is another area where you'll save money compared to running a petrol or diesel car.
Road tax
Company-car tax is notably low on electric cars, but you also don't have to pay vehicle excise duty (VED), otherwise known as road tax. Note that you do have to 'tax' the car each year, but there's no actual charge to do this and it can be done online very easily.