New Volkswagen ID.7 brings the fight to the Tesla Model 3
Volkswagen's new flagship EV will eventually offer up to 430 miles of range, but not just yet
Order books for the Volkswagen ID.7 have opened in the UK, with the brand's new flagship EV starting from £55,570 – close to £6,000 more than the facelifted Tesla Model 3 Long Range. 
The only model available to order right now is the ID.7 Pro Launch Edition, which offers up to 384 miles of claimed range from one charge of its 77kWh battery. It feeds a single electric motor that drives the rear wheels and produces 282bhp, with 0-62mph in this all-electric alternative to the Passat taking 6.5 seconds. 
At least the launch edition of the ID.7 comes generously equipped with 19-inch alloys, LED headlights, a 15-inch central touchscreen with Apple CarPlay and Android Auto, an augmented-reality head-up display, a wireless smartphone charging pad plus four USB-C charging ports, heated front seats, ambient lighting and a plethora of driver-assistance systems. These include adaptive cruise control, autonomous emergency braking, driver drowsiness monitoring and a reversing camera. 
We expect the ID.7 will be offered in a wider range of trim levels after the initial launch, with potential for a slightly less expensive entry-level specification. However we do know that the ID.7 will be available with a larger battery in 2024, boosting its claimed range to around 430 miles. If true, that would not only trump the facelifted Model 3's maximum range, but the larger Tesla Model S's too. 
Volkswagen is also introducing an estate car version, called the ID.7 Tourer, in 2024. This will offer up to 545 litres of boot space, or 1,714 litres with the rear seats folded down.
Volkswagen ID.7 range, battery and charging
The Volkswagen ID.7 is a zero-emissions saloon billed by the brand as a range 'flagship', with its more obvious rivals being the Tesla Model 3, Hyundai Ioniq 6 and Polestar 2. We've already driven a prototype – read on for our first impressions.
The ID.7 Pro available at launch utilises a 77kWh battery – the same size as the one fitted to the recently updated Volkswagen ID.3 – and, according to VW, offers a range of up to 384 miles. That's more than you get from the Ioniq 6 or any version of the BMW i4, just not quite as far as the equivalent Tesla Model 3 or Polestar 2 can travel before running out of juice. 
The ID.7 Pro's 175kW maximum charging speed doesn't match those of its Tesla or Hyundai rivals either, but is still quick enough for 10-80% top-up in less than half an hour from a suitably powerful ultra-rapid charger. When it comes to charging at home, it'll take a typical 7.4kW wallbox around 12 hours to fully replenish the ID.7 Pro's battery. 
Not to be left behind by the Model 3 or Polestar 2, Volkswagen has confirmed a bigger battery will be available in the ID.7 next year. The forthcoming ID.7 Pro S will offer roughly 430 miles of range according to VW, as well as a slightly faster maximum charging speed of 200kW.
Motor and performance
The ID.7 Pro's single rear-mounted electric motor produces 282bhp and 545Nm of torque – enough for a 0-62mph time of 6.5 seconds and a 112mph top speed. 
Partnership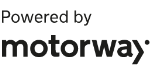 Need to sell your car?
Find your best offer from over 5,000+ dealers. It's that easy.
If you're after something more peppy, a high-performance ID.7 GTX model has been teased by the German brand. Very little is known about the ID.7 GTX at the moment, although Volkswagen has confirmed the car will get the brand's "latest drive generation" technology and a dual-motor powertrain for all-wheel drive. We expect the ID.7 GTX will produce 335bhp – the same as the most potent version of the Cupra Tavascan that sits on the same MEB platform.
Design and interior
Of course, the ID.7's projected range wouldn't be possible without the car's sleek silhouette. Like the BMW i4, the ID.7 adopts a 'fastback' bodystyle, with a sloping roofline and hatchback bootlid. Several tie-ins to other models in Volkswagen's 'ID.' electric car range can be found in the form of a front LED light bar and flush door handles. The latter, along with some specially-designed wheels, should help reduce the ID.7's drag coefficient even further.
On the inside, the ID.7 debuts the next generation of VW electric car interiors, all centering around a large 15-inch touchscreen. This controls the majority of the car's functions and is paired with a small digital instrument cluster and 'augmented reality' head-up display.
Illumination plays a big role in making the ID.7's interior feel a step up from other electric VWs such as the ID.5 coupe-SUV: there's four-stage ambient lighting, while the touch-sensitive climate controls are now backlit – unlike on the smaller ID.3 hatchback. An optional panoramic sunroof is designed to bring natural light into the cabin, and can be made opaque at the press of a button thanks to a 'polymer-dispersed liquid crystal' construction.
The ID.7 measures 4.94 metres long, 1.86 metres wide and 1.53 metres tall, making it larger than its chief rival, the Model 3. The ID.7's 2.97-metre wheelbase is longer, too, which should pay dividends when it comes to cabin space.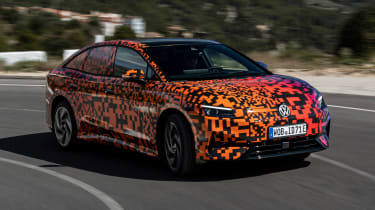 Volkswagen ID.7 prototype drive
We were excited to get the call to drive the ID.7 as, from the sounds of things, Volkswagen has appeared to address many of the issues that have plagued the rest of its ID-badged lineup. The car we got to drive was described by the team from VW as "90 to 95% finished", so in other words, it'll give us a good idea on what we can expect from the production model when we get to drive it later this year.
First things first, we must address the material quality of the cabin, as we've slated previous electric VWs for being littered with plastic trim that is more befitting a £40 Fisher Price toy than they are a £40k electric car. Thankfully, things have improved for the ID.7, with plenty of soft-touch materials dressing a more intelligently thought-out cockpit. Volkswagen also claims that the ID.7's ergoPremium seats are constructed using up to 70% recycled materials, with the brand aiming to go fully animal-free sometime in the near future.
Past grievances aside, getting out on the road it's clear from the outset that Volkswagen has designed the ID.7 to be as comfortable as possible, which is ideal given its projected 435-mile range allows for much longer motorway stints than most other electric cars. The steering is disconcertingly light, however; switch the car into Sport mode and things weight up nicely. 
Despite its supple suspension, the ID.7 is composed in the corners, with very little body lean. This, partnered with an ability to change direction quickly means we think it could offer a decent level of enjoyment down a twisty road.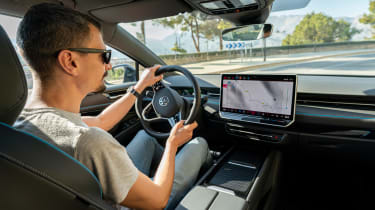 The car we drove was powered by a single rear-mounted electric motor producing 282bhp. On what is essentially the ID.7's petrol-powered counterpart, the Arteon, this figure would be rather impressive. However, on the two-tonne-plus ID.7, it can only be described as 'adequate'.
Unlike most electric cars that deliver all their power instantly, the ID.7 accelerates in a more progressive, almost combustion engine-like fashion – something we're sure many owners unfamiliar with EVs will like. Regardless, we expect this model to be the biggest seller, with a dual-motor variant with more power destined to arrive soon.
For now, all the signs seem to be pointing towards the ID.7 being a strong rival for the pre-established Tesla, Polestar, Hyundai – and even, to an extent, BMW – competition. Only time will tell whether it will be able to pave the way for future success for the German stalwart in the electric car market – something of particular importance, given 10 new Volkswagen EVs are expected to arrive by 2026.
MINI Cooper Electric: pricing and specs for British-built electric supermini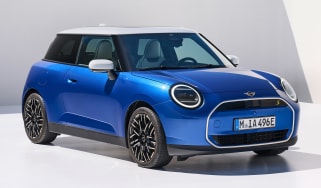 MINI Cooper Electric: pricing and specs for British-built electric supermini
Electric Renault 5: prices, 2024 launch date and teaser images of the MINI Cooper rival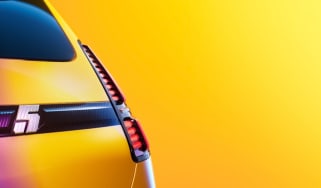 Electric Renault 5: prices, 2024 launch date and teaser images of the MINI Cooper rival
DrivingElectric Awards 2024: the winners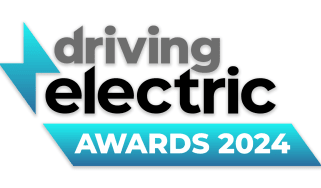 DrivingElectric Awards 2024: the winners
We celebrate the very best products in the EV world
Tesla Cybertruck: pricing and specs for Elon Musk's electric pickup truck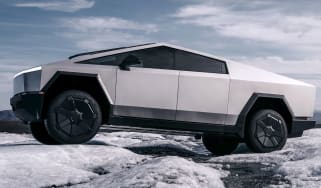 Tesla Cybertruck: pricing and specs for Elon Musk's electric pickup truck
The Tesla pickup truck is now on sale, with a range of up to 340 miles and a starting price of just over $60,000