Volkswagen ID.3 R: VW Motorsport to develop performance road-car battery
Technology developed for ID.R motorsport project to feed into upcoming electric road car from VW's 'R' division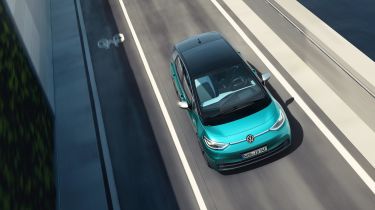 Volkswagen will call on the expertise of its Motorsport division to develop the battery for the first electric model from its high-performance 'R' sub-brand, it has been revealed.
Speaking at of the GP Ice Race event in Zell am See, Austria, where VW revealed an eR1 electric Golf concept (below) using the drivetrain from its record-breaking ID.R hillclimb car, Volkswagen R boss Jost Capito said that Volkswagen Motorsport would apply experience gained from the ID.R programme to develop a battery suitable for high-performance road cars.
He said: "I believe that our Motorsport guys doing their own batteries in-house is a big advantage we have; brands competing in series like Formula E are given a standard battery. It's not just about the battery itself, it's how the battery is run and how they get power to the motors. It's easy to get the power output of an electric motor to the level you want, so it's batteries, battery management and cooling that will be the big differentiators when it comes to high-performance electric road cars."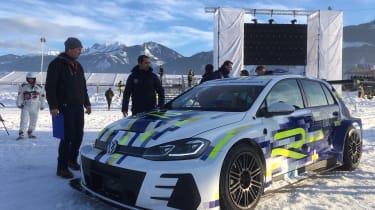 Capito also told DrivingElectric that the performance parameters of the forthcoming model, which will sit on the VW Group's 'MEB' dedicated electric-car platform, have yet to be defined, and will not necessarily be exactly equivalent to an internal-combustion model such as the Volkswagen T-Roc R or forthcoming Mk8 Golf R.
"It's still being defined," he said. "It won't be a straight copy of what we have now. There might be things that are less exciting, things that are more exciting. But what we want to keep doing is having exciting products, it just might be a different excitement to what we have now, but it has to be something that car enthusiasts still like.
"We'll continue the philosophy of basing R models on standard Volkswagen production cars. So we'll see what the MEB platform can give us and what technology the ID.R can give us and then see what package we can do. We believe you need the feeling of driving a car; 0-60 times are overrated, because you do it maybe once or twice and it's done. What you need is good 60-120, 80-120 acceleration, and we have to consider range and charging times, too."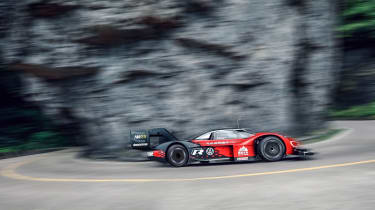 Volkswagen ID.3 R being "actively considered"
Speaking to our sister title Auto Express at the Frankfurt Motor Show in 2019, Christine Leuderalbert, Volkswagen's e-mobility product marketing specialist, said: "We're actively considering [a high-performance ID.3] but we need to do some work on how an electric car can also be a performance car.
"We know electric vehicles have excellent acceleration, but we need to look at how the rest of the package would affect the car's efficiency."
At launch, the most powerful version of the standard ID.3 will make 201bhp from a single electric motor, mounted at the rear of the car. It's possible the addition of a second motor on the front axle could be used as a way to create a more powerful, grippier version of the ID.3, analogous to the petrol-engined Volkswagen Golf R.
Future of R brand is electric
Jurgen Stackmann, member of the Volkswagen management board for sales and marketing, has said that the R brand will have to focus on electrification in the future.
"If there is a future for R, it must be electric," he said. "It's very simple. We're really thinking what to do with these cars, because if you're on the way to zero emissions, it's hard to imagine that you load the world with more powerful cars. So we have to work to put those on the road, but clearly the future of R must be electric and [R boss] Jost Capito's job is to find a solution for that. We need to define what is R in the electric world; it's different to what we know of in a Golf or any other car.
"First will come plug-in hybrid, which is already coming with Touareg. That's something where we have the answer. For the rest, we need to find smart, sustainable answers. The plan is filled with great R models going forward, but you have to accept that after this, you just can't plough on. You'd look at us and ask what we are doing here. We have to find good answers for that and that work is happening now. 
Best electric mopeds 2021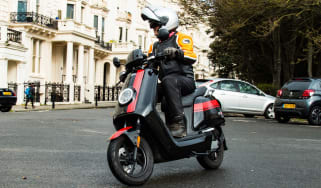 Best electric mopeds 2021
We run down the best electric mopeds you can buy, from some mainstream and some not so well known names
Best plug-in hybrid SUVs 2021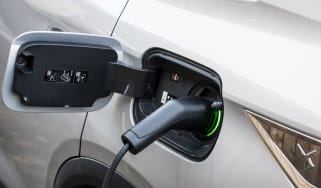 Best plug-in hybrid SUVs 2021
A good plug-in hybrid SUV should combine low running costs with excellent practicality. These are some of the best on sale right now
Best electric SUVs 2021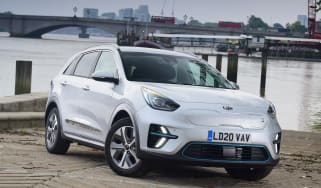 Best electric SUVs 2021
Our selection of the best electric SUVs you can buy features cars that promise to mix style, practicality and rock-bottom running costs