Vauxhall Grandland X Hybrid4: prices, specs and on-sale date
Front-wheel-drive variant added to Vauxhall Grandland X Hybrid4 plug-in hybrid range, priced from £32,390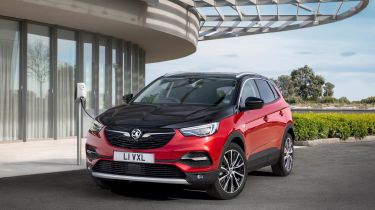 A front-wheel-drive version of the new Vauxhall Grandland X Hybrid4 plug-in hybrid SUV has been added to the line-up.
Priced from £32,390, it undercuts the existing all-wheel-drive models, with a slightly detuned version of the Hybrid4 1.6-litre petrol engine producing 178bhp. With a 108bhp electric motor on the front axle, combined power comes to 222bhp.
Vauxhall says the front-wheel-drive Grandland X Hybrid4 will achieve 34 miles of electric-only range from its 13.2kWh battery, while initial tests suggest it'll be capable of 192mpg. CO2 emissions of 35g/km are expected, with the car due in showrooms in April 2020.
Prices for all-wheel-drive variants start from £35,590, with four trim levels available: entry-level Business Edition Nav Premium, SRi Nav (£40,300), Elite Nav (£42,200) and Ultimate Nav (£45,450).
In this guise, the 1.6-litre turbocharged petrol engine produces 197bhp, while a pair of electric motors bring maximum system output to 296bhp. 0-62mph should therefore take 6.1 seconds.
With a motor each on the Hybrid4's front and rear axles, four-wheel drive is available on demand. Officially it emits 36g/km of CO2 – good news for company-car drivers and those wishing to avoid the London Congestion Charge – while fuel economy is rated at 166mpg.
Of course, owners will only get remotely close to this figure by maximising their use of the 13.2kWh battery, which returns 32 miles of electric-only, zero-emissions range on full charge.
There's a standard 3.3kW on-board charger, which can be upgraded to 6.6kW at extra cost should a customer want faster charging. Using a 7.4kW home wallbox, Vauxhall says the battery can be topped up in under two hours.
Four driving modes will be offered: electric, hybrid, AWD (all-wheel drive) and Sport. Electric is the zero-emissions setting, while hybrid applies the most efficient mix of electric and engine power for everyday driving. AWD gives permanent four-wheel drive for tackling rough terrain, and Sport frees up maximum performance at the cost of some efficiency.
The front electric motor is connected to an electrified eight-speed automatic gearbox, while the one at the rear incorporates a differential, allowing for four-wheel-drive traction when needed. Regenerative braking is also employed to feed energy back into the battery when slowing down.
In addition, buyers will get access to Vauxhall's Free2Move service, comprising 85,000 charging points across Europe. Locations are programmed in to the car's sat-nav, which has a journey planner function for calculating the most efficient route.
Key rivals for the Grandland X Hybrid4 include the big-selling Mitsubishi Outlander PHEV, as well as the Kia Niro PHEV, MINI Countryman Cooper S E All4 and Ford Kuga plug-in hybrid.
The forthcoming Citroen C5 Aircross PHEV, Peugeot 3008 Hybrid4 and DS 7 Crossback E-Tense plug-ins use the same technical underpinnings as the Vauxhall.
Where can I buy hydrogen and where is my nearest hydrogen filling station?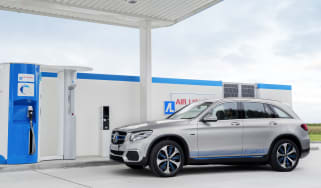 Where can I buy hydrogen and where is my nearest hydrogen filling station?
A guide to where you can find UK hydrogen fuel stations for filling up a hydrogen fuel-cell car
Why owners love the Mitsubishi Outlander PHEV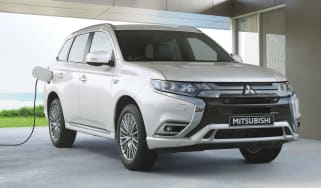 Why owners love the Mitsubishi Outlander PHEV
Thinking of switching to a plug-in hybrid? Plenty of owners we surveyed can vouch for the Mitsubishi Outlander PHEV
Complete guide to Pod Point home chargers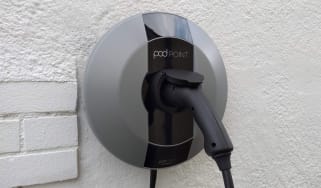 Complete guide to Pod Point home chargers
Find out all you need to know about the Pod Point Solo home wallbox charger for electric cars