Toyota Yaris Hybrid running costs
Low CO2 emissions, great warranty and top reliability potential bode well for the Toyota Yaris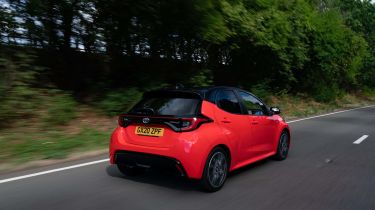 | Insurance group | Warranty | Service interval | 2021/22 company-car tax cost (20%/40%) |
| --- | --- | --- | --- |
| 13-14 | 5yrs / 100,000 miles | TBC | From £868 / £1,736 |
Toyota boasts a strong line-up of aftersales support that includes a competitive warrant and simple servicing plans; this, paired with the Yaris' likely reliability and relatively low CO2 emissions (compared to its non-electrified rivals) mean it could prove cheap to run despite its punchy list prices.
Toyota Yaris Hybrid insurance group
The latest Yaris Hybrid falls into insurance groups 13-14, a few higher than its predecessor, which was rated in group 8.
Warranty
Like all Toyota cars, the Yaris is covered by a five-year/100,000-mile warranty. The Yaris also benefits from an additional year or 10,000 miles of hybrid battery cover, which can be renewed up to the 15th anniversary of the car's registration. Roadside assistance can be added for £7 per month.
Servicing
Exact service intervals have not been announced but Toyota offers a number of service plans to spread the cost. A hybrid-specific service – which costs the same as for a non-electrified model – is offered, and is a requirement to keep the aforementioned battery cover rolling over. Toyota service plans start at £15 per month.
Road tax
The Toyota Yaris boasts low CO2 emissions figures for its class, with averages below 100g/km. The car's 92 to 98g/km range (depending on trim and wheel size) equates to a first-year road-tax payment of £135 (rolled into the on-the-road price), followed by annual payments of £140.
Company-car users benefit from a 21% BiK (Benefit-in-Kind) tax rate during the 2021/22 financial year, which equates to £868 a year for 20% taxpayers, or £1,736 for 40% payers. For those looking for the ultimate in low-BiK small-car motoring, however, an electric supermini such as the Peugeot e-208 could be a more cost-effective option – zero-emissions cars like this are zero-rated for BiK in the current financial year.