Toyota RAV4 Plug-In hybrid: prices, specification and on-sale date
Plug-in version of RAV4 hybrid to offer 302bhp, 22g/km and 46-mile electric range, with prices now starting at £46,495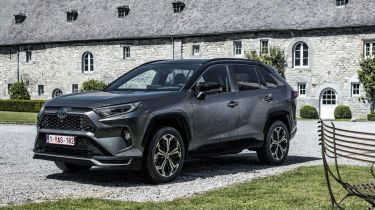 Toyota has introduced a new, entry-level trim level for the plug-in hybrid version of the Toyota RAV4 SUV. Prices for the range now start at £46,495 for the new Design trim, which sits below the £47,395 Dynamic trim level and better-equipped Dynamic Premium which starts at £50,895.
The RAV4 Plug-in Hybrid went on sale in the UK in early 2021, offering 22g/km CO2 emissions, a 46.6-mile electric range and a 302bhp power output for a 0-62mph time of 6.2 seconds. The plug-in hybrid SUV unsurprisingly promises greater electric driving range and stronger acceleration than the standard, non-plug-in version of the car and will be capable of travelling at up to 84mph in pure-electric mode.
That 302bhp total power output from the engine and electric motor makes this the most powerful RAV4 yet. The plug-in hybrid uses the same 2.5-litre petrol engine as the existing RAV4, but a new, high-capacity lithium-ion battery has been developed for the car.
Toyota claims very impressive economy and CO2 emissions for the RAV4: up to 282.5mpg and just 22g/km of CO2. These figures trump every one of the RAV4's direct rivals, including the Peugeot 3008 Hybrid (217mpg, 29g/km), Ford Kuga Plug-In Hybrid (202mpg, 32g/km) and Vauxhall Grandland X Hybrid (192mpg, 34g/km). This is great news for company-car users, whose running costs depend heavily on low CO2 emissions.
The impressive claims continue with the car's electric range, which is pegged at 46.6 miles from its 18kWh battery – a decent chunk more than the majority of its rivals, whose claimed figures sit in the 30s in most cases. However, exactly whether this is achievable in real-world driving is yet to be seen. Charging from a domestic supply will take two and a half hours, Toyota claims, while four driver modes enable full control over whether to use the battery's energy, save it or combine it with the petrol engine's output in the most efficient possible fashion.
The RAV4 Plug-in Hybrid features a reversing camera, front and rear parking sensors, 18-inch alloy wheels, LED projector headlights and a nine-inch touchscreen that comes with Apple CarPlay or Android Auto. As well as a power tailgate and a host of safety features, including blind spot monitoring and rear cross traffic alert.
RAV4 Plug-In Dynamic models get 19-inch machined-face alloy wheels, a nine-inch multimedia touchscreen, access to connected services, heated front and rear seats and LED projector headlights. The Dynamic Premium adds black leather upholstery, front seats with ventilation and memory settings, a panoramic roof, a head-up display and a JBL premium sound system.
Luggage capacity will be 520 litres – 60 litres down on the regular RAV4 – with the battery being located entirely under the floor to minimise intrusion. Elsewhere, the heat-pump air-conditioning initially developed for the current Prius Plug-In has been adapted for use here. This sees the hybrid battery being cooled by the air-conditioning's refrigerant and also absorbs heat from the air outside to warm the cabin when needed.
Electric Ford Puma could become the UK's best-selling EV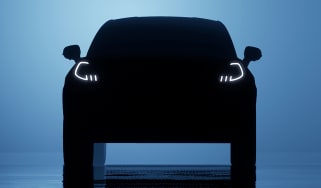 Electric Ford Puma could become the UK's best-selling EV
The Ford Puma EV is set to arrive in 2024 with a range of over 200 miles and a tweaked exterior design
Vauxhall Corsa Electric facelift brings sharp new look and tech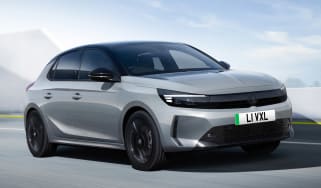 Vauxhall Corsa Electric facelift brings sharp new look and tech
Vauxhall's top-selling electric supermini has been updated for 2023, now getting the 'Vizor' from the Mokka Electric
BMW i5 breaks cover as 5 Series EV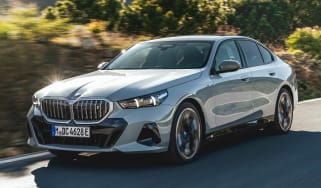 BMW i5 breaks cover as 5 Series EV
BMW has unveiled an all-electric version of its long-running 5 Series, with a range of up to 362 miles