Toyota Auris Hybrid (2013-2019) engines, drive & performance
The Toyota Auris Hybrid is easy to drive, but its handling lacks sparkle and gearbox is frustratingly unresponsive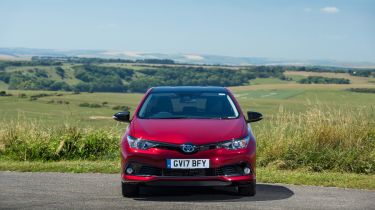 | 0-62mph | Top speed | Driven wheels | Power |
| --- | --- | --- | --- |
| 10.9s | 112mph | Front | 136bhp |
The Toyota Auris Hybrid is a very easy, straightforward car to drive, and will suit many as a fuss-free machine in which to get from A to B. However, rivals offer more than mere transport – the Ford Focus is far more engaging to drive, while purpose-designed hybrids like the Toyota Prius and Hyundai Ioniq feel less compromised by their petrol-electric power systems.
Toyota Auris Hybrid engine, 0-62mph and acceleration
The hybrid option was available with every Auris trim level. On paper, the presence of a 1.8-litre petrol engine seems promising for performance. However, you soon feel the consequences of this relatively large engine – the same as used by the Prius – being designed for economy above all else. Producing just 98bhp on its own, the petrol engine is boosted by an 80bhp electric motor. There's a lot of overlap between the effort of the two, though, so combined power is only 134bhp. It's only enough for a 10.9-second 0-62mph dash, which makes this Auris a little slower than the non-electrified 1.2-litre petrol version. Top speed is 112mph.
The engine also feels rather strangled by its continuously variable transmission (CVT) gearbox – effectively an automatic that only has a single, variable gear. If you accelerate hard, the engine revs will soar to the top reaches of the rev counter – and stay there until the desired speed has been reached. That can make progress rather noisy. Make infrequent demands for full power, though, and the Auris is far more relaxing, especially at low speeds where the car switches between near-silent electric mode and petrol power seamlessly.  
Handling
An easy car to drive, the Auris Hybrid is maneuverable on city streets, easy to place on the road and relatively comfortable over bumps. What it isn't, though, is especially agile. It's not a car you'd choose for a spirited drive along a favourite country road. While its steering is perfectly safe and its handling free of vices, it doesn't turn into corners with the eagerness of a Focus and leans more through bends, making life a little uncomfortable for passengers at higher speeds. In truth, the regular Auris isn't the most accomplished handler you can buy, and the extra weight of the bigger engine and hybrid system further blunts its responses.
However, stick to a more sedate pace and the Auris begins to shine with its sense of reassurance. It feels firmly planted to the road and the brakes are very sharp, helped by a regenerative system that harnesses the surplus energy during deceleration. The car's ride is well suited to long journeys, too, absorbing motorway expansion joints smoothly. Unfortunately, at the low speeds at which the hybrid system comes into its own, the suspension becomes less able to smother potholes – perhaps due to the firmer settings needed to cope with the hybrid system's extra weight.