Toyota Auris Hybrid (2013-2019) practicality & boot space
Interior space in the Toyota Auris Hybrid is sufficient rather than generous, but practicality isn't as compromised as some hybrids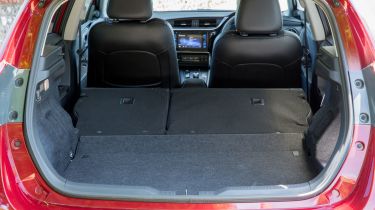 | Length | Width | Height | Boot volume (seats up) |
| --- | --- | --- | --- |
| 4,330mm | 1,760mm | 1,475mm | 360 litres |
The Auris Hybrid is an easy and practical car to live with. It's simple to drive and most families will find it sufficiently spacious to fit into their daily routine. But it didn't set any class standards when new, for either interior space or luggage compartment volume.
Toyota Auris Hybrid interior space, storage & comfort
The Toyota Auris hatchback was only offered with five doors, all of which open wide with a sensibly low sill. Access to the front and rear seats is relatively unimpeded, even in tight spaces such as multi-storey car parks. All but the tallest drivers will find it easy to find a comfortable position behind the wheel, thanks to driver's seat height adjustment and a steering wheel that adjusts for angle and reach.
A relatively high-set seat gives a good view out, and the windscreen pillars aren't too thick – although they're set quite far forward and can obstruct your view of the road. Leg and headroom throughout are no greater than average among cars in the Auris' class, and the latter is further depleted if you choose the optional panoramic sunroof.
The mechanical layout of the Auris means there's no bulky transmission tunnel passing through the car, so the centre rear seat passenger has somewhere to put their feet. The rear seatback angle can be adjusted for a more reclined seating position or a slightly enlarged boot. The Auris provides a generous array of interior storage cubbyholes, with sizeable door pockets, a pair of cupholders and a lidded storage box between the front seats.
Boot space
Clever design means that – unlike some hybrids – the electrified Auris doesn't sacrifice boot capacity in order to accommodate a bulky battery pack. It offers the same 360-litre boot as any other model in the range, which yields 428 litres of space if you load it right to the roof.
If you have a bulkier load to shift, the rear seats fold flat to free up a total of 1,198 litres of space. The Auris Hybrid was rather shown up by its Toyota Prius stablemate, though – the pioneering hatchback matched the Auris for boot space with the seats in place, but beat it with 1,633 litres when its rear seats were out of use.