Smart EQ ForTwo Cabrio (2014-2019) range, battery & charging
Topping up the Smart EQ ForTwo Cabrio's batteries is easy, but the result is a limited real-world range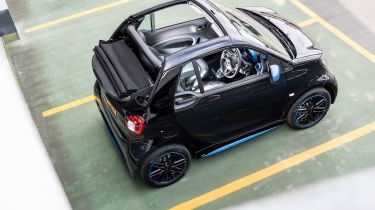 | Range | Battery size | Wallbox charge time | Fast charge time |
| --- | --- | --- | --- |
| 70 miles | 17.6kWh | 2hrs 45mins (0-100%, 7.4kW) | 55mins (0-100%, 22kW)* |
*with optional 22kW on-board charger
Like its coupe sibling, the Smart EQ ForTwo Cabrio is designed for urban driving. It's easy to drive around town, with instant zip from the silent electric motor and a tight turning circle that makes it simple to park and manoeuvre. Yet the relatively short electric range means you'll need somewhere you can plug it in on a regular basis, which isn't always easy for urban dwellers. If you can, it's a great car for city living.
Smart EQ ForTwo Cabrio range
The Smart EQ ForTwo Cabrio uses the same batteries and electric motor as the Coupe version, which means it'll manage an identical 70-mile range – even with the roof down.
While clever tech is thin on the ground, the Smart does get an eco button, which limits the amount of power on offer – in turn giving you more miles per charge. However, it's worth noting that if you make good use of the Smart's instant acceleration, or drive around with the air-con on full blast, the car's range will plummet.
Charge time
Depending on the type of charger you use, it is possible to top up the Smart EQ ForTwo Cabrio from zero to 80% in just 40 minutes. To do so, you'll need a powerful home wallbox or a rapid public charging point. Using a three-pin plug will take about six hours. Every version comes with charging cables for charging at home, as well as when you're out and about.