Smart EQ ForTwo Cabrio (2014-2019) interior & comfort
Perceived quality is on par with other electric cars in this part of the market, but can't match models from Mercedes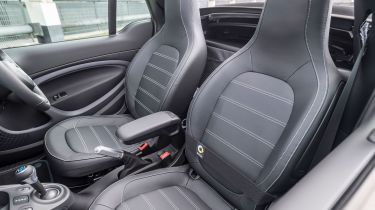 The Smart EQ ForTwo Cabrio is a uniquely (apart from the EQ Coupe, of course) dainty and dinky city car. Built by Mercedes' parent company Daimler, it feels plusher than a Renault ZOE, but can't match the latest Mercedes A-Class for perceived quality. Quality is adequate for a car in this class, in fact, but it won't win any prizes for plushness.
There isn't much in the way of technology or unique features, but everything's where you'd expect it to be and the car's compact dimensions mean visibility is excellent. They also mean the Smart can bounce around a bit, especially over speed bumps. It's not a deal-breaker, though; the ForTwo's convenience far outweighs any compromises with regards ride quality.
Smart EQ ForTwo dashboard
There's no particular flair to the dashboard design in Smart's EQ ForTwo Cabrio. That said, it's fairly functional and easy to use, with all the controls within easy reach.
Every version of the Smart EQ ForTwo comes with a central touchscreen infotainment display, which is pre-programmed with a TomTom sat-nav system. The graphics aren't the most modern, however, and the system is lifted wholesale from the Renault Twingo and ZOE models.
In addition to the infotainment system, there's also a small digital screen behind the steering wheel, which throws up trip information such as fuel economy and remaining range. There's a big speedometer, and another dial showing how much charge is remaining.
The air-conditioning is operated by a variety of simple-to-use buttons, including a sliding switch for the temperature. Bear in mind that using the air-con on a hot day will see your predicted range plummet.
Equipment, options and accessories
As you'd expect for a small car costing more than £20,000, every Smart EQ ForTwo Cabrio comes with a reasonable kit list. Every model gets 15-inch alloy wheels, parking sensors and heated seats, as well as that folding electric roof. The latter puts the electrified EQ in a class of one. In addition, every version comes with electric windows, central locking and a DAB radio.
If that's not enough, you can opt for the Premium Plus pack, which boasts ambient lighting, LED tail-lights, a reversing camera and automatic wipers. Nightsky tops the range, with electric blue details, bigger wheels and a special styling pack.
Infotainment, apps & sat nav
Electromobility may be the future, but the Smart EQ ForTwo's cabin isn't exactly futuristic. Every car comes with a central touchscreen, but the system is lifted straight from a Renault Twingo, with dated graphics and limited functionality.
You can connect your smartphone via USB, and there's AM, FM and DAB radio, but the TomTom sat nav looks ancient alongside some of parent company Mercedes' most modern set-ups. For all its failings, the Smart's infotainment system is at least pretty easy to operate.
As well as all of this, owners can make use of the Smart EQ Control smartphone app. This gives you access to the car's computers, showing things like the state of charge and remaining range. It also offers information on some of the car's key functions.