Skoda Superb iV: Living with it
What does the spacious Skoda Superb gain, and lose, when you throw a plug-in hybrid powertrain into the mix?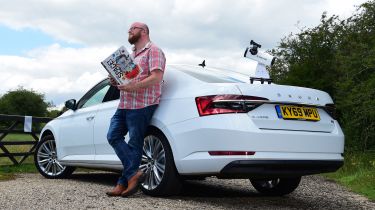 Report 2: Putting it through its paces
In the Milne household, lockdown has meant finding new hobbies and rediscovering old ones. And space has played a vital role in that, in more than one way. 
In terms of a socially-distanced way out of the house, what could be better than loading up my Skoda Superb with a compact telescope, a flask of coffee and some astronomy books, and heading out to the back of beyond for a few hours of stargazing? It's a great way to get away from it all, and the bootlid is even big enough to perch the telescope on. 
Those dark nights have been a great test of the Superb's matrix LED headlights, too. I'm a huge fan of the technology, which allows you to use the main beam more of the time without dazzling traffic. Even more pleasingly, they're standard on my SE L model.
But I'm not just talking about space in the celestial sense, either. Our Superb was loaded to the gunwales several times last year for family camping trips, and with two young children, both requiring child seats and toys, every millilitre of space was vital. And pushing the Superb iV to the limit in this way laid bare its biggest shortcoming: the reduced boot capacity compared to the petrol and diesel models.
The regular Superb's boot measures a gargantuan 625 litres, but 140 litres is lost to the hybrid powertrain gubbins, resulting in a capacity of 'just' 485 litres for the iV, which is satisfactory rather than stellar. However, Skoda has a solution: for £210, it'll sell you a set of roof bars and, for a further £375, a 380-litre roofbox. Both are straightforward to fit, and should take two people about 10 minutes. I was impressed with how little wind noise it all generated, with no whistling and only a slight grumble in crosswinds.
Even with 865 litres in total, it was a huge task to pack our kit for a summer week away, despite using extra underfloor boot storage and every cubby from the centre console to the doors. The electric tailgate is also a worry with a chock-full boot, because it's hard to shut it gently to coax any protruding luggage out of the way and avoid a shattered window. Even so, the car was an excellent camping companion.
Comfortable seats, a quiet cabin and simple, straightforward smartphone connectivity meant the three-hour each-way journey was as easy as it gets. Around New Forest roads the Superb was sublime, offering the comfortable, hushed driving experience that a family holiday demands. The typically British weather meant the umbrellas stowed in the front doors saw their first outing, and the plastic clip in the windscreen allowed us to clearly display another central part of any holiday in Britain – the parking ticket.
I'm rather ashamed to admit that over the last month or so, the Superb has run more or less exclusively on petrol, because a mix of poor weather and driveway logistics has meant the iV has yet to become acquainted with my Pod Point wallbox. Even so, it's still returning 45.1mpg, which I think is pretty healthy given that the Superb weighs 1,752kg – and an awful lot more laden with camping kit. The only other thing? In the wintry weather recently the lack of a rear windscreen wiper has become a bit of an issue. It's a no-cost option on every Superb, which seems like a strange decision.
Report 1: Our Skoda Superb iV
Smooth, stylish and spacious. Everything you could want from a family saloon, the Skoda Superb delivers. And economical as well, if you choose one of the diesels. But could a plug-in version add an extra level of comfort and refinement to the Superb's already well-balanced package? We're spending an extended period with one to discover if it is.
Partnership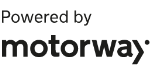 Need to sell your car?
Find your best offer from over 5,000+ dealers. It's that easy.
Happily, my first impressions are great. Mostly because the Superb iV still looks, feels and drives like any other model in the range. The only give-aways being the iV badge and the solid front 'grille', which hides the well positioned charging port. Other than that, it's just another Superb. 
The same is true inside, as the only differences are a few PHEV-specific displays on the optional Virtual Cockpit fitted to our test car. What has changed is the boot capacity; down 140 litres due to the battery. Although, at 485 litres it's hardly compromised. Plus, there's underfloor storage to keep the charging cables out of the way, a feature that's not as common among PHEVs as you might expect.
And thanks to the size of the battery, the Superb iV has an official electric range of 34 miles. Which hasn't been hard to match if I drive gently and make use of the most aggressive regenerative braking mode. Impressively, it's not been hard to keep fuel economy around 50mpg most of the time, even without religiously charging the car, and that's despite the iV weighing more than 200kg on top of the lightest Superb. 
The first thing that struck me is that the Superb is both sensationally refined and supremely comfortable. My SE L model, although the entry-point to Superb iV ownership, is still the pick of the range. Standard kit includes excellent Matrix LED headlights, heated leather seats, a powered bootlid and an eight-inch touchscreen.
That last feature is worth dwelling on for a moment. It's slick and responsive, and the menus are logically laid out. It has myriad features, but the Superb's wireless Apple CarPlay setup that is, for me, a complete revelation. Apple's brilliant platform is instantly accessible as long as the phone is connected to the car via Bluetooth, and it has rendered the native sat-nav redundant for me. Although, while CarPlay operates wirelessly, there's no wireless charging, so topping up your phone's battery on the go still requires a lead.
My test car has a few easy-to-justify options, which despite a price hike earlier this year, keep the car as-tested under the £40,000 road tax threshold. The £395 LED Package Plus features ambient interior lighting, including some of the most effective puddle lights I've seen. The rear parking camera is a worthwhile £385, and the £475 Virtual Cockpit is a must-have feature. But, while the 19-inch alloys do look undeniably fantastic, the 40-section tyres give a slight brittleness to the ride that you might not expect.
It also must be said that the Superb's looks are a weak spot. It's far from ugly, but can seem a little oddly proportioned from some angles. And now I've set up a user profile for the Skoda Connect app, the system takes a bit too long to boot up. I'm not yet able to complete the registration, either, because it needs the unlock button to be pressed on two keys as a sensible security message. It's hardly a critical issue, although it would be nice to remotely monitor the battery charge.