Skoda Enyaq iV coupe: new variant of electric SUV spotted testing
The Skoda Enyaq iV range will expand with the addition of a coupe version, which has been snapped testing under a light disguise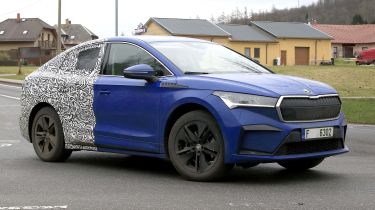 Skoda is set to add a sleekly styled coupe variant of its Enyaq iV electric SUV to its line-up of electrified models in the near future. Although the standard Enyaq iV hasn't yet arrived in showrooms, two prototypes of the coupe model (one blue, one red) have now been snapped by spy photographers out testing on public roads.
It has a similar shape to the Vision iV concept car that gave us our first glimpse of the Enyaq iV back in early 2019, albeit with some of the more futuristic elements toned down for production.
It differs from the standard Enyaq iV in much the same way its VW Group stablemate the Audi e-tron Sportback coupe does from the standard Audi e-tron, with a sloping roofline at the back instead of a more upright rear.
It's not yet known whether the coupe version of the Enyaq iV will be available with the same choice of powertrains and trim levels as the standard car; namely 62 or 82kWh battery capacities, as well as the choice of rear or four-wheel drive. Coupe versions of other models are often only offered in more expensive form in keeping with their more exclusive image, but it remains to be seen whether this will be the case with the Skoda.
The coupe could possibly offer a little more range than the standard car's 260-310 miles, due to being slightly more aerodynamic and efficient. Like the standard Enyaq iV, the coupe variant shares much of its under-the-metal technology with the Volkswagen ID.3 electric family hatchback and Volkswagen ID.4 electric family SUV.
No official launch date for the Enyaq iV coupe has been announced, but Skoda will probably want to leave some space following the beginning of standard Enyaq iV sales, so it could be the second half of 2021 before the coupe makes its debut. Its price is likely to start some way north of the standard car's £33,500 post-grant figure as well.
Skoda Enyaq iV prototype review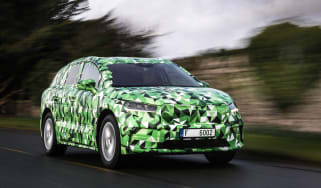 Skoda Enyaq iV prototype review
New BMW i4 2021: specs, range and on-sale date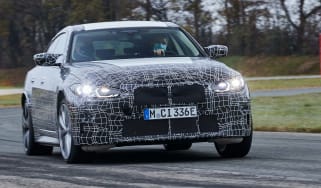 New BMW i4 2021: specs, range and on-sale date
The new pure-electric BMW i4 is coming soon, with the final phase of testing before its reveal currently underway
Best electric motorbikes 2021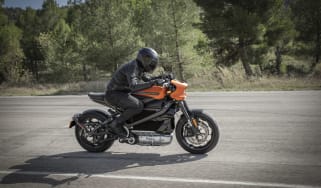 Best electric motorbikes 2021
More and more brands are getting in on the electric motorcycle action. Here's our pick of what's out there right now
Dacia electric car: new 2021 Dacia Spring production model revealed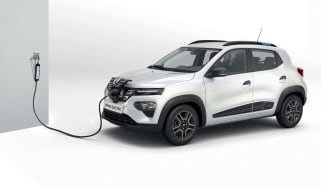 Dacia electric car: new 2021 Dacia Spring production model revealed
Cut-price Renault-based electric city car is set to be the cheapest zero-emissions model in Europe