BMW 330e vs Volvo S60 T8: running costs and warranty
High list prices are offset by rock-bottom running costs, especially for company-car drivers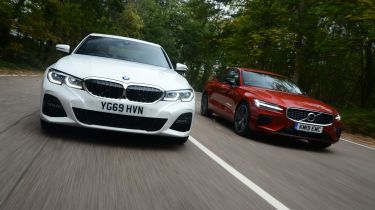 It only takes a glance at the list prices of these cars to see that the Volvo S60 costs a fairly astonishing £10,000 more than the BMW 330e. Monthly costs are similarly in the BMW's favour. The Volvo comes in at just over £700 a month on a 36-month contract with a £5,000 deposit and 10,000-mile annual limit, while the same terms brings the 330e M Sport in at £530 a month.
Granted, with powered seat adjustment, keyless entry and a head-up display standard on the Volvo but costing extra on the BMW, the price gap spec-for-spec isn't so big. But with both cars getting front and rear parking sensors, automatic wipers and LED headlights, heated seats, leather upholstery, climate control and more, you're not short of standard luxuries.
Plug them in regularly, and they're seriously cheap to run. Less than £1.50 will see you to a full battery charge in either, based on a standard domestic electricity tariff of 14p per kWh. Using off-peak tariffs can more than halve that. Charge up regularly, and you'll pay just 5p per mile assuming a 29-mile electric range – almost a third what you'll pay per mile for a petrol car doing 35mpg.
The BMW falls into insurance group 33 while the Volvo sits in group 42, and the Volvo also costs more to tax, as it exceeds the £40,000 'premium tax' barrier, which adds a £325 a year from the second to sixth year of ownership. Mind you, while the 330e M Sport scrapes under £40,000 in standard form, add so much as metallic paint and you'll be hit with the same tax hike. If you've got the willpower to resist any options, VED comes in at £140 a year for the BMW compared to £455 for the Volvo.
The Volvo is expected to hold 50.2% of its value after three year and 60,000 miles, while the BMW fares a little worse, at 45.6%. However, it's cash that matters rather than percentages and the BMW's much lower initial cost means you'll actually lose some £22,000 on the 330e in that time, where the Volvo's residual loss is close to £25,000. 
Both of these plug-in saloons are subject to 12% Benefit-in-Kind company-car tax thanks to their sub-50g/km CO2 emissions. The BMW is, of course, still cheaper than the Volvo. Its lower purchase cost sees company-car tax for a 40% taxpayer come in at £1,916 for the tax years 2020/21 and 2021/22, undercutting the S60 by £472 a year.
Both cars also get three-year warranties, with the BMW's being unlimited on mileage while the Volvo's ends at 60,000 miles. However, BMW only guarantees the battery for six years or 60,000 miles (albeit also guaranteeing battery performance of at least 70% within that period), while the Volvo's battery is covered against fault or failure for eight years or 100,000 miles, but with no performance guarantee.