Kia Soul EV vs MG ZS EV: verdict and specifications
The MG ZS is fantastic value and thoroughly recommendable for a short-hop lifestyle, but the Kia outshines it in all areas other than purchase costs and is still good value in its own right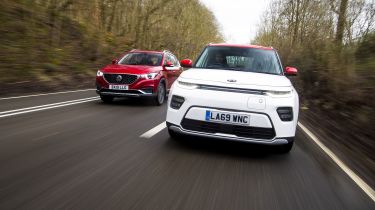 There's a big question of lifestyle here. Ultimately, if you don't spend a lot of time on the road and don't do regular long journeys, but want a roomy family car for the school run and more, the MG ZS EV really is exceptional value for money. In a market where electric cars do still seem pricey next to petrol alternatives, it's one electric car that offers good value even next to petrol and diesel alternatives.
Yet, to put it simply, you're always conscious of its money-saving ethos. Primarily the lack of charging functionality and climate control, as well as the noisy suspension and slow-responding infotainment, there are numerous small details that make sure you're always reminded of the money you've saved. 
And that's fine, because it's such a huge chunk of money, but the reality is the Kia Soul EV is the better car and it absolutely justifies its price. In fact, next to alternatives like the Nissan Leaf and Peugeot e-2008, it looks good value given the equipment, range and general breadth of its abilities. The Soul EV is certainly good enough to be the only car in a household, provided that boot space wasn't a problem, whereas the MG would likely be a more limited prospect on that front.   While both cars are recommendable for different reasons, the excellent Kia Soul EV is the resounding winner here.
1st: Kia Soul EV – 4.5 stars
The Kia is a fantastic electric car and will more than suffice for most families. Expensive PCP finance and insurance, and a boot that some families will struggle with, are the limiting factors. But beyond that, the range it offers, along with its equipment, comfort and slick, composed drive make it feel good value, even next to the MG. It's one of our favourite electric cars in any class.
2nd: MG ZS EV – 3.5 stars
The MG ZS EV feels like it needs a facelift already. Ideally, one that brings charging status lights that you can see, timed charging, a charger search function on the navigation and climate control. And a few less warning beeps and bongs, too. But at the price, even with these gripes, it still makes a seriously compelling prospect as a cheap electric family car.
Specifications
| Car | Kia Soul EV First Edition | MG ZS EV Exclusive |
| --- | --- | --- |
| List price (after grant) | £34,295 | £27,495 |
| Monthly finance (PCP / business lease) | £520* / £369** | £300* / £369** |
| Engine | Single electric motor | Single electric motor |
| Driven wheels | Front | Front |
| Battery capacity (total / usable) | 67 / 64kWh | 44.5 / 40kWh |
| Power / torque | 201bhp / 395Nm | 141bhp / 353Nm |
| 0-60 / 30-70mph (on test) | 7.1 / 6.3 seconds | 7.4 / 7.2 seconds |
| Top speed (claimed) | 104mph | 87mph |
| Braking 70-0 / 30-0mph (on test) | 49.1 / 9.1 metres | 45.9 / 9.2 metres |
| 100% charge cost at 14p/kWh | £9 | £5.60 |
| Charge time (wallbox / rapid) | 9hrs / 45mins | 5hrs 30mins / 1hr |
| Official range | 280 miles | 163 miles |
| On-test range^ / efficiency | 224 miles / 3.5 miles/kWh | 128 miles / 3.2 miles/kWh |
| Road tax / BiK rate  | £0 / 0% | £0 / 0% |
| Length / width / height / wheelbase | 4,195 / 2,030 / 1,605 / 2,600mm | 4,314 / 2,048 / 1,644 / 2579mm |
| Boot capacity (seats up) | 315 Iitres | 470 litres |
* PCP estimate, based on £5,000 deposit, 36-month contract and 10,000-mile annual allowance   ** Business contract hire estimate, based on 36-month contract and 10,000-mile annual allowance, 6 month initial payment and no maintenance   ^ 10 degrees and dry conditions