Kia Soul EV vs MG ZS EV: running costs and warranty
The MG is vastly cheaper to buy, although running costs and warranty are comparable to the Kia's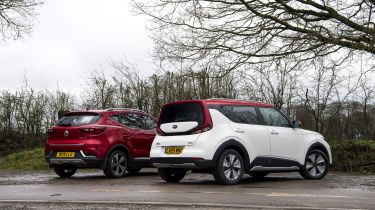 Let's face it, the MG is great value. At £27,495 – before you even consider the big discounts routinely being offered by the manufacturer on that list price – it's a lot of electric family SUV.
The monthly finance also drastically undercuts the Kia at around £300 compared to the Kia's £520 estimate after a £5,000 deposit on a 36-month contract with 10,000-mile annual allowance. The Kia is also a more expensive car to insure, in group 34 compared to group 21 for the MG.
It's understandable that the Korean manufacturer is taking advantage of phenomenal demand for its long-range electric cars, amid limited availability. But as a brand that also stakes its reputation on good value, we'd hope that the Soul will see lower finance costs in the near future, since currently the PCP monthly payments feel hard to justify – and also put it in range of the Tesla Model 3, which of course isn't an SUV, but is an outstanding four-door, long-range electric car.   If you're looking at a business lease, however, it's a different story. Our quotes for a 36-month business lease with six months down up front and no maintenance came out with both cars costing £369 per month (excluding VAT), so the Kia would be a no-brainer for anyone in that situation.   If you're buying the car outright, then the Kia is worth more if you choose to sell on after three years and 30,000 miles, at £15,400 compared to the MG's £14,150. Of course, because of the MG's substantially lower price you're still losing vastly less cash over the ownership period – some £5,000 less, in fact.
When it comes to fuelling the cars, a charge at home will cost £9 in the Kia and £5.60 in the MG, working out at around 4p a mile based on a winter driving range. For context, a petrol car doing 35mpg costs around 15p per mile, while a diesel doing 50mpg comes in at 11p, so you're saving a huge amount on fuel costs.   For company-car users an electric car is next to free for this and the next two financial years. BiK tax rates are down to 0% for 2020-21, 1% for 2021-22 and 2% for 2022-23, meaning that a 40% taxpayer will pay nothing for the first year for either car, and only £149 for the Kia and £122 for the MG in the year following.   Both cars get seven-year warranties, with the Kia guaranteed for 100,000 miles and the MG for 80,000 miles. This warranty covers the battery and the vehicle itself.