Kia Soul EV vs MG ZS EV: performance and handling
Both cars feel appealingly rapid, but the Kia is usefully better to drive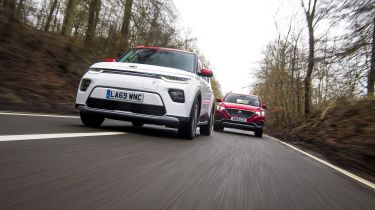 Electric cars tend to feel punchy thanks to the immediate torque they deliver; after all, it's effectively digital acceleration. The Kia gets 201bhp and 395Nm of torque next to the MG's 141bhp and 353Nm, but while the Kia gets a zestier burst of acceleration in the mid-range, both feel amusingly urgent at lower speeds, especially if you put them in Sport mode for sharper throttle response. In fact, in performance tests both bettered claimed times, managed 0-60mph in 7.1 seconds (Kia) and 7.4 seconds (MG) respectively, so there's not much in it at all.
Both also have variable regenerative braking setting that allows you to toggle through three levels of braking force – in the Kia by using the steering-wheel paddles and in the MG using a switch on the centre console. Both systems bleed in smoothly as you ease off the throttle, but the Kia's 'auto' setting is a useful addition, as in this mode the car automatically varies the regenerative force to maintain your distance from the car in front.
It sounds complicated, but it takes very little time to trust the system and get used to it; it's not an intrusive system at all. Neither offers 'one-pedal driving' like the Nissan Leaf, but both do have traffic-jam assistance systems that can take the hassle out of town driving.
What you will notice is that the MG feels less confidence-inspiring on the motorway than the Kia due to its vague steering and tendency to wander slightly at cruising speeds. It's a subtle thing, but you find yourself putting in small steering inputs all the time to keep the car centred, and that makes it a more tiresome long-distance car than the Soul, which is composed and benefits from great directional stability at any speed.
Sure, the MG feels fine to drive around town and on a country road thanks to its ample grip – for the sort of shorter-distance lifestyle that it best suits, the way it drives will likely satisfy most buyers. But the Kia certainly handles with more finesse thanks to its more progressive steering, and it's also more comfortable. It's a touch firmer than you might expect, but decent damping means that it's unflustered over most road surfaces.
The MG's not uncomfortable, but it does feel lumpy around town, and it doesn't help that you can feel the vibration from the wheel rebounding of larger potholes – all emphasised by a lot of boomy suspension noise.
Having said that, electric cars are of course generally very quiet and these are no exception. That suspension noise in the MG is the most noticeable background noise around town, and there's a bit of motor whine in both cars, while the Kia's bluff front end whips up quite a bit of wind noise at higher speeds. Ultimately, they're both quiet and both will be excellent commuters through town and beyond, but the Kia is a more polished drive in every way.