New Renault 5 electric car: reborn classic could cost as little as £18,500
A new small electric car inspired by the classic Renault 5 has been confirmed for production – and could cost from just £18,500 when it goes on sale in 2023
The reborn Renault 5 electric hatchback revealed earlier in 2021 has been officially confirmed for production. The small car will be built in Renault's revamped 'ElectriCity' factory complex, spread across three facilities in northern France, with batteries coming from a new 'gigafactory' to be constructed nearby.
Speaking to DrivingElectric in late January 2021, Renault CEO Luca de Meo said: "The mission of that car... is to democratise electric technology in Europe and you do that when you're able to do a competitive electric car in the range of €20,000 to €30,000 [£18,000 to £26,500]".
Renault says the 5 will cost 33% less to produce than the current Renault ZOE electric supermini, a number which tallies with de Meo's projection. According to the CEO: "It has to be a car that's in that range of price; we want to make it simple, accessible and essential. It needs to be an affordable product."
Renault has also confirmed a second small retro-inspired electric model will emerge from the same factory, in the shape of a reborn Renault 4. The original version of the small family car was built between 1961 and 1992 – an astonishingly long production run that generated over eight million sales. The reimagined electric Renault 4 is expected to be slightly more practical than the 5, with a larger boot and the potential for a commercial version.
New Renault 5 electric
The new Renault 5 is one of seven new pure-electric Renaults arriving soon. In January 2021, the company released images of a 'Renault 5 Prototype', giving us our first taste of what the production version of the car could look like. It mirrors the silhouette of the original 5, which was produced in two generations between 1972 and 1996, but with details like the lights and bootlid shape having been modernised.
The concept is the work of designer Gilles Vidal, who previously worked at Peugeot, where he penned a similarly retro-inspired electric concept, the E-Legend coupe. Speaking during a presentation of the 5 Prototype, Vidal said: "The design of the Renault 5 Prototype is based on a cult model of our heritage. This prototype simply embodies modernity, a vehicle relevant to its time: urban, electric, attractive."
On the prototype, the foglights of the original model have been turned into daytime running lights, while the bonnet ventilation scoop now houses the charging port. Unlike the original, which was offered in both three and five-door configurations, the new-generation Renault 5 will be a five-door model only.
Under the metal, the 5 will support battery capacities large enough for a 249-mile driving range – although it's likely the cheapest entry-level version will have a shorter range than that. A 134bhp electric motor will drive the wheels, and this part will be standardised across many of Renault's forthcoming electric cars as a means of cutting manufacturing costs.
Top 10 best plug-in hybrid SUVs 2021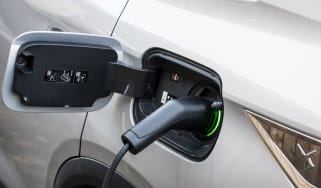 Top 10 best plug-in hybrid SUVs 2021
The finest plug-in hybrid SUVs offer low running costs, enough electric range for daily use and excellent practicality. These are the best plug-in hyb…
Top 10 longest range electric cars 2021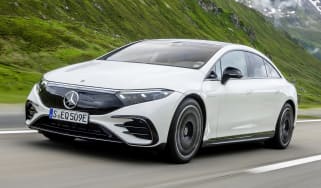 Top 10 longest range electric cars 2021
Avoid range anxiety by choosing one of these: the longest-range electric cars you can buy in the UK right now
Top 10 best plug-in hybrid cars 2021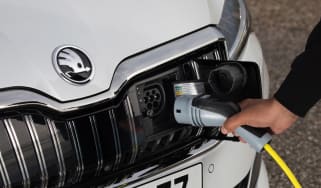 Top 10 best plug-in hybrid cars 2021
Plug-in hybrid cars are great for keeping fuel and company-car tax bills low. Here are the best ones to buy in the UK right now