New Nissan Sakura is a compact electric city car for Japan
The compact zero-emissions kei car offers a range of 112 miles and starts from just over £11,000 in Japan
Meet the Nissan Sakura: a seriously compact electric car, designed for the packed streets of Japan's cities and to help make EVs more accessible to customers in Nissan's home market. 
The Sakura is what's known as a 'kei' car in Japan, or a 'minivehicle' as Nissan calls it. That means it's smaller than already compact city cars like the Fiat 500 or MINI hatch, the Sakura measuring under 3.4 metres end to end, with a width of 1.47 metres. It still has four doors, seating for four, plus 107 litres of boot space.
The Sakura features a single electric motor producing 63bhp and 195Nm of torque, which is enough for a top speed of 81mph. The 20kWh battery is good for a range of 112 miles, according to Nissan. The zero-emissions city car also has a choice of three driving modes – eco, standard and sport – a one-pedal driving setting like you get in the Nissan Leaf and a 4.8-metre turning circle, which is half the size of the Renault ZOE's.
The centrepiece of the cabin is a nine-inch central touchscreen with Apple CarPlay smartphone connectivity that's paired with a seven-inch digital driver's display. You also get a two-spoke steering wheel and copper trim ripped from the larger Ariya SUV, and the same ProPilot and ProPilot Park driver assistance systems.
The Ariya's blanked-off grille and angular LED headlights have also been carried over, but unlike the family SUV, the Sakura gets vehicle-to-grid charging capability, which allows owners to use any spare energy in the battery to power their homes during emergencies. The Sakura's 20kWh battery can provide a day's worth of electricity to a house.
The Sakura goes on sale this summer in Japan, with prices set to start from around 2.33 million yen (roughly £15,000), but tax incentives and the country's clean energy vehicle subsidy will help bring that figure down to 1.78 million yen (just over £11,000).
The Nissan Sakura is currently only slated to go on sale in Japan. The next electric cars to launch from Nissan in the UK will be the forthcoming replacement for the popular Leaf hatchback and an electric successor to the Micra supermini. However, exactly when either car will make its debut remains unclear.
Nissan IMk concept
Nissan revealed the IMk concept at the Tokyo Motor Show in 2019, previewing the Sakura production car. Billed as the "ultimate urban commuter", the IMk concept was based on the 'Timeless Japanese Futurism' design philosophy, the exterior is typical of an electric car in many ways: the wheels are pushed to the corners of the chassis to improve passenger space, while the front grille is closed off. A combination of flat, aerodynamic wheels and cameras replacing traditional door mirrors help to reduce drag and increase range.
Nissan said the IMk's interior represents "a new type of 'room' that exudes the nature of a cafe or lounge". Aside from the starter button and driving mode shifter, there are no physical buttons: instead, the car's functions are controlled by a variety of touch-sensitive surfaces. Driving information – such as speed and sat-nav directions – appear to hover in mid-air thanks to a holographic display system, which also includes an avatar feature to communicate with passengers.
Nissan says the IMk concept should be relaxing as well as convenient, with the dimpled texture of the bench seat giving "the impression of sitting on a cloud". At 3,434mm long, 1,512mm wide and 1,644mm high, the IMk concept isn't copiously spacious, but according to Nissan's executive design director Satoru Tai, that isn't the point. 
"We could have kept all the surfaces inside the IMk's cabin flat, which would have equated to more physical space," he explained. "The IMk was never about being roomier than a traditional small car. It was about being an upscale, stylish partner that gives occupants a chic, elegant space to enjoy".
Electric MINI Aceman crossover arriving in 2024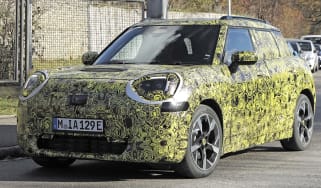 Electric MINI Aceman crossover arriving in 2024
New Mercedes EQG: first ride in electric G-Class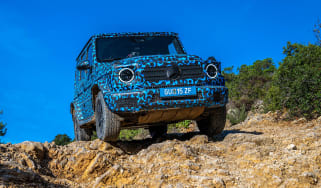 New Mercedes EQG: first ride in electric G-Class
New Abarth 500e electric hot hatch revealed in full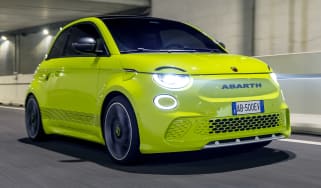 New Abarth 500e electric hot hatch revealed in full
The hot version of Fiat's electric city car does 0-62mph in seven seconds, and will be offered as a hatchback and convertible
Will an electric car work in the winter?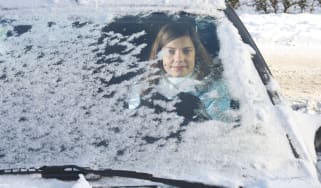 Will an electric car work in the winter?
Worried about a cold snap immobilising your electric car? Here, we explain how cold weather affects electric vehicles
Tethered or untethered home charger?
Tethered or untethered home charger?
All the pros and cons of home wallbox chargers with either tethered or untethered cables