Fisker Ronin: electric four-seat convertible GT with 600-mile range
CEO says zero-emissions convertible GT will do over 600 miles on a charge and seat four adults; future Tesla Roadster rival to go on sale in 2024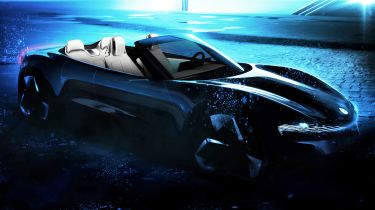 American electric-car maker Fisker revealed earlier in 2022 that it's working on a four-seat, four-door convertible GT car with a range of over 600 miles on a charge. CEO and founder Henrik Fisker shared the news on social media in May, adding that the flagship model will be capable of 0-60mph in close to two seconds, thanks to a combination of three electric motors.
Speaking exclusively to DrivingElectric at the recent Goodwood Festival of Speed, the Fisker boss said that while 'Ronin' is currently just a project code for the car, the name has proven popular, so it might be retained for the production model. Fisker also laid out his goals for the future Tesla Roadster rival, saying: "The aim first of all was to say 'what's happening with sports cars in the future?'
"It might be one of the difficult transitions, because a large part of a sports car is about sound, the interactions and the mechanics with the engine – gearshifts, kickdown and all that – and that's what brings the sense of occasion. Now, how do we create that sense of occasion when you're driving an electric sports car? That's number one.
"Number two is, where do we exactly think sports cars are going? If I look at the environment today, yes, people still like sports cars, but they end up driving big SUVs… people just seem like they are looking more for usability in their everyday driving."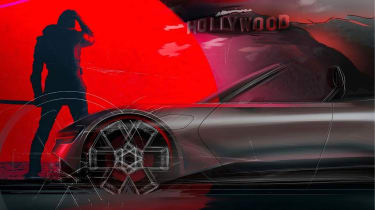 Fisker added: "We wanted to resist making another super-SUV at this point in time, I'm not saying we wouldn't do it, but for this sports car, our thinking was 'how do we make a future sports car?'."
One key component of making the car usable is the Ronin's impressive range figure, which Fisker told us will be achieved with a new battery design integrated into the car's structure. The advantage of doing this, Fisker says, is a larger battery volume for the car, while leaving enough room inside to comfortably seat four adults and their luggage.
He added: "we also have a unique roof mechanism that allows it to be either a convertible or a sports sedan… So in that sense, it'll probably be the most usable convertible in the world, because it's got four doors. It's not the easiest thing to do, because we had to make a unique structure to make it stiff enough to make that happen."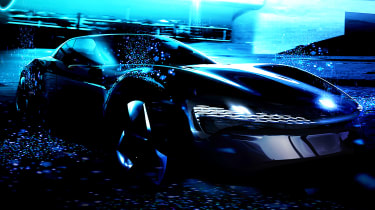 Fisker Ronin design
Fisker himself has excellent form when it comes to designing sports cars, having styled the Aston Martin Vantage, Aston Martin DB9 and BMW Z8 before creating his own brand. In terms of the Ronin's looks, Fisker described it as "extremely radical" and "very dramatic, very sculpted". He added "I think what we love about sports cars is these dramatic proportions, and it used to be 'flat, mid-engined, WOW'.
"But we moved away from that, because for me, to just make another mid-engined-looking electric car doesn't make sense… there was a reason why mid-engined cars were like that, because the engine was so big, you put it behind the seats and you could make everything flat… we went for something else."
We've yet to see pictures of the Ronin's interior, but Fisker did reveal that "I said to [the interior team] I want the most sensual, luxurious interior, without relying on a million stitches and eight cowhides; there has to be something else. So it's a very dramatic interior that I think really is there to stimulate your sense of 'wow, this is special, I'm sitting in something so unique, so sexy, so cool' and that's really what it was about.
"It's appealing to, in my view, why we fell in love with cars in the first place and why we keep wanting to fall in love with cars. But we are pursuing enough usability that you can argue to yourself or your spouse why you should buy this car."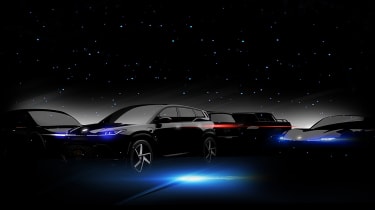 Teaser images of the Ronin released so far reveal it'll have a long bonnet reminiscent of the Aston Martin and BMW sports cars Fisker has designed in the past. A sharp nose, complex headlight design and aggressive splitter envelop much of the front of the car. The concept art also suggests the car will sport a set of digital side mirrors, like those on the Lotus Eletre, also to help with aerodynamics.
Fisker has previously stated the Ronin is expected to start from under $200,000 (just under £160,000 at the time of writing). Development of the fully electric GT is already underway, with a prototype set to make its debut in August 2023, before production commences the following year.
The Ronin will be the third model in Fisker's growing range of electric cars. The first, the Tesla Model Y-rivalling Ocean SUV, is on sale now, with right-hand-drive examples coming to the UK in mid-2023. It can cover up to 391 miles on a charge and starts from just under £35,000.
Fisker's second electric SUV is called the PEAR – an acronym for 'Personal Electric Automotive Revolution'. It hasn't been unveiled yet, but we do know it'll offer a range of up to 310 miles, as well as rear or all-wheel drive and could start from close to £25,000 in the UK when it arrives in 2024.
New Zeekr X electric SUV revealed; could land in UK by 2025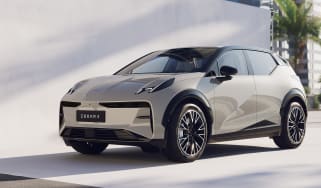 New Zeekr X electric SUV revealed; could land in UK by 2025
New electric cars coming in 2023 and beyond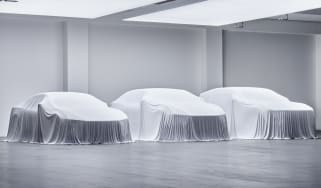 New electric cars coming in 2023 and beyond
New XPeng G9 electric SUV: prices, specs and range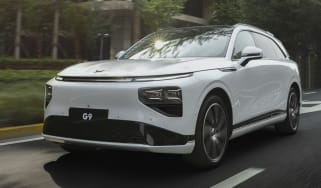 New XPeng G9 electric SUV: prices, specs and range
Fisker PEAR: first look at £25,000 electric city car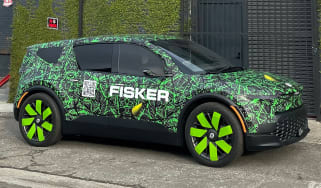 Fisker PEAR: first look at £25,000 electric city car
The cut-price EV is due to be unveiled in the second half of 2023 and offer up to 310 miles of range
New electric cars coming in 2023 and beyond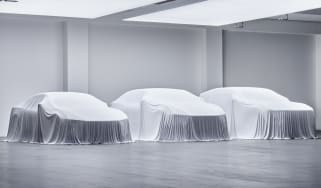 New electric cars coming in 2023 and beyond
With electric cars making up an ever-increasing proportion of sales, the industry is working flat out to launch new models – here's what's on the way …
New XPeng G9 electric SUV: prices, specs and range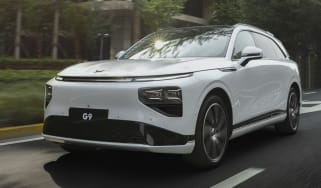 New XPeng G9 electric SUV: prices, specs and range
Chinese flagship electric SUV offers over 350 miles of range and is due to land in the UK by 2025