Tesla Model 3 vs BMW i4: in numbers
Will the upcoming BMW i4 be able to compete with the Tesla Model 3? We've crunched the numbers for you
The Tesla Model 3 is one of the most well-known and well-liked electric cars there is, and we're huge fans as well – after all, it won the electrified performance car category in the 2020 DrivingElectric Awards. It mixes stellar performance with a really impressive amount of range, so it's a great all-rounder as well. 
It's a big seller too, regularly appearing in top 10 for registrations, unlike its conventionally-powered rivals in the form of the Audi A4, Mercedes C-Class and BMW 3 Series. Yet the big carmakers are starting to roll out their own electric cars with the weight of big budgets, well-tested technology and industry experience behind them, so we will soon see new models that will directly challenge the Tesla at its own game.
In November 2021 we'll see the arrival of the BMW i4. It's an alternative to the 3 Series, so will take on the Model 3. In fact, as there are both long-range and performance-focused models in the pipeline, it will have a similar model line-up to the Tesla, and prices will be similar as well.
Prices and equipment
The BMW i4 arrives in November 2021 and its pricing is higher than an entry-level Model 3 but around the same price as the higher-end versions. Tesla's prices are always changing, so it's possible the gap will be even smaller by the time the BMW i4 arrives. 
Even at the bottom of that price range, the Tesla gets a good amount of standard equipment given its spartan interior – but it's the infotainment system that steals the show. Displayed on a huge 15-inch screen, the system is used to control just about everything the car does. It's slick and well designed, but lacks Apple CarPlay and Android Auto, since Tesla prefers its own system. 
The BMW i4 uses a pair of screens: a 12.3-inch driver's screen and the 14.9-inch infotainment display, so although the main screen is 0.1 inches smaller than the Model 3's, there's a whole other screen for all the most important driving info.
|   | BMW i4 | Tesla Model 3 |
| --- | --- | --- |
| Price (min-max) | £51,905-£63,905 | £40,990-59,990 |
| Warranty | 3yrs/unlimited miles (est) | 3yrs/60,000 miles |
| Battery warranty | 6yrs/60,000 miles (est) | 8yrs/100,000 miles |
All Model 3s get a panoramic roof as standard, along with power-folding heated mirrors and Bluetooth connectivity; entry-level cars get 12-way adjustable front seats and 30 days of included 'Premium Connectivity' – that is, Tesla's online services. This includes sat nav with live traffic updates, music streaming support and an internet browser. Higher-spec models get a year's worth of these services and add a better stereo, LED foglights and heated rear seats.
The BMW i4's model range runs from the i4 Sport at £51,905 through the i4 M Sport and then at the top of the range, rivalling the Model 3 Performance, is the i4 M50 – BMW's first all-electric M performance model.
Range, charging and performance
A key battle between these two cars will be fought over the ins and outs of their electric drivetrains and exactly how usable the BMW is in the real world. Tesla has the market to itself in this respect, with up to 360 miles of range on a charge from the Long Range version of the Model 3, future-proof charging speeds and access to one of the best charging networks in the industry. 
The BMW i4 comes in two versions, eDrive40 and M50. The latter is more focused on performance but has a lesser range figure. It's worth noting that even though the xDrive40 model has more range than any Model 3, the Tesla in Performance form has more range than the i4 in M50 form.
|   | BMW i4  | Tesla Model 3 |
| --- | --- | --- |
| Official electric range (WLTP) | 316-366 miles | 254–348 miles |
| Battery capacity | 84kWh | 60–70kWh |
| Motor | Single or twin electric motors | Single or twin electric motors |
| Power | 335-537bhp | 316-483bhp |
| 0-62mph | 3.9-5.7seconds | 3.1–5.3 seconds |
| Top speed | 118mph-TBC | 140–162mph  |
| Maximum charging speed | 200kW | 250kW |
| 0-100% charge time (from 7kW home wallbox) | 13hrs | 8hrs to 11hrs 45mins |
| Charging cables | Type 2 / CCS / domestic 3-pin | Type 2 / CCS / domestic 3-pin |
The i4 M50 has a dual-motor, all-wheel-drive system with 537bhp and can go from 0-62mph in 3.9 seconds, which means it's not as quick as the Model 3 Performance, nor does it have as much range. Yet the lesser eDrive40 model has 335bhp and a 0-62mph time of 5.7 seconds, plus more range than any Model 3.
Space and practicality
The Tesla Model 3 falls short slightly when it comes to practicality. The airy cabin is not actually that big; interior space feels similar to that of the BMW 3 Series, but rear headroom is a little tight and kneeroom is nothing to write home about. There's more than enough space up front, though. The BMW i4 is essentially an electric version of the forthcoming BMW 4 Series Gran Coupe; they're based on the same platform and so should offer similar interior space. The sloping roofline could be an issue for taller rear-seat passengers, so we'll have to wait and see how it stacks up.
|   | BMW i4 | Tesla Model 3 |
| --- | --- | --- |
| Kerbweight | 2,125kg | 1,847kg |
| Length | 4,783mm | 4,694mm |
| Height | 1,448mm | 1,443mm |
| Width (including mirrors) | 2,073mm | 2,088mm |
| Wheelbase | 2,856mm | 2,875mm |
| Luggage capacity | 470 litres | 425 litres |
Storage space in the Tesla is spread between a conventional boot in the rear and a 'frunk' under the bonnet. The Model 3 is a saloon and so lacks a little flexibility in terms of access, but there's a total of 425 litres of storage across both compartments, extendable thanks to split-and-fold rear seats. Cables can be stored under the floor in a separate compartment and the actual load space in the rear is deep enough to carry a few suitcases.  The BMW i4 is longer, taller and has more boot space than the Tesla Model 3, so we expect it to be more spacious inside – although we'll have to wait for our full review to find out for sure.
Conclusion
On paper – and with a rough idea of what we can expect from the i4 – it looks like Tesla could have a decent fight on its hands. The Model 3 remains a great all-round electric car, and for many the pull of the brand and its disruptive ideals is great. However, given our experience of the current crop of BMWs, it seems unlikely the i4 could be anything other than great to drive, well built and up-to-scratch in technological terms. We'll have to wait to see what happens when the i4 arrives in November – but the signs are promising.
New BMW i4 2021: specs, range and on-sale date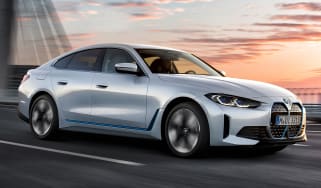 New BMW i4 2021: specs, range and on-sale date
Tesla Model 3 police car: emergency services to trial electric model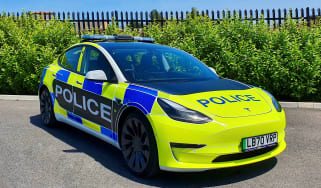 Tesla Model 3 police car: emergency services to trial electric model
Top 10 best seven-seater electric and hybrid cars 2021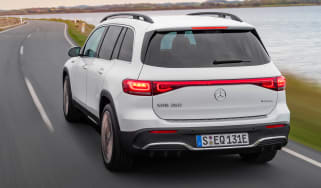 Top 10 best seven-seater electric and hybrid cars 2021
If the regular crop of electrified SUVs and family cars don't provide enough practicality for you, then take a closer look at the range of electric an…
Top 10 best luxury electric cars 2021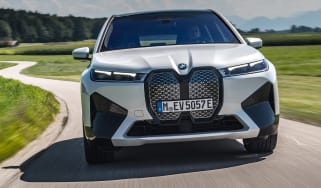 Top 10 best luxury electric cars 2021
From Audi to Tesla, here are our top picks of the most luxurious zero-emissions motoring options on the market right now
Complete guide to the IONITY charging network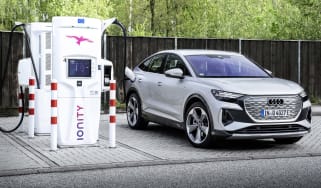 Complete guide to the IONITY charging network
The manufacturer-backed IONITY rapid-charging network is expanding across the UK and Europe – here's all you need to know