Tesla Model 3 vs BMW i4: how they compare
How does the BMW i4 compare with the Tesla Model 3? We crunch the numbers on these two electric company-car big hitters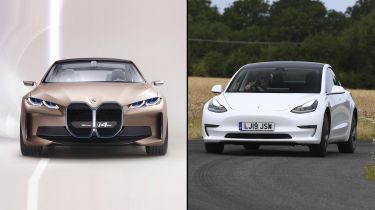 The Tesla Model 3 is one of the most well-known and popular electric cars out there. It mixes stellar performance with an impressive range, so it's a great all-rounder. It's a big seller in the UK, too, regularly appearing in the top 10 new-car registration charts.
However, established carmakers are rolling out their own electric models with the weight of big budgets, well tested technology and industry experience behind them, so the Model 3 is no longer without serious competition.
November 2021 saw the arrival of the BMW i4 – a fully electric alternative to the BMW 3 Series and therefore a direct rival to the Model 3. Like the Tesla, it offers buyers both long-range and performance-focused models, and the two cars are priced pretty closely as well. Let's take a closer look at the facts and figures to see how they measure up.
Prices and equipment
Straight off the bat, the Model 3 is more accessible than the i4; the Standard Range model starts at £42,990 versus £51,905 for the entry-level BMW i4 Sport.
Despite a spartan interior, the Tesla gets a good amount of standard equipment and its infotainment system really steals the show. Displayed on a huge 15-inch screen, it controls just about everything the car does. It's slick and well designed, but lacks Apple CarPlay and Android Auto functionality; Tesla prefers its own system.
The i4 uses a pair of screens: a 12.3-inch driver's screen and the 14.9-inch infotainment display, so although the main screen is a tenth of an inch smaller than the Model 3's, there's a whole other screen for all the most important driving info.
| Car: | BMW i4 | Tesla Model 3 |
| --- | --- | --- |
| Price (min-max): | £51,905-£63,905 | £42,990-59,990 |
| Standard warranty: | 3yrs/unlimited miles | 3yrs/60,000 miles |
| Battery warranty: | 8yrs/100,000 miles | 8yrs/100,000 miles |
All Model 3s get a panoramic roof as standard, along with power-folding heated mirrors and Bluetooth connectivity; entry-level cars get 12-way adjustable front seats and 30 days of 'Premium Connectivity' –Tesla's online services. This includes sat nav with live traffic , music streaming and an internet browser. Higher-spec models get a year of these services and a better stereo, LED foglights and heated rear seats.
The i4 range runs from the eDrive40 Sport at £51,905 to the eDrive40 M Sport at £53,405. At the top of the range, rivalling the Performance version of the Model 3, is the M50 – BMW's first fully electric M performance model.
Standard kit on the Sport trim includes cruise control, LED lights, parking assistance, a reversing camera, the aforementioned infotainment screens. The M Sport adds 18-inch alloy wheels, a powered tailgate, exterior design elements to differentiate it from the Sport, heated front seats and split-folding rear seats.
The range-topping M50 gets a 19-inch alloy-wheel design, power-adjustable memory seats, seat backrest width adjustment, premium leather upholstery, upgraded suspension and brakes and sports steering.
Range, charging and performance
These are the key points of comparison when it comes to electric cars. The Tesla Model 3 has ranges of 305 to 360 miles, as well as access to one of the best charging networks out there. The i4 offers a choice of two drivetrains: the eDrive40 and the M50. The former is more focused on range, and therefore equivalent to the Model 3 in Standard Range or Long Range form. The latter is more focused on acceleration and top speed, and therefore serves as a rival to the Model 3 Performance range-topper.
| Car: | BMW i4  | Tesla Model 3 |
| --- | --- | --- |
| Official range: | 318-365 miles | 305-360 miles |
| Battery capacity: | 84kWh | 60-70kWh |
| Motor: | Single or twin electric motors | Single or twin electric motors |
| Power: | 335-537bhp | 316-483bhp |
| 0-62mph: | 3.9-5.7 seconds | 3.1-5.3 seconds |
| Top speed: | 118-140mph | 140-162mph  |
| Maximum charging speed: | 205kW | 250kW |
| 0-100% charge time (from 7kW home wallbox): | 13hrs | 8hrs to 11hrs 45mins |
| Charging cables: | Type 2 / CCS / 3-pin | Type 2 / CCS / 3-pin |
The i4 M50 has a dual-motor, all-wheel-drive system with 537bhp and can go from 0-62mph in 3.9 seconds, which means it's not as quick as the Model 3 Performance, nor does it have as much range. Yet the lesser eDrive40 has 335bhp and a 0-62mph time of 5.7 seconds, plus more range than any Model 3.
Space and practicality
The Model 3 falls short slightly when it comes to practicality. Its airy cabin is not actually that big; interior space feels similar to that of a BMW 3 Series, but rear headroom is a little tight and kneeroom is nothing to write home about. There's more than enough space up front, though.
The i4 is essentially an electric version of the BMW 4 Series Gran Coupe; they're based on the same platform and so should offer similar interior space. The sloping roofline could be an issue for taller rear-seat passengers, however.
| Car: | BMW i4 | Tesla Model 3 |
| --- | --- | --- |
| Weight: | 2,125kg | 1,847kg |
| Length: | 4,783mm | 4,694mm |
| Height: | 1,448mm | 1,443mm |
| Width (including mirrors): | 2,073mm | 2,088mm |
| Wheelbase: | 2,856mm | 2,875mm |
| Luggage capacity: | 470 litres | 425 litres |
Storage space in the Tesla is spread between a conventional boot in the rear and a 'frunk' under the bonnet. The Model 3 is a saloon and so lacks a little flexibility in terms of access, but there's a total of 425 litres of storage across both compartments, extendable thanks to split-and-fold rear seats.
Cables can be stored under the floor in a separate compartment and the actual load space in the rear is deep enough to carry a few suitcases.  The BMW i4 is longer, taller and has more boot space than the Tesla Model 3, so we expect it to be more spacious inside – although we'll have to wait for our full review to find out for sure.
Conclusion
On paper, Tesla has a real fight on its hands. The Model 3 remains a great all-round electric car, and for many the pull of the brand and its disruptive ideals is great. However, the i4 is great to drive, well built and up-to-scratch in technological terms.
Top 10 best hybrid and electric sports cars 2022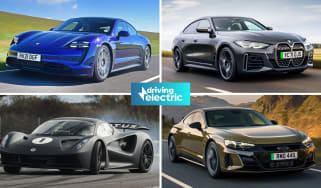 Top 10 best hybrid and electric sports cars 2022
Top 10 best electric cars 2022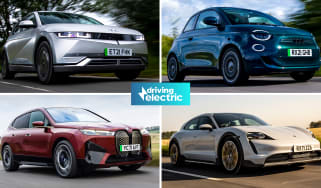 Top 10 best electric cars 2022
Triple test: BMW i4 vs Tesla Model 3 vs Polestar 2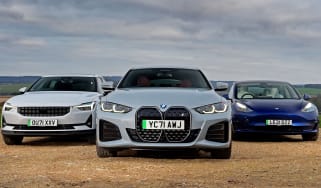 Triple test: BMW i4 vs Tesla Model 3 vs Polestar 2
UK electric-car grant reinstated until March 2023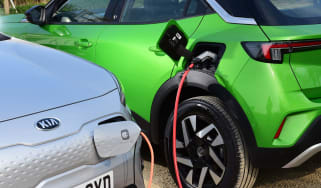 UK electric-car grant reinstated until March 2023
The Plug-in Car Grant (PiCG) was axed back in June 2022, but will now apply to orders placed until 31 March 2023
Top 10 best electric cars 2022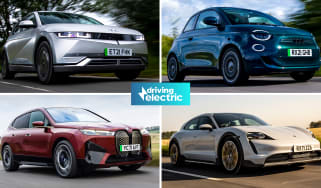 Top 10 best electric cars 2022
Here, we run through our favourite new electric cars that you can buy right now in the UK…
Top 10 best plug-in hybrid SUVs 2022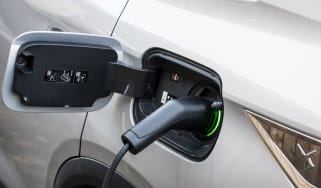 Top 10 best plug-in hybrid SUVs 2022
The finest plug-in hybrid SUVs offer low running costs, enough electric range for daily use and excellent practicality. These are the best plug-in hyb…