Tesla Model 3 vs BMW Concept i4: in numbers
We look at whether the forthcoming BMW i4 is likely to give the very popular Tesla Model 3 a run for its money by comparing them on paper
The Tesla Model 3 is among the best electric cars on sale. It has won countless awards (not least the electrified performance car category in the 2020 DrivingElectric Awards), sells like hotcakes even during a pandemic and is packed with forward-thinking technology and a near-perfect blend of performance and range. 
It's no wonder that the automotive establishment is rushing to produce its own take on what has become a best-selling recipe for the Californian company. The Model 3 currently matches compact executive cars like the Audi A4, Mercedes C-Class and BMW 3 Series on price, but none of those rivals can match its blistering acceleration, never mind its sophisticated electric drivetrain. Now though, there are some cars on the way that could give Tesla some trouble.
Due to arrive in 2021, the BMW i4 is aimed directly at the Model 3. It's still a concept for now and details are slim, but a production version has been spied testing on public roads. It looks set to be the Model 3's most direct rival yet – so let's see if it might be able to compete.
Prices and equipment
BMW will want to make sure the production i4 has what it takes to tempt buyers away from the Tesla. Pricing will likely run close to the Model 3, which currently starts at just under £40,000, rising to not far off £60,000 for the fastest Performance model. 
Even at the bottom of that price range, the Tesla gets a good amount of standard equipment given its spartan interior – but it's the groundbreaking infotainment system that steals the show. Displayed on a huge 15-inch screen, the system is used to control just about everything the car does. It's slick and well designed, but lacks Apple CarPlay and Android Auto, with Tesla preferring its own system. 
The BMW i4 will have to match the Tesla in this area – and if the concept is anything to go by, that's exactly what it'll try to do. A pair of large infotainment screens sit on the dashboard, wrapping around behind the steering wheel – unlike the Tesla's central unit. The concept's system has a number of display modes that pair with ambient lighting; overall, it looks like BMW won't be going for quite the same level of minimalism as Tesla.
|   | BMW i4 | Tesla Model 3 |
| --- | --- | --- |
| Price (min-max) | £45,000–60,000 (est) | £39,500–55,500 |
| BiK company-car tax 2020/21 (12 months, 40% taxpayer) | £0 | £0 |
| Warranty | 3yrs/unlimited miles (est) | 3yrs/60,000 miles |
| Battery warranty | 6yrs/60,000 miles (est) | 8yrs/100,000 miles |
All Model 3s get a panoramic roof as standard, along with power-folding heated mirrors and Bluetooth connectivity; entry-level cars get 12-way adjustable front seats and 30 days of included 'Premium Connectivity' – that is, Tesla's online services. This includes sat nav with live traffic updates, music streaming support and an internet browser. Higher-spec models get a year's worth of these services and add a better stereo, LED foglights and heated rear seats.
It's not yet clear how the BMW i4 range will take shape. Previously, the German brand has been keen to set its all-electric 'i' sub-brand apart from the usual SE, Sport and M Sport taxonomy of internal-combustion-powered BMWs – but the i4 and forthcoming iX3 SUV could well break that trend. However it's organised, you can expect the i4 to offer a high-quality interior and plenty of standard kit. 
Range, charging and performance
A key battle between these two cars will be fought over the ins and outs of their electric drivetrains and exactly how useable the BMW is in the real world. Tesla has the market to itself in this respect, with up to 348 miles of range on a charge from the Long Range version of the Model 3, future-proof charging speeds and access to one of the best charging networks in the industry. 
BMW has given details of what the i4's drivetrain may be like for production with some specs for its Concept i4. A range of 373 miles is claimed – comfortably exceeding that of the Tesla – from a slightly larger 80kWh battery. BMW hasn't talked charging speeds yet, but it'll have to come close to the Model 3's to compete.  
|   | BMW i4  | Tesla Model 3 |
| --- | --- | --- |
| Official electric range (WLTP) | 373 miles | 254–348 miles |
| Battery capacity | 80kWh | 60–70kWh |
| Motor | Single or twin electric motors (est) | Single or twin electric motors |
| Power / torque (combined) | 523bhp / 600Nm (est) | 385bhp / 640Nm |
| 0-62mph | 4.0 seconds | 3.2–5.3 seconds |
| Top speed | 124mph | 140–162mph  |
| Maximum charging speed | 250kW (est) | 250kW |
| 0-100% charge time (from 7kW home wallbox) | 8 hours (est) | 8 hrs to 11 hrs 45 mins |
| Charging cables | Type 2 / domestic 3-pin (est) | Type 2 / CCS / domestic 3-pin |
On the performance front, it's unlikely that the BMW will be quite as ballistic as the Tesla, but it promises to split the difference between that car's entry-level and top-spec models. BMW says 0-62mph will take just four seconds, with a top speed of 124mph. BMW will need to have a higher-performance model to take on the Model 3 Performance – perhaps an i4s or i4 M could take on that role.
Space and practicality
The Tesla Model 3 falls short slightly when it comes to practicality. The airy cabin is not actually that big; interior space feels similar to that of the BMW 3 Series, but rear headroom is a little tight and kneeroom is nothing to write home about. There's more than enough space up front, though.
The BMW i4 is essentially an electric version of the forthcoming BMW 4 Series Gran Coupe; they're based on the same platform and so should offer similar interior space. The car's sloping roofline could be an issue for taller rear-seat passengers, so we'll have to wait and see how it stacks up. And while the Tesla Model 3 has a three-seat rear bench, the BMW i4 – at least in concept form – only has space for two in the back.
|   | BMW i4 | Tesla Model 3 |
| --- | --- | --- |
| Kerbweight | 1,850kg (est) | 1,847kg |
| Length | 4,700mm (est) | 4,694mm |
| Height | 1,450mm (est) | 1,443mm |
| Width (inc. mirrors) | 2,000mm (est) | 2,088mm |
| Wheelbase | 2,850mm (est) | 2,875mm |
| Luggage capacity | 450 litres (est) | 425 litres |
BMW hasn't announced details yet, but when it comes to storage space, the BMW i4 should be comparable to the BMW 3 Series on which it's based. That car has a 480-litre boot, so accounting for the i4's sleeker styling and batteries, something closer to 450 litres is possible. There's no word about under-bonnet storage yet. Storage space in the Tesla is spread between a conventional boot in the rear and a 'frunk' under the bonnet. The Model 3 is a saloon and so lacks a little flexibility in terms of access, but there's a total of 425 litres of storage across both compartments, extendable thanks to split-and-fold rear seats. Cables can be stored under the floor in a separate compartment and the actual load space in the rear is deep enough to carry a few suitcases. 
The Concept i4 has a glass roof much like the Tesla's, so a saloon bootlid is most likely, but the previous 4 Series Gran Coupe featured a hatchback – we'll have to wait and see what happens come production time. The latter could be a major advantage for the i4 over the Model 3 in terms of flexibility.
Conclusion
On paper – and with a rough idea of what we can expect from the production i4 – it looks like Tesla could have a decent fight on its hands. The Model 3 remains a great all-round electric car, and for many the pull of the brand and its disruptive ideals is great. However, given our experience of the current crop of BMWs, it seems unlikely the i4 could be anything other than great to drive, well built and up-to-scratch in technological terms. We'll have to wait to see what happens when the i4 arrives next year – but the signs are promising.
Where can I buy hydrogen and where is my nearest hydrogen filling station?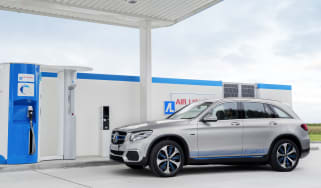 Where can I buy hydrogen and where is my nearest hydrogen filling station?
A guide to where you can find UK hydrogen fuel stations for filling up a hydrogen fuel-cell car
Can solar panels charge an electric car?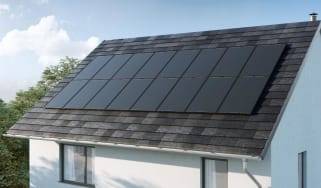 Can solar panels charge an electric car?
Charging your electric car with solar panels is a great way to save money in the long run. We explain why...
Why owners love the Mitsubishi Outlander PHEV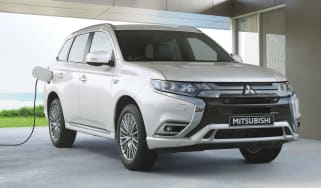 Why owners love the Mitsubishi Outlander PHEV
Thinking of switching to a plug-in hybrid? Plenty of owners we surveyed can vouch for the Mitsubishi Outlander PHEV