Here it is: MG Cyberster electric sports car revealed
The MG Cyberster will go on sale in 2024, with a touted £50,000 starting price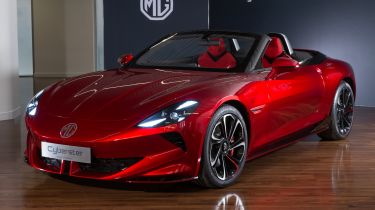 The hotly-anticipated MG Cyberster electric sports car has continued its world tour, taking pride of place in the brand's UK headquarters in London. Further details on the upcoming two-seater have also been revealed – including the car's possible starting price of around £50,000.
Officially unveiled in April at the 2023 Shanghai Auto Show – following a series of leaked images online, no less – the MG Cyberster wowed crowds with its sleek convertible shape and hi-tech interior. The first MG sports car in nearly two decades takes visual cues from iconic MG sports cars of old, such as the oval headlights inspired by the MG TF, as well as the long bonnet, which is reminiscent of the MGB from the sixties.
Seeing the car in the metal gives us our first proper look inside the new car's cabin, too. With no fewer than four screens, the Cyberster gets a wraparound digital instrument panel, plus a main display allowing operation of everything from the infotainment and climate controls to the rear-view camera. The show car featured an optional Tesla-style yoke steering wheel, but it's thought standard cars will get a more traditional round wheel.
Another area of interest is the Lamborghini-style scissor doors, which were first revealed in a teaser video on Chinese social-media platform Weibo last year. MG Design Director Carl Gotham told us: "We've not had to compromise much in terms of design to make the production car. It's obviously a bit more friendly, a bit more approachable design language which we want to move the brand into."
Speaking to DrivingElectric in 2022, MG head of product and planning, David Allison, confirmed that the Cyberster will sit on the same MSP underpinnings as the MG4 hatchback. Although battery sizes are yet to be confirmed, previous leaks elaborated on what we can expect from the two electric motor setups that will be available at launch.
The first, a single rear-mounted electric motor system, will output 309bhp, while dual-motor cars will improve on this with 536bhp. Each weighs 1,850kg and 1,985kg respectively and both are expected to have a top speed of around 124mph.
Although the Cyberster concept was headlined by a 497-mile range and 0-62mph time of under three seconds, we don't expect the road-going model to match these figures. Using the existing MG4 as a guide, it's likely the Cyberster will get at least 135kW charging, for 10-80% rapid charge times of around half an hour. We expect a range of around 300 miles.
MG has announced its new sports car will go on sale in the UK and Europe in summer 2024. Prices will be confirmed later, though Guy Pigounakis, Commercial Director for MG told us that MG would "target a price tag of £50,000 for the single-motor and £60,000 for the dual-motor if it went on sale today."
Even if those numbers inflate slightly, we imagine the MG Cyberster will significantly undercut the forthcoming Porsche Boxster EV, which is also set to make its debut within the next year or so. A starting price of around £50,000 could make the plug-in MG drop-top a compelling alternative to the likes of the petrol-powered BMW Z4, too.
New MG4 EV electric hatchback: 443bhp range-topper revealed in China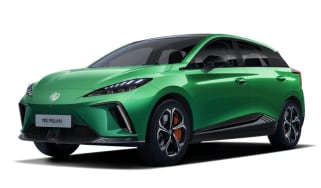 New MG4 EV electric hatchback: 443bhp range-topper revealed in China
Tesla Model 3 facelift will be a double-edged sword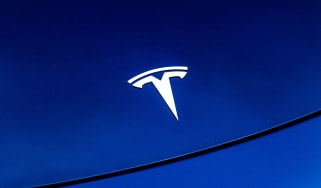 Tesla Model 3 facelift will be a double-edged sword
Tesla's updated EV will have an improved interior, greater range and a more affordable price – as well as one unfortunate drawback
Electric Ford Puma could become the UK's best-selling EV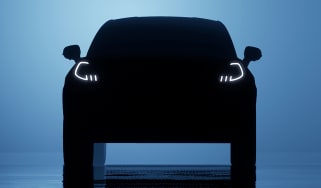 Electric Ford Puma could become the UK's best-selling EV
The Ford Puma EV is set to arrive in 2024 with a range of over 200 miles and a tweaked exterior design
Vauxhall Astra Electric: price, range and video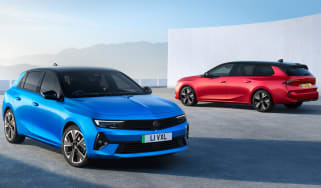 Vauxhall Astra Electric: price, range and video
The new Astra Electric shares its parts with the Peugeot e-308, with first deliveries due soon