First look at MG Cyberster electric sports car launching in 2023
Electric successor to the MG B and MG F sports cars gets scissor doors, convertible fabric roof and steering yoke
A new video has surfaced online providing a first glimpse of the forthcoming MG electric sports car, which DrivingElectric understands will be fully unveiled in late 2023. The zero-emissions convertible is likely to enter production in 2024 to coincide with MG's centenary and will potentially be called the 'MGC EV' in the UK.
Patent images of the MG's drop-top EV filed with the European Union Intellectual Property Office (EUIPO) earlier this year confirmed it to be a toned-down version of the Cyberster – an electric two-seater concept shown at the Shanghai Motor Show in 2021. The new video, which was shared on Chinese social-media platform Weibo, reveals that more of the Cyberster's features are being carried over to the production car than initially thought.
The most notable is the pair of scissor doors, like those found on Lamborghini supercars. Plus, a shot of the cabin reveals the road car has retained a steering yoke – something that's appearing more frequently in EVs at the moment – and a digital cockpit consisting of three screens in front of the driver, with at least one more on the dashboard, likely for the climate control. You can also see a pair of bucket seats and two roll hoops behind them.
Both the concept and production cars feature a long bonnet, wide grille and sharp nose up front, which hark back to some iconic roadsters from the likes of the MG, Jaguar, Mazda and Mercedes. Meanwhile, even the production car's rims are an interpretation of the unique 'hacker blade' alloy wheels worn by the original Cyberster.
That said, the Cyberster concept's active rear wing has been replaced by a much smaller spoiler moulded into the rear deck, and its Union Flag brake lights look more like arrows now, but there's still a full-width tail-light sitting above the car's rear diffuser.
The roadgoing model also features a convertible fabric roof, unlike the 2021 concept, which did without one, seemingly inspired by the recent crop of exclusive speedsters from Aston Martin, Ferrari and McLaren. The patent images reveal the car will have regular door mirrors, too, in place of the cameras used on the concept car.
MG's brand-new MSP platform that's debuting under the MG 4 EV hatchback could serve as the perfect base for the future rival to the electric Porsche Boxster we know is in the works. That's because it can accommodate both rear and all-wheel-drive powertrains, batteries ranging from 40 to 150kWh in capacity and 800-volt charging. 
However, that's just speculation for the time being; technical details like power output and range are still under wraps. MG did claim a potential 497-mile range and 0-62mph time of under three seconds for the Cyberster concept, however, we don't expect the roadgoing model to match either figure.
Guy Pigounakis, MG Motor UK's commercial director, did tell DrivingElectric earlier this year: "In around 18 months' time, the car that enthusiasts have been waiting for will be launched." The comments, made at an event in May 2022, suggest the electric MG convertible will arrive towards the end of 2023. He also said that "expectation will be exceeded."
MG's London design studio SAIC Design had teased the low-slung speedster for months, posting various images on social media in the run-up to its unveiling in China. At the time, Carl Gotham, director of SAIC Design in London, said: "Cyberster is a hugely exciting concept for us. The Cyberster is a bold statement that looks strongly to MG's future, touching on our heritage but more importantly building on our technology and advanced design."
New MG4 EV electric hatchback starts from £25,995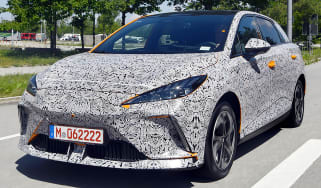 New MG4 EV electric hatchback starts from £25,995
MG MAZE concept: video-game-inspired two-seater electric car unveiled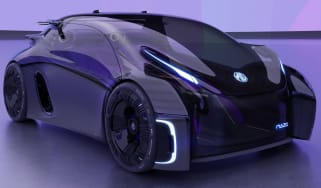 MG MAZE concept: video-game-inspired two-seater electric car unveiled
Top 10 best 4WD electric cars 2022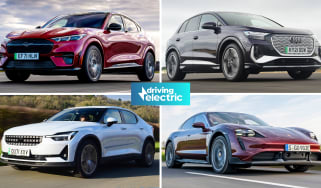 Top 10 best 4WD electric cars 2022
We pick the best four-wheel-drive electric cars to buy in the UK right now, with options to suit various budgets and lifestyles
Can solar panels charge an electric car?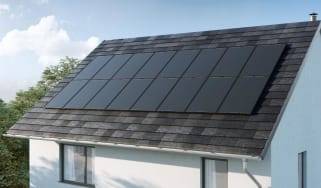 Can solar panels charge an electric car?
Using solar panels to charge your electric car can save you money in the long run. Here's everything you need to know about charging an electric car w…
New MG4 EV electric hatchback starts from £25,995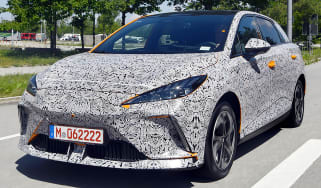 New MG4 EV electric hatchback starts from £25,995
MG's Volkswagen ID.3 rival will be one of the cheapest EVs on sale. We've driven a prototype