New 2022 Mercedes GLC SUV debuts with three plug-in hybrid options
Merc's BMW X3 rival will be offered with a trio of plug-in hybrid powertrains, plus an infotainment setup from the latest S-Class limo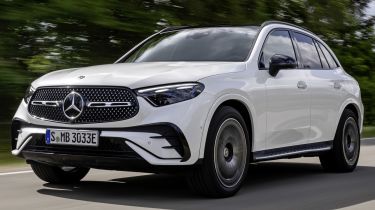 Last year, Mercedes launched an all-new C-Class, so it was only a matter of time before it unveiled the second-generation of its SUV counterpart and the German brand's best-selling model: the all-new Mercedes GLC.
There's no pure electric version of the new GLC planned; the EQC SUV is set to remain in production for some time yet. But every GLC model is now electrified, with 48-volt hybrid technology on base cars, while a trio of plug-in hybrid powertrains (two petrol, one diesel) sit at the top of the mid-size SUV's line-up.
All three PHEV models use a 31.2kWh battery, which feeds an electric motor that produces 134bhp and 440Nm torque. According to Mercedes, each model can cover up to 62 miles on battery power alone, with a top speed of 87mph in EV mode.
The two plug-in petrol options are the GLC 300 e 4MATIC and GLC 400 e 4MATIC. The first uses that electric motor coupled with a 201bhp 2.0-litre four-cylinder engine for a total power output of 309bhp and 550Nm, while the latter produces 376bhp and 650Nm thanks to a more potent engine, which is enough for 0-62mph in 5.6 seconds.
Mercedes claims these two plug-in hybrid GLCs can return as much as 471mpg, while emitting just 14g/km of CO2. That, combined with their electric driving range, places them in the 8% Benefit-in-Kind (BiK) company-car tax band for 2022-23. For comparison, both the BMW X3 and Audi Q5 plug-in hybrids attract a 12% BiK rating.
The final option is a diesel plug-in powertrain. The GLC 300 de 4MATIC pairs a turbocharged 2.0-litre diesel engine with the same battery and motor tech as Merc's petrol-electric offerings for a total of 242bhp and 750Nm. In terms of efficiency, Mercedes claims 564.9mpg and CO2 emissions of 13g/km – again qualifying the diesel for that 8% BiK tax band rating, 
All GLC plug-in hybrids come as standard with a Type 2 charging port and a maximum charging speed of 11kW. Using a standard 7.4kW home wallbox, it should take around four hours to fully replenish the 31.2kWh battery. Mercedes says optional 60kW rapid charging capability cuts the recharge to just half an hour – ideal for longer journeys. However, given that C-Class PHEVs sold in the UK aren't available with DC rapid charging, we expect the same will apply to the plug-in GLC.
As well as the new line-up of hybrids, the GLC has also grown in size, and features refreshed styling. The extra length at the rear has resulted in a 50-litre increase in boot space to 600 litres, although expect that figure to be reduced for the plug-in hybrids – as we found with the C-Class PHEV.
But it's the cabin where you'll find the biggest differences between the first and second-generation GLC. All versions of the new GLC come as standard with an 11.9-inch portrait-oriented central touchscreen and a 12.3-inch digital driver's display running the latest version of Mercedes' MBUX infotainment system. The GLC also gets the 'Hey Mercedes' virtual assistant, can receive over-the-air (OTA) updates, and features a fingerprint scanner for drivers to access their personalised profiles. 
Rear-axle steering is available on the GLC as an optional extra to help with manoeuvrability and high speed stability. Enabling the rear wheels to turn up to 4.5 degrees also allows for a turning circle of 10.9 metres – the same as a Volkswagen Golf's. Other additional kit includes a 360-degree parking camera setup, panoramic sunroof, air suspension, 15-speaker Burmester sound system and a head-up display.
Pricing for the new GLC range hasn't been revealed yet, but we expect the plug-in hybrid GLC will start from close to £50,000.
New Lotus Eletre electric SUV: Britain's answer to BMW iX unveiled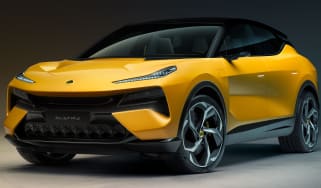 New Lotus Eletre electric SUV: Britain's answer to BMW iX unveiled
New Peugeot 408 plug-in hybrid fastback saloon debuts; EV version to come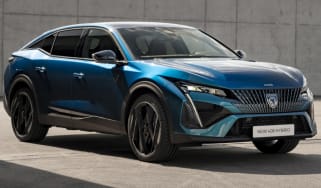 New Peugeot 408 plug-in hybrid fastback saloon debuts; EV version to come
Top 10 best seven-seater electric and hybrid cars 2022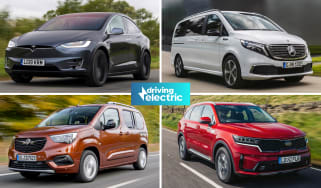 Top 10 best seven-seater electric and hybrid cars 2022
If the regular crop of electrified SUVs and family cars don't provide enough practicality for you, then take a closer look at the range of electric an…
Top 10 cheapest electric cars 2022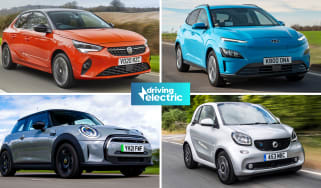 Top 10 cheapest electric cars 2022
Contrary to popular opinion, not all electric cars are expensive. Here are the cheapest ones available in the UK right now
1,972bhp Ford Electric SuperVan can do 0-62mph in under two seconds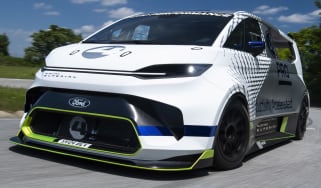 1,972bhp Ford Electric SuperVan can do 0-62mph in under two seconds
Based on the new E-Transit Custom, the Electric SuperVan has made its debut 2022 Goodwood Festival of Speed