New Mercedes CLA hybrid: prices, specs and on-sale date for 250 e plug-ins
The Mercedes CLA 250 e plug-in hybrid is on sale now, available in Coupe and Shooting Brake bodystyles
The Mercedes CLA plug-in hybrid is available in both four-door Coupe (pictured below) and five-door Shooting Brake (pictured above) forms.  The car's CLA 250 e name indicates that it uses the same powertrain as the A 250 e hatchback and saloon, as well as the B 250 e hatchback. The CLA plug-in is on sale now, starting at £38,450 for the cheapest AMG Line Premium coupe. The Shooting Brake starts at £39,450 in the same trim level. Mercedes is rapidly expanding its plug-in hybrid (PHEV) range these days; the CLA joined models such as the C-Class, E-Class and S-Class saloons, as well as the GLC and GLE SUVs, in getting an electrified powertrain.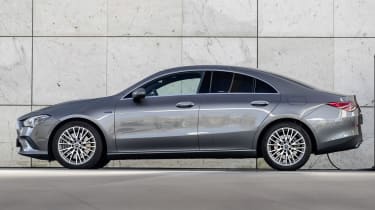 Mercedes CLA plug-in hybrid prices and specs
The entry point to the CLA 250 e range is with the AMG Line Premium model, as it's not available in lesser trims. This version includes 18-inch alloys, LED lights, heated seats, climate control, keyless entry and go, AEB, cruise control and the MBUX media system with two screens: a 10.25-inch touchscreen on the dash and another display of the same size in place of traditional dials. Move up to AMG Line Premium Plus and you add Multibeam LED headlights and a panoramic sunroof. The Shooting Brake version of each model costs £1,000 more than the coupe.
Mercedes CLA hybrid performance, range, fuel economy and emissions
The CLA 250 e powertrain consists of a 1.3-litre petrol engine and 101bhp electric motor, which together produce 215bhp and 450Nm of torque. The Coupe can sprint to 62mph from rest in 6.8 seconds, with the Shooting Brake estate just a tenth slower, at 6.9 seconds. The Coupe has a top speed of 149mph and the Shooting Brake is slightly slower, at 146mph.
Each can get to around 87mph under electric power alone; the Coupe can manage 37 to 43 miles of driving in this mode, while the Shooting Brake can do 36 to 42 miles. Combined fuel economy of around 177 to 202mpg is claimed, but as ever, this will depend heavily on having fully charged batteries, a light right foot and the right combination of petrol and pure-electric running.
Five levels of regenerative braking an be selected and are controllable using paddles on the steering wheel; other plug-in hybrid features include the ability to pre-warm or cool the cabin before a journey without turning on the engine, as well as a drivetrain that can use sat-nav data to calculate the best use of its electric power when left to its own devices. The usual Comfort, Eco and Sport modes let the driver decide on a setup as required.
Developing a new exhaust system and fuel tank has, Mercedes says, allowed more space below the passenger seats for the hybrid system's battery, meaning minimal impact on interior space compared to the non-hybrid CLA models. That battery can charge from 10 to 100% from a 7.4kW home wallbox in an hour and 45 minutes, according to Mercedes. The firm also quotes a 24kW DC charging time from 10 to 80% of around 25 minutes.