Lexus UX 300e practicality & boot space
It's not very big inside, but the Lexus UX 300e is well packaged and extremely comfortable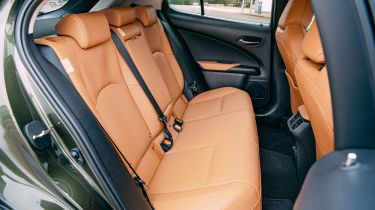 | Length | Width | Height | Boot volume (seats up) |
| --- | --- | --- | --- |
| 4,495mm | 1,840mm | 1,545mm | 367 litres |
The Lexus UX has never been the largest car in its class, but that doesn't mean it's a practicality disaster. There's space enough for four adults to sit in comfort, with front-seat passengers being particularly well treated in higher trims. Boot space is where sacrifices have been made, but thankfully, choosing the electric version of this car doesn't mean making a sacrifice over other models in the range – instead, it's actually a little better. 
The cheaper Kia Niro offers greater versatility for families, but if you don't need a huge amount of space, the UX 300e will be a much more luxurious proposition. And with its full five-door layout, it should be easier to live with than a Mazda MX-30 if you need to get children in and out regularly.
Lexus UX 300e interior space, storage & comfort
The UX isn't the biggest car in this class, but Lexus has done a good job with packaging to offer rear-seat passengers enough room. Given the car's modern styling, you'd expect the rear bench to be a cramped affair, but there's space for adults to get comfortable in the outer seats. The high rear window line means smaller children may struggle to see out from their booster seats, however. 
Thankfully, the UX follows the Lexus party line of being comfortable and refined for its occupants – the seats are great and longer journeys should sail by. The addition of an electric drivetrain has helped make things feel even more relaxed, so the UX is worth a look if this is a priority. Interior storage is adequate if not extraordinary – doorbins all round, a central armrest cubby and two decent cupholders up front are your lot.
Boot space
Perhaps counterintuitively, there's more space in the back of the electric UX than you'll find in a hybrid model. The boot is still on the small side for an SUV, at 367 litres, but this still trumps the hybrid UX's 320 litres, or paltry 283 litres in four-wheel-drive models. There's no seats-down figure, although they do fold to extend storage space. Lexus also supplies a seats-up, loaded-to-the-roof figure of 486 litres.