2021 Lexus UX 300e electric SUV: details, specs and pictures
Lexus is now taking reservations for its UX 300e electric SUV, which is expected to cost from just under £44,000 before the plug-in car grant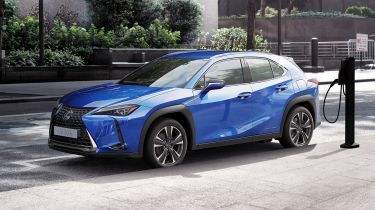 Lexus is now taking reservations for its UX 300e compact SUV, a fully electric counterpart to the hybrid UX 250h. Pricing starts at £43,900 for the entry-level 'UX' trim level, rising to £47,400 for the Premium Plus and £53,500 for the Takumi.
The two cheaper versions meet the current criteria for the UK government's £3,000 plug-in car grant, however this can only be applied when formal orders are placed, starting in October 2020. Lexus will confirm final pricing for the 300e then; assuming the grant is still in place at that time, the entry-level car will cost £40,900 and the Premium Plus £44,400. As the Takumi grade costs more than £50,000, it won't eligible for the grant.
Lexus UX 300e electric: range, battery and performance
The UX 300e is set to offer a 186-mile driving range on a full charge, thanks to its 54.3kWh lithium-ion battery and single electric motor. It's also set to get a 10-year/1,000,000-kilometre (621,371-mile) battery warranty – one of the longest in the industry – as Lexus seeks to reassure buyers who may be worried about the longevity of batteries. Lexus will repair or replace the battery within that time/distance limit if it can no longer hold at least 70% of its original maximum charge.
Lexus also claims that despite this being the maker's first battery-electric vehicle, it'll provide greater "Lexus-ness" than ever before. Takashi Watanabe, chief engineer for the brand's electric range, has said: "The UX 300e is a model that'll open the door for the Lexus Electrified approach, serving as a gateway into the electrified world."
Watanabe added that the UX 300e would prioritise a "natural and linear acceleration feel" rather than the instantaneous punch often associated with electric cars. The UX 300e is expected to accelerate from 0-62mph in 7.5 seconds and will have a top speed of 99mph. Lexus is also working on making the UX 300e as quiet as possible by using special sound technology, as well as a new climate-control system that uses the seat heaters for reduced energy consumption.
Electric motor and charging
The UX 300e is driven by an electric motor developing 201bhp and 300Nm of torque, making it more potent than the UX 250h hybrid model. There's no four-wheel drive version of the electric model for the time being.
Lexus has confirmed that the UX 300e will accept a maximum of 50kW via a DC fast-charger, however. This should result in a 0-80% top-up in around 50 minutes. Meanwhile, AC charging – the type provided by home wallboxes – is capped at 6.6kW, which is likely to result in a full charge in just over eight hours.
While the exterior design of the UX remains largely unchanged from the existing car, the 300e adopts a new, aerodynamic wheel design for improved efficiency and better range. An underbody cover streamlining the underside of the car also has the same effect.
Inside, a fully digital display lies behind the steering wheel, while an infotainment touchscreen sits on top of the dashboard alongside an analogue clock. Lexus promises the "latest connectivity technology" for integrating smartphones, with pictures suggesting that the UX 300e will be compatible with Apple CarPlay. Android Auto should also feature – just as it does in the updated Lexus LC 500h.
Meanwhile, drivers will be able to use the LexusLink app to monitor and schedule charging sessions remotely, as well as pre-heat or pre-cool the cabin ahead of a journey. A suite of driver-assistance systems are thrown in, too, with Lexus' Safety System+ helping to prevent accidents and 'reduce driver stress'.
Trim levels and specifications
Standard features on every UX 300e will include heated, power-adjustable front seats, front and rear parking sensors, a reversing camera, Apple CarPlay and Android Auto, powered steering-wheel adjustment, automatic wipers, 17-inch alloy wheels and aluminium roof rails.
The Premium Plus Pack will add smooth leather seat upholstery, a heated steering wheel, additional ventilation on the front seats, heated outer rear seats, smart keyless entry, a wireless smartphone charger, card key and illuminated door handles with puddle lights.
The Takumi Pack will include a 13-speaker Mark Levinson surround-sound audio system, a 10.3-inch sat-nav screen, a power-operated bootlid with hands-free function, a 360-degree camera, a head-up display, an auto-dimming rear-view mirror, triple-eye LED headlights with adaptive high beams, blind-spot monitoring and rear cross-traffic alert with automatic braking. Aluminium scuff plates, a sunroof and 18-inch alloy wheels are also thrown in.
The standard colour for the UX 300e is Fuji Red or Velvet Black, with five metallic options and two special finishes, Sonic Titanium and Sonic White, to choose from also.
Can solar panels charge an electric car?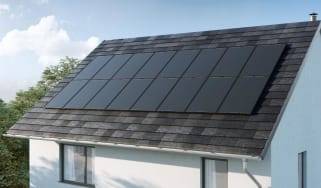 Can solar panels charge an electric car?
Charging your electric car with solar panels is a great way to save money in the long run. We explain why...
Where can I buy hydrogen and where is my nearest hydrogen filling station?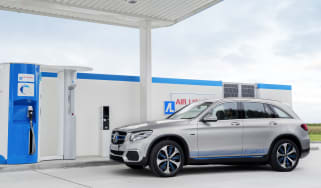 Where can I buy hydrogen and where is my nearest hydrogen filling station?
A guide to where you can find UK hydrogen fuel stations for filling up a hydrogen fuel-cell car
Why owners love the Mitsubishi Outlander PHEV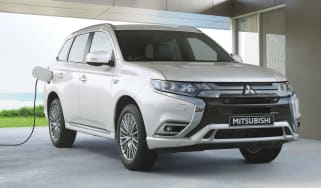 Why owners love the Mitsubishi Outlander PHEV
Thinking of switching to a plug-in hybrid? Plenty of owners we surveyed can vouch for the Mitsubishi Outlander PHEV