Lexus IS 300h (2013-2020) running costs
Good-value pricing makes the Lexus IS 300h a solid choice, although plug-in hybrid alternatives will be much cheaper to run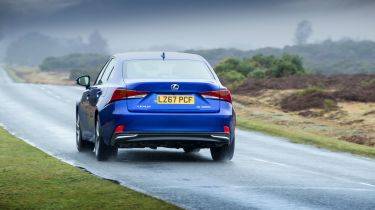 | Insurance group | Warranty | Service intervals | 2020/21 company-car tax cost (20%/40%) |
| --- | --- | --- | --- |
| 28-29 | 3yrs / 60,000 miles | 1yr / 15,000 miles | From £1,980 / £3,960 |
While the Lexus "self-charging hybrid" powertrain doesn't offer all the advantages (or demand the compromises) of its plug-in hybrid rivals, it still costs less than diesel alternatives for Benefit-in-Kind tax and offers a good compromise for those buyers wanting hybrid efficiency without the need to charge the car.
Even so, if you can charge up regularly, a plug-in hybrid will be cheaper on company car tax and potentially a lot cheaper on fuel. We also favour the Lexus ES over the IS for company car users, given that its lower emissions mean that it costs much the same for BiK tax, despite the fact that it's a newer, slightly larger and more luxurious-feeling car. 
Note also that the larger 18-inch wheels of Sport versions are enough to bump the BiK rate up due to slightly higher CO2 levels, and no IS 300h qualifies for London Congestion Charge exemption.
Lexus IS 300h insurance group
The performance and cost of this Lexus means insurance will be fairly pricey. It comes in at insurance group ratings of between 28 and 29 depending on specification, but that's in the same ballpark as its upmarket rivals from BMW and Mercedes.
Warranty
The three-year/60,000-mile warranty provided by Lexus across its range is very much the industry standard, although as mentioned previously the hybrid components get an extra two years of cover.
Servicing
You'll need to plan a service annually or at increments of 15,000 miles to keep your warranty valid. The cost varies between £250 and £450 on an alternate year-by-year basis, although the 60,000-mile visit will cost £650.
Road tax
Most versions of the IS 300h incur £140 annual road tax, but beware models priced over the £40,000 mark, which attract a surcharge and will cost you £465 annually from year two until year six. The same applies if you option-up a cheaper version and take the purchase price over £40,000.
Depreciation
We reckon the Lexus IS 300h will be worth between 45 and 48% of its new value after three years and 60,000 miles – more expensive versions doing slightly worse than more mainstream trim levels.