Lexus IS 300h (2013-2020) engines, drive & performance
The CVT gearbox in the Lexus IS 300h frustrates an otherwise well-rounded performance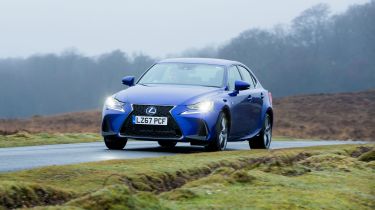 | 0-62mph | Top speed | Driven wheels | Power |
| --- | --- | --- | --- |
| 8.4s | 125mph | Rear | 223bhp |
With 223bhp available in full hybrid mode, the Lexus IS 300h is no slouch, but feels slower than it should due to the CVT gearbox, which requires engine revs to build noisily before noticeable acceleration is available. A similar problem afflicts other models in the Lexus hybrid line-up, but if you can see past it, the driving experience is good. The IS is a hushed and comfortable cruiser, with reassuring grip and decent of agility in corners.
Lexus IS 300h hybrid engine, 0-62mph and acceleration
The main element in the IS 300h's hybrid powertrain is a 2.5-litre four-cylinder petrol engine. It makes almost 180bhp on its own. The key electric component is an electric motor with a maximum output of around 140bhp, but you never get maximum power out of both at the same time – instead, maximum combined output is pegged at 223bhp.
Driving through the rear wheels only, that's enough to push the IS 300h from 0-62mph in 8.4 seconds and on to a maximum speed of 125mph. While those figures are impressive, the antics of the CVT gearbox discourage rapid acceleration.
Instead of launching off the line when you put your foot down, there's a pause while the gearbox winds itself and the engine up noisily before the car accelerates. It sounds noisy and strained, and makes the car feel as though it's trying to catch up with itself.
It's a shame, because in other respects the IS 300h's powertrain is impressive. That's especially true on the motorway, when it's a genuinely hushed cruiser. The car will also run silently in electric-only mode in town for a mile or so before the engine cuts in to recharge the battery, but only if you're doodling along in slow traffic.
Handling
The IS 300h is quite firmly sprung, which means it leans very little in corners and reassures the driver with plenty of grip and good stability. The steering is well weighted if a little numb, and with strong brakes as well ,it's possible to have quite a lot of fun hustling the Lexus enthusiastically through a series of corners. It doesn't feel as nimble or agile as a BMW 3 Series or Jaguar XE, but the fact it's got smaller – and much lighter – batteries than PHEV rivals means it's more responsive than some to being driven with a bit of verve.