Lexus IS 300h (2013-2020) MPG & CO2 emissions
The Lexus IS 300h looks clean compared to diesels, but plug-in rivals are better still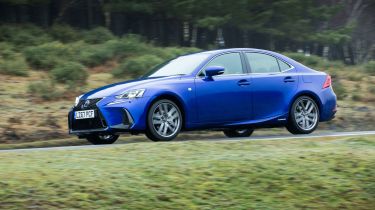 | MPG (combined) | MPG (high) | MPG (low) | CO2 emissions |
| --- | --- | --- | --- |
| 44-49mpg | 53mpg | 44mpg | 133-144g/km |
When compared to more traditional choices, there's no doubt the Lexus IS 300h offers an appealing option for emissions-minded motorists. However, the CO2 output is a little high next to alternative hybrids including Lexus' own ES.
Lexus IS 300h MPG
Our own experience with the Lexus IS 300h is that you'll struggle to achieve the officially quoted consumption of just under 50mpg. When our sister title Auto Express had one on the fleet, it recorded an average of 41mpg – that's a little worse than the sort of real-world consumption you might expect from a comparable diesel, but a long way off the quoted figure.
CO2 emissions
Lexus has recorded official CO2 tailpipe emissions figures of 133-144g/km for the IS 300h. While that's good in comparison to the numbers quoted for traditional diesel or petrol executive models, it's hardly noteworthy if you're looking at the latest batch of plug-in hybrids, and even the bigger and more luxurious, yet more efficient Lexus ES. 
In fact, the IS 300h sits much closer to traditional diesel executive cars like the Mercedes C-Class and BMW 3 Series than it does the PHEVs. The overall value of the hybrid system depends on the type of mileage you cover, and your driving style.
Use a Lexus IS 300h a lot around town, and you'll get maximum benefit from its electric motor. If you do a lot of B-road mileage, or want to make the most of the power and grip, the numbers will inevitably suffer. Ultimately, the IS is an older car and its emissions and real-world economy are looking less than impressive next to more modern rivals.