Lexus CT 200h (2011-2020) MPG & CO2 emissions
You'll achieve decent fuel economy in the Lexus CT 200h, but newer rivals could offer 10-20mpg more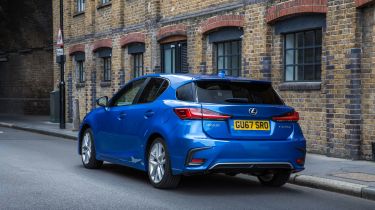 | MPG (combined) | MPG (high) | MPG (low) | CO2 emissions |
| --- | --- | --- | --- |
| 53-55mpg | 61mpg | 54mpg | 115-121g/km |
Unlike electric or plug-in hybrid cars, the Lexus CT 200h isn't designed with pure-electric driving in mind, but the hybrid system will seek to maximise the overall petrol-electric range. The CT even boasts a number of features designed to maximise efficiency.
Lexus has fitted an energy-saving air-conditioning system, used LED lighting and equipped the CT with an energy-efficient stereo, all with an eye on eco driving. There are three driving modes – EV, Eco and Sport – with the car operating in EV mode from start-up and at speeds below 28mph. This makes it ideal for town and city driving, although you shouldn't expect much more than one or two miles of electric range before the battery needs recharging.
Lexus CT 200h MPG & CO2
Claimed fuel economy under the latest testing method is 53-55mpg, which would have been impressive for a petrol hatchback back in 2011, but technology has moved on. For example, a Hyundai Ioniq Hybrid can return a claimed 63mpg, while the Toyota Prius hybrid offers a claimed 83mpg.
In all cases, the figures will only be achieved in the right conditions and with a light foot, but it's also worth remembering that both the Ioniq and the Prius are also available as plug-in hybrid models. More importantly, real-world experience in the CT200h has shown that it's not terribly economical, returning some 40-45mpg in ordinary varied use. 
On the one hand, the plug-in hybrids offer the advantage of providing sufficient electric range for a typical daily commute, which might make them more attractive to some buyers. For others, the 'self-charging hybrid' nature of the CT 200h might be enough to tip the balance in the Lexus' favour.