Lexus CT 200h (2011-2020) engines, drive & performance
The Lexus CT 200h is let down by its sluggish performance and poor ride and handling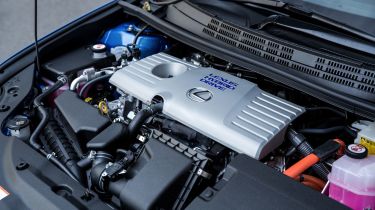 | 0-62mph | Top speed | Driven wheels | Power |
| --- | --- | --- | --- |
| 10.3s | 112mph | Front | 136bhp |
The CT 200h is based on the Toyota Prius, so fuel economy and low running costs take precedence over performance and driving fun. The weight of the hybrid system and the sluggishness of the CVT transmission only serve to blunt the CT's acceleration, while the steering inspires little confidence. Other gripes include the harsh ride and a lack of off-the-line punch.
Lexus CT 200h hybrid engine, 0-62mph and acceleration
The Lexus CT 200h is powered by a 1.8-litre petrol engine combined with an electric motor to deliver a meagre 134bhp. The hybrid system is far from light, with the CT 200h tipping the scales at 1,410kg to 1,465kg depending on trim level. As a result, performance is sluggish, bordering on slow. Lexus quotes a 0-62mph time of 10.3 seconds, but the CVT transmission only serves to make it feel slower as you wind your way up to the 112mph top speed.
There's none of the off-the-line urgency you get in an electric vehicle, while hurrying the CVT only serves to make the revs rise, with little in the way of acceleration. It all feels rather underwhelming and lethargic. It's not all bad news, because the CT 200h is extremely quiet at low speeds and on motorways, which makes for a calm and relaxed driving experience in towns and cities and on long journeys.
Handling
The CT 200h is based on the previous-generation Toyota Prius, so leave any thoughts of a sporting ride at the door. The steering is lifeless, the throttle is slow to respond and the firm ride makes the car crash over bumps and potholes. Switching the CT 200h to Sport mode does little to improve matters, so you're better off treating this as a relaxed and leisurely hatchback. It's at its best in towns and on motorways, which isn't necessarily a bad thing considering what most buyers will demand from a hybrid family hatchback.
Part of the problem is the weight of the hybrid system and the associated battery pack. You can feel the extra weight whenever you take a corner, and while Lexus has made improvements since the car's launch in 2011, the cornering and handling characteristics are far from great. Avoid the F Sport trim, as the performance dampers present a sporting case the CT 200h can't defend.