Land Rover Discovery Sport P300e plug-in hybrid: prices, specs and on-sale date
New plug-in hybrid Discovery Sport boasts 38 miles of electric range and up to 175mpg economy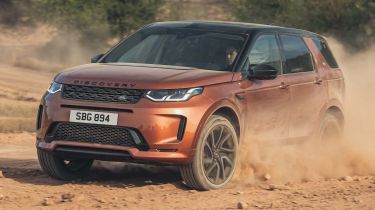 This is the new Land Rover Discovery Sport P300e, a petrol-electric plug-in hybrid version of the British manufacturer's medium-sized family SUV. It uses a new 1.5-litre three-cylinder petrol engine paired with an electric motor and 15kWh battery. The new P300e drivetrain is also available in the recently revamped Range Rover Evoque.
The Discovery Sport P300e can be had in R-Dynamic S, SE and HSE trim levels, with wheel sizes ranging from 18 to 20 inches. Prices start at £45,370, which puts the plug-in Discovery Sport in competition with top-spec versions of family SUVs like the Peugeot 3008 and Vauxhall Grandland X hybrids at the bottom of the range, but more premium rivals like the Volvo XC60 Recharge at the top.
The P300e produces a total of 305bhp from its petrol engine and electric motor, with the latter contributing 108bhp. Claimed performance figures are impressive as a result: 0-62mph takes just 6.2 seconds. Top speed in electric mode is more than adequate at 84mph. Low emissions mean company-car tax and first-year road tax will be competitive: Land Rover quotes CO2 emissions from 36g/km.
Four-wheel drive is present, but not in the traditional Land Rover way – instead, the car's electric motor acts on the rear axle and the petrol engine on the front. The Discovery Sport and its Evoque sibling are both built on the brand's Premium Transverse platform, which was designed from the ground up to accept this plug-in hybrid technology. A new eight-speed automatic gearbox also features.
As with most plug-in hybrids, there are a number of selectable drive modes that affect how the P300e uses its electrification. Hybrid mode is default and works by shuffling between electric and petrol power depending on driving conditions, battery charge levels and even satellite navigation and GPS data.
EV mode cuts out petrol power and allows for electric running for a claimed 38 miles, while Save mode holds onto the battery's charge until needed – best for long motorway journeys followed by urban crawls.
Land Rover claims that the P300e's 15kWh battery – located under the rear seats and with extra underfloor protection for off-roading – can be recharged from 0–80% in 30 minutes on a 32kW public charger, or around 90 minutes from a standard 7kW wallbox. A belt starter motor and regenerative braking system also help to keep the batteries topped up on the move. 
The P300e can perform functions while on charge, including preconditioning of its battery and the preheating or cooling of its interior, via the dedicated 'InControl Remote' smartphone app.
Electric Renault 5: prices, 2024 launch date and teaser images of the MINI Cooper rival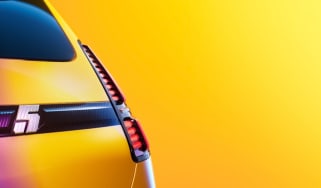 Electric Renault 5: prices, 2024 launch date and teaser images of the MINI Cooper rival
New official teaser pictures for Renault's electric supermini confirm the 5's reveal in February 2024
Big price cut: Electric Renault Megane prices slashed in time for Christmas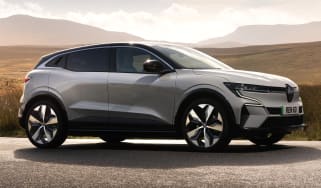 Big price cut: Electric Renault Megane prices slashed in time for Christmas
Renault Megane E-Tech gets a price drop of up to £3,500, bringing the starting price to just £34,495