New Kia Soul EV 2020: UK price announced for electric SUV
Order books open early for Kia Soul EV, as manufacturer confirms price for 'First Edition' model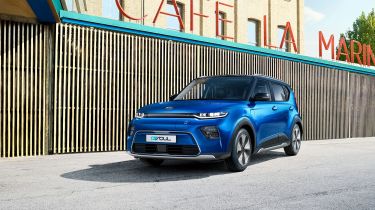 The new Kia Soul EV will cost £33,795 in the UK – a figure that includes the Government's £3,500 plug-in car discount – the South Korean manufacturer announced in May 2019. We've already driven the car in its native South Korea; you can read our full review here.
It'll be available first in one, well equipped 'First Edition' trim level with a 64kWh battery. Kia opened the order books early so it could gauge customer demand for the car. The Soul EV's sister model, the e-Niro, sold out its entire 2019 allocation of 900 cars in a matter of weeks.
Kia has since confirmed that it has secured sufficient supply to clear the e-Niro's 3,000-strong waiting list by the middle of 2020, with the Soul EV also taking up some of the demand.
The 64kWh Soul EV promises up to 280 miles of driving range (according to the latest WLTP test method) and is powered by a 201bhp electric motor, giving it a 0-62mph of 7.6 seconds. A smaller (39kWh) battery, delivering 172 miles of range and with a less powerful 134bhp electric motor, is being offered in some other markets, but won't be coming to the UK.
Using the same batteries as the Hyundai Kona Electric, the Soul EV is said by Kia to be as much as 30% more efficient than Europe's best-selling electric vehicle, the Nissan Leaf. Its cells hold 25% more energy per unit of volume than those of the previous Soul EV, meaning Kia has been able to deliver a big range boost while keeping the battery as light and compact as possible.
New Kia Soul EV charging
Rapid charging is included as standard, with the manufacturer claiming a 20-80% charge in 42 minutes from a 100kW charger. The Soul EV will come with three-pin and Type 2 cables as standard, with the latter allowing a full top-up from a 7kW home wallbox in nine hours and 35 minutes.
The Soul EV's charging socket is found under a panel at the front of the car. Four drive modes can be chosen: Normal, Eco, Eco+ and Sport, with each offering varying levels of acceleration, regenerative braking power and interior ventilation in order to either maximise performance, comfort or driving range as required.
Paddles behind the steering wheel let you adjust the strength of the regenerative braking – sending energy back into the battery and thus boosting range – while a single-pedal driving mode acts in much the same way as Nissan's E-Pedal system. Fully independent, multi-link suspension replaces torsion-beam suspension on the rear axle; this should improve handling.
Styling
The Soul's looks have been updated but not radically altered for the third-generation model, although Kia says every panel is new. Fans of the original will recognise the familiar boxy profile instantly, but at the front and rear there are now smoother, more aerodynamic bumpers.
The LED headlamps are integrated into the 'brow' of the car up front, while the Soul EV also gets its own design of five-spoke, 17-inch alloy wheels, distinct from those available on the petrol-powered Soul (which isn't being offered in Europe).
The car is 4,195mm long –  55mm longer than its predecessor – with boot space rising from 281 to 315 litres. Buyers are able to choose from seven single-tone and a pair of two-tone paint finishes.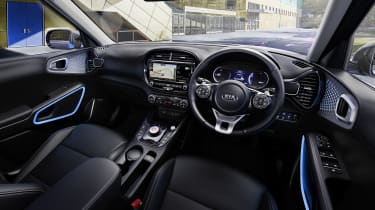 Interior, technology and specifications
The new Soul EV comes with an extensive suite of driver-assistance systems as standard, with others available as options. These include forward collision warning, collision avoidance assistance, lane-departure warning, lane-keeping assistance, driver alertness monitoring, adaptive cruise control, blind-spot monitoring and rear cross-traffic alerts.
Inside, there's a rotary shifter to select drive, neutral, reverse and park, as well as 10.25-inch colour infotainment touchscreen with a rear-view camera and parking sensors. Android Auto, Apple CarPlay, Bluetooth connectivity and wireless smartphone charging all feature, as does voice recognition. A seven-inch digital instrument cluster sits behind the steering wheel, and a head-up display projects key information onto the windscreen so that drivers needn't divert their eyes from the road ahead.
The interior can be finished in a range of single- and two-tone colour schemes, with a choice of fabric, leather and synthetic leather upholstery. Finally, the Soul EV also boasts multiple 'telematics' features, including the ability to remotely monitor battery and charging status, schedule charging and get real-time updates from charging stations. A panic button allows instant contact with the emergency services, while sat-nav destinations and points of interest located on a phone or home computer can be sent to the car's navigation system.
Price and release date
The Kia Soul EV First Edition 64kWh will cost £33,795 in the UK and order books are open now, with first deliveries set for early 2020. The car will come with the brand's seven-year/100,000-mile warranty, inclusive of the battery and electric motor. This generation of the Soul will be available in Europe exclusively as an electric car, with no petrol or diesel alternatives.
Twin test: Mazda MX-30 vs Kia Soul EV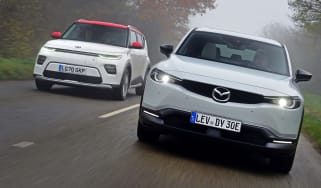 Twin test: Mazda MX-30 vs Kia Soul EV
Top 10 best plug-in hybrid SUVs 2021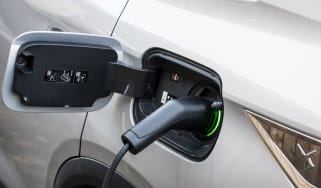 Top 10 best plug-in hybrid SUVs 2021
The finest plug-in hybrid SUVs offer low running costs, enough electric range for daily use and excellent practicality. These are the best plug-in hyb…
Top 10 best plug-in hybrid cars 2021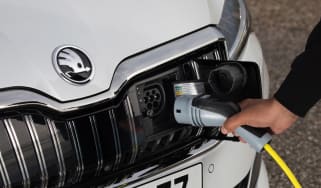 Top 10 best plug-in hybrid cars 2021
Plug-in hybrid cars are great for keeping fuel and company-car tax bills low. Here are the best ones to buy in the UK right now
Top 7 best hybrid and electric sports cars 2021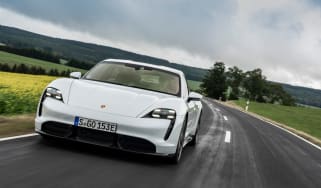 Top 7 best hybrid and electric sports cars 2021
Bringing thrills and performance with their powerful electric motors, these are the best electric and hybrid performance cars to buy in the UK in 2021