Honda Clarity: specs and on-sale date
There are a few examples of the Honda Clarity in the UK, but the car won't return to sale here until 2022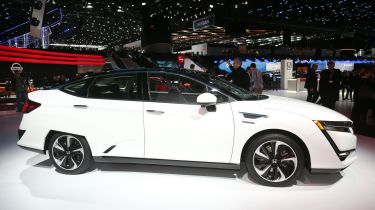 Among all the talk about hybrid and electric cars, there's another option: hydrogen-fuelled cars. Hyundai and Toyota have already dipped their toes in the water in the UK, and the Honda Clarity could follow suit.
Trouble is, although there are a few examples being leased in the UK, the car isn't actually on sale here. In fact, if you fancy a hydrogen-powered Honda, you'll need to wait for the next-generation Clarity, which is only expected to appear in 2022.
It's possible that some work will have been done by then to address the main problem with running a hydrogen car: the tiny number of places where you can actually fill up with hydrogen.
Honda Clarity powertrain
Essentially, the Clarity is an electric car. The wheels are driven by electric motors, but you never need to plug it in to charge it up. Instead, by reacting the hydrogen fuel with oxygen from the air, electricity is created to power the car.
The only emission is water, and the other big advantage is that it takes no longer to fill up a hydrogen car than it does a petrol or diesel vehicle. You don't have the same wait that you would for an electric car to charge up.
The range is good, too. You're likely to get about 300 miles in everyday use (rather than the 400 that Honda claims), which is more than enough for most people's daily driving.
On the road
If you've ever driven an electric car, you'll already know what the Clarity feels like. There's a very strong initial power delivery from the electric motors, so you'll have no problem keeping up with traffic.
It's true the Clarity isn't the most exciting thing to drive, but it does give a generally comfortable ride and the brakes are reassuring – which isn't always the case when a car has regenerative brakes.
Interior
The Clarity is quite revolutionary underneath, but it's thoroughly conventional inside. In fact, this is a perfectly ordinary five-seat family car, with a very high standard of finish and some very smart materials inside.
The only place where you'll feel at all short-changed is in the boot. Not only does the tank for the hydrogen fuel severely limit the space at your disposal, it also leaves a huge step in the floor.
New Honda e:Ny1: range, specs and video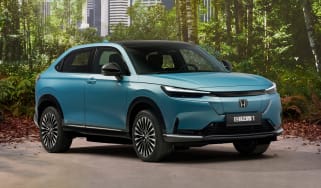 New Honda e:Ny1: range, specs and video
Sony and Honda launch new Afeela electric-car brand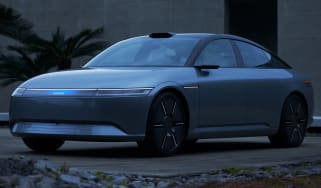 Sony and Honda launch new Afeela electric-car brand
BMW i4 facelift to topple Tesla with huge range and tech upgrades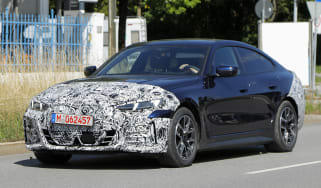 BMW i4 facelift to topple Tesla with huge range and tech upgrades
An updated version of the BMW i4 has been spotted testing, likely sporting a longer range and the latest technology
Electric BMW iX2 is set to take the kidney grille to the next level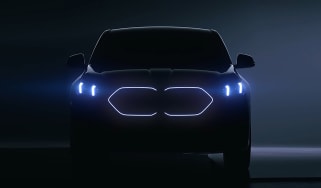 Electric BMW iX2 is set to take the kidney grille to the next level
BMW has teased the highly-rumoured iX2 coupe-SUV, which has been revealed to get enlarged illuminated kidney grilles