Hyundai and Kia to build 500,000 hydrogen cars by 2030
Hyundai Motor Group plans to expand its hydrogen systems into drones, shipping and heavy-duty machinery as well as increasing fuel-cell car production to 500,000 units per year by 2030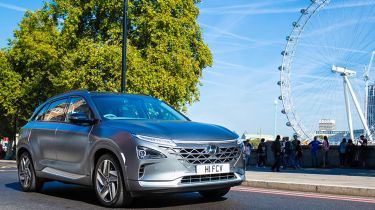 Hyundai Motor Group, which includes both the Hyundai and Kia brands, has announced its 'FCEV Vision 2030' plan to further clarify the company's commitment to hydrogen power. It intends to branch out into other sectors beyond automotive, as well as to invest in and develop hydrogen fuel cell vehicles, with ambitions to be producing 500,000 hydrogen cars, or 'FCEVs', per year by 2030.
Hydrogen fuel cells are a well-established technology that involves hydrogen reacting with oxygen within a fuel cell, to create electricity that then powers the car. There are no harmful by-products at all; a hydrogen fuel cell technically 'cleans' the air and produces nothing but water.
Read more: What is a hydrogen car?
However, problems include concerns over how to transport and store hydrogen, a lack of refuelling stations and cost of production. So far hydrogen cars remain quite experimental. But with other makers including Toyota and Honda also committed to hydrogen, it seems set to become one of the renewable fuel solutions of the future.
Hyundai already makes the Nexo hydrogen SUV, which will go on sale next year priced at around £55,000, and produces 4000 fuel cell systems per year.
The company has now further solidified its commitment to hydrogen by stating that it intends to boost hydrogen fuel cell production to 40,000 units per year by 2022, and 700,000 units per year by 2030 – and not just for use in its own vehicles. Hyundai intends to 'explore new business opportunities' by offering its systems to other car makers, as well as to non-automotive sectors including shipping, drones and forklifts.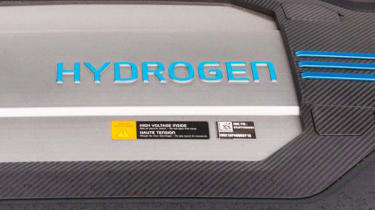 Euisun Chung, Executive Vice Chairman of Hyundai Motor Group, said: "we will expand our role beyond the automotive transportation sector and play a pivotal role in global society's transition to clean energy by helping make hydrogen an economically viable energy source. We are confident that hydrogen power will transcend the transportation sector and become a global economic success." 
The FCEV Vision 2030 plan will require investment of more than £5billion and is expected to create around 51,000 jobs by 2030, if Hyundai Motor Group's ambitions to produce 500,000 fuel-cell vehicles is to be realised. 
BMW i4 facelift to topple Tesla with huge range and tech upgrades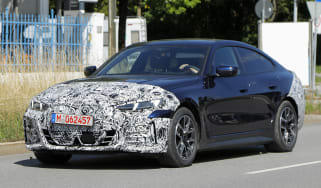 BMW i4 facelift to topple Tesla with huge range and tech upgrades
An updated version of the BMW i4 has been spotted testing, likely sporting a longer range and the latest technology
We've had a ride in the new electric MG Cyberster and it's NOT what we first thought…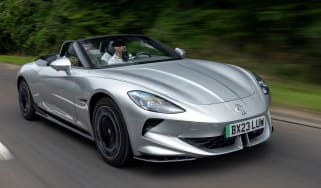 We've had a ride in the new electric MG Cyberster and it's NOT what we first thought…
The MG Cyberster is due to go on sale next year with up to 536bhp and scissor doors – and we've already had a ride in it