Twin test: Kia EV6 vs Volkswagen ID.4 GTX
The sporty SUV boom continues, with two new electric entries raring to be put to the test – so can either the well tailored EV6 or landmark ID.4 GTX pass muster?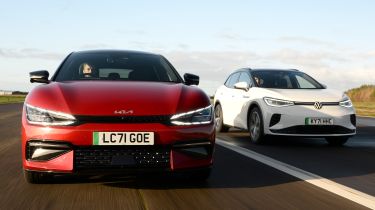 To say these two cars have a lot riding on them would be the understatement of the year – and it's only January. For a start, the Kia EV6 is the first of a new generation of electric cars from the South Korean brand; it already plans to introduce two more zero-emissions SUVs as follow-ups, the first of which will feature seven seats. The EV6 also has the not-so-small task of distinguishing itself from the highly accomplished Hyundai Ioniq 5 it shares underpinnings with.
Then, there's the Volkswagen ID.4 GTX. This 2.2-tonne SUV is the German brand's first electric performance car, with similarly potent versions of the ID.5 coupe-SUV and ID.3 hatchback also in the pipeline. But what looms even larger than the ID.4's responsibility of debuting the GTX badge to the world is the 46-year legacy of beloved GTI models it must live up to.
Kia EV6
Pros: Sleek styling, sporty handling, longer range and rapid charging speeds
Cons: Slightly firm ride, ID.4 GTX more practical, headroom for taller occupants
Volkswagen ID.4 GTX
Pros: Practical, instant torque, understated looks
Cons: Not very involving, infuriating infotainment, EV6 charges faster
So, with the stakes clearly established, let's see if the range-topping versions of these electric SUVs have what it takes to set your trousers on fire in the corners, all while boasting sufficient practicality to manage the school run with ease…