Iconic Ford Capri to be reborn as all-electric coupe-SUV
The new Capri will use the same MEB platform as Ford Explorer and Volkswagen ID.4
Last year we learned that the iconic Ford Capri nameplate would be making a comeback. And we've now spotted a pre-production prototype in the wild, giving us our first glimpse at the new, all-electric coupe-SUV that'll have a lot to live up to.
There are still plenty of details we can't see, but what's clearly visible is the sloping roofline and upright rear end that are very similar in style to the new Peugeot E-3008 and Cupra Tavascan. In fact, the overall proportions are a close match to the Tavascan's, but that's hardly surprising as both rakish EVs use the Volkswagen Group's MEB platform for electric vehicles. 
Underneath the camouflage, the Capri is sure to feature many of the same design cues as the new Ford Explorer SUV – the brand's other MEB-based electric car. That includes a floating roof design courtesy of black A, B and C-pillars, while the company's blue oval logo will sit proudly in the centre of the blanked-off grille. The bluff and upright nose is much like the Explorer's too, however the Capri will feature a unique headlight signature that Ford has already teased, and will mimic the double-roundel lighting of the original Capri.
The interior layout will also carry over a lot from the Explorer, such as the adjustable 15-inch portrait touchscreen that conceals a storage compartment for phones, wallets and other valuables. There should also be a five-inch digital instrument cluster to show your speed, range and other vital driving information. The rakish roofline may have some impact on rear headroom when compared to the boxier Explorer, but this new Capri will be much more practical than its three-door coupe ancestors. 
Battery and motor combinations should also match the Explorer's, meaning the range-topping model will feature a 335bhp dual-motor setup powered by an 82kWh battery. Over 300 miles of range from this particular version should be possible, although a 282bhp single-motor variant with the same battery pack could cover closer to 330 miles from a single charge. 
There's also potential for another rear-wheel drive model with a smaller 55kWh battery and 168bhp motor that would offer just over 200 miles of range, but at a more affordable price. Depending on which version you pick, the Capri's maximum charging speed should stand at either 130kW or 170kW, but either way a 10-80% top-up will take less than half an hour.
We expect the new Ford Capri will be unveiled sometime in 2024, along with the Ford Puma EV, and command a small premium over the Explorer which is due to start from around £40,000. Likely rivals include the new Peugeot E-3008 and Cupra Tavascan, plus the Tesla Model Y, Kia EV6 and Nissan Ariya. 
The Kia EV9 is DrivingElectric Car of the Year 2024
The Kia EV9 is DrivingElectric Car of the Year 2024
DrivingElectric Awards 2024: the winners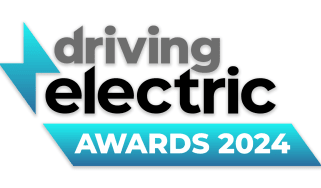 DrivingElectric Awards 2024: the winners
We celebrate the very best products in the EV world
Tesla Cybertruck: pricing and specs for Elon Musk's electric pickup truck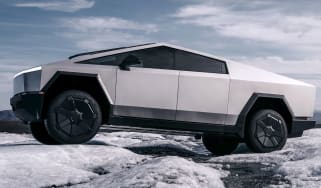 Tesla Cybertruck: pricing and specs for Elon Musk's electric pickup truck
The Tesla pickup truck is now on sale, with a range of up to 340 miles and a starting price of just over $60,000