Ford electric cars: seven new passenger and commercial EVs to arrive by 2024
New Ford Puma electric is among three new electric cars and four new electric vans due in the next two years as brand aims for full carbon neutrality by 2035
An electric version of the Ford Puma compact SUV is among a raft of EVs on the way from the brand in the next two years, as it transitions to being fully carbon-neutral and zero-emissions in Europe by 2035. The Puma EV will join the current Mustang Mach-E, an as-yet-unnamed "medium-sized crossover" and a "sports crossover" in the Ford electric-car line-up by the end of 2024.
While the electric Puma will roll off the same Romanian production line as the petrol-engined versions of that car, the latter two will be built at Ford's Cologne factory in German, sharing underpinnings with Volkswagen's 'ID' electric models thanks to an agreement between the two companies signed several years ago.
Ford says the medium-sized crossover will seat five people and be capable of up to 310 miles on a charge – suggesting it'll be offered with the same choice of 58 and 77kWh battery sizes as its Volkswagen cousins. Its name will be revealed later in 2022 and it'll go into production early in 2023.
On the commercial-vehicle front, the Ford E-Transit (above) has already been announced and will be arriving in the UK in the coming months. By 2024, Ford will offer fully electric versions of its entire commercial van and minibus range, encompassing the mid-size Transit Custom and Tourneo Custom, along with the smaller Transit Courier and Tourneo Courier.
"Our march towards an all-electric future is an absolute necessity for Ford to meet the mobility needs of customers across a transforming Europe," said Stuart Rowley, the chairman of Ford Europe. "It's also about the pressing need for greater care of our planet, making a positive contribution to society and reducing emissions in line with the Paris Climate Agreement."
There's no confirmation as yet what the new passenger-car models will look like, but in late 2019, Ford of Europe's chief designer Murat Gueler told us that Mustang design influences were likely to appear on other electric Fords: "The Mustang influence wasn't considered until an earlier direction with the Mach-E wasn't really working," he said. "Once we introduced Mustang as inspiration, it came together quickly. We're really excited by what this brings to the electric car and we've talked about expansion to some sort of family."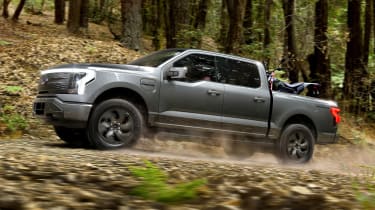 New Ford electric-car platforms in the US
While Ford is collaborating with Volkswagen to produce its European electric models, its zero-emissions efforts in the US will be underpinned by two new platforms developed in-house.
The first is a rear-wheel-drive/all-wheel-drive flexible architecture that'll sit under future compact and full-size vehicles, including two and three-row SUVs, vans and pickup trucks. The second will be for large pickup trucks and utility vehicles.
Only the former is likely to be used for Fords sold in Europe, but even that isn't certain in light of the tie-up with Volkswagen mentioned above. Ford has already announced the lifestyle and commercial versions of its F-150 Lightning electric pickup truck (pictured above) for the US market.
Volkswagen ID.3 facelift due in spring 2023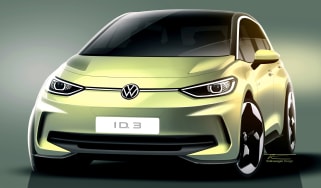 Volkswagen ID.3 facelift due in spring 2023
New sketches provide a glimpse at refreshed styling and cabin of Volkswagen's electric family hatchback
Tesla Semi truck showcases 500-mile range as first examples delivered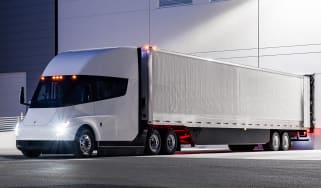 Tesla Semi truck showcases 500-mile range as first examples delivered
The Tesla Semi made its world debut in November 2017, and will become part of Tesla's own fleet