Cupra teases arrival of entry-level electric car in 2025
Cupra's entry-level EV will be built in Spain and share its platform with the VW ID.1 and ID.2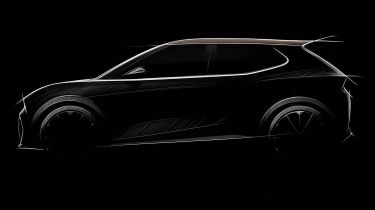 A new sketch of Cupra's forthcoming entry-level EV has been revealed, providing us with our first look at the toned down styling of the roadgoing version of the brand's UrbanRebel concept unveiled back in 2021.
Cupra CEO Wayne Griffiths previously confirmed that its UrbanRebel electric racecar concept (below) will form the basis of the brand's entry-level electric car, that'll arrive in 2025 alongside similar models from both Skoda and Volkswagen.
Speaking to DrivingElectric, Griffiths said at the UrbanRebel concept's unveiling at the 2021 Munich motor show: "The car is a deliberate statement. I think there's a need out there to do a car for the next generation who are really enthusiastic about cars – and that's what we do at Cupra.
"We do cars that people love, but not necessarily what everyone likes – we like to provoke, so this is a provocation, obviously overstating what we will end up doing as a series car. But it's very close; if you take the tail off the back, then you're very close to where we are on the series design.
"So the Cupra Rebel will stay very rebellious in the series car – it'll be very sporty. The inspiration will remain on the series car and we will bring that in 2025."
The roadgoing version of the UrbanRebel will use a smaller variant of the 'MEB' platform that'll serve as the underpinnings for an entry-level EV from Skoda, Volkswagen's Polo-sized ID.1, as well as a crossover called the ID.2. All four models will be built in Spain from 2025.
Details of Cupra's forthcoming small electric car are scarce at the moment, however Griffiths hinted it would cost just over €20,000 when it goes on sale – slightly higher than the ID.1 and ID.2's expected price tag.
Cupra says the UrbanRebel concept produces 335bhp the majority of the time, but can pump out up to 429bhp for short periods – enough for a 0-62mph time of just 3.2 seconds. However, much like the UrbanRebel's three-door configuration, we don't expect these figures will be carried over to the production version, or its sister models.
The VW ID. Life concept's figures are closer to what we'd expect from Cupra's entry-level EV, as the electric crossover features a 231bhp electric motor driving the front wheels only, with 0-62mph taking 6.9 seconds. Meanwhile, its 57kWh battery could provide enough energy to cover nearly 250 miles on a charge.
Some of the UrbanRebel concept's design cues are likely to be carried over to the production car, including the short overhangs and sharp nose that are similar to those seen on the Cupra Born hatchback. In terms of the interior, we have less of an idea due to the concept's stripped-out, cabin, however Griffiths did comment: "At Cupra, we make cars for car lovers and car drivers, so everything will be orientated around the driver – we don't do big screens for passengers, the big screen is for the driver and the whole console and experience should be orientated towards the driver."
"We'll do all the autonomous and safety assistance features that people want, but you should always be able to switch it off to have some fun."
Griffiths has previously spoken about how the new urban electric vehicle and its sister cars from VW and SEAT will make electric cars more accessible to the masses, with the VW Group aiming to produce more than 500,000 a year in his brand's plant in Martorell, Spain.
New 2022 Volkswagen ID. Buzz electric minibus and van: prices, specs, range
New 2022 Volkswagen ID. Buzz electric minibus and van: prices, specs, range
Top 10 best electric vans 2022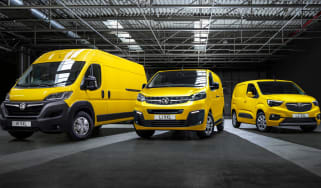 Top 10 best electric vans 2022
Top 10 best plug-in hybrid SUVs 2022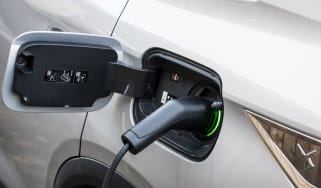 Top 10 best plug-in hybrid SUVs 2022
The finest plug-in hybrid SUVs offer low running costs, enough electric range for daily use and excellent practicality. These are the best plug-in hyb…
Top 10 best hybrid cars 2022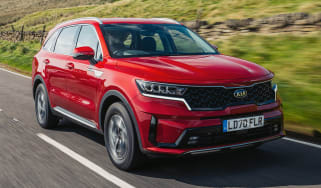 Top 10 best hybrid cars 2022
The best hybrid cars on sale in the UK right now will help reduce your fuel bills without needing to be plugged in. These are our favourites...
Best electric-car deals UK 2022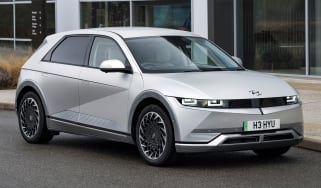 Best electric-car deals UK 2022
Looking to buy a new electric car using Personal Contract Purchase (PCP) finance? Here are the deals on offer from electric-car manufacturers right no…