Cupra e-Racer: passenger ride in world's first electric touring car
DrivingElectric gets on board with champion racer Mattias Ekstrom in the Cupra e-Racer
Electric power is coming to touring-car racing. Following the success of the now six-year-old Formula E single-seater championship, which has attracted the likes of Porsche, Mercedes, Nissan, Jaguar, BMW, Audi and DS, other areas of the motorsport world are looking to embrace zero-emissions driving.
With its doorhandle-to-doorhandle battles, fiery driver personalities and recognisable road-car shapes, touring-car racing has long been one of the most popular categories with fans, and the proposed new ETCR championship aims to add electric power to that cocktail without spoiling its appeal.
Hyundai revealed a Veloster N ETCR at September's Frankfurt Motor Show, but it was SEAT's spin-off performance brand Cupra that was first out of the blocks with the Cupra e-Racer, first announced at the Geneva Motor Show in March 2018.
With the car's development process now well underway, DrivingElectric travelled to the Castelloli circuit just outside Barcelona, Spain, to experience the car as driven by Cupra's recently appointed electric racing ambassador Mattias Ekstrom: a DTM and World Rallycross champion who knows a thing or two about 'tin-top' racing.
Cupra e-Racer specifications
Before getting in, there's a quick rundown of the e-Racer's specifications. The numbers are impressive: a 300kW (402bhp) power output in standard 'race' mode and peak output of 500kW (671bhp) for short bursts in 'qualifying' mode, with peak torque nudging 1,000Nm.
Four electric motors, two on each side of the rear axle – not linked with a differential but instead controlled using torque vectoring. They run at up to 12,000rpm and take the car from 0-62mph in 3.2 seconds, then on to a top speed of 167mph. The e-Racer has an 800v electrical system (like the Porsche Taycan) and a 65kWh battery, tipping the scales at 1,570kg.
Aerodynamics are always important for racing cars, but that's even more the case for the Cupra, where better aero efficiency allows it to eke out more range from its battery. One notable development is the replacement of door mirrors with slim cameras, sending a feed to screens located where the central rear-view mirror would normally be found.
According to Cupra Racing engineer Xavier Serra, this has the dual benefit of reducing aero drag from the mirrors, as well as giving the driver better and safer rear vision, particularly at night or in wet conditions.
Driving challenges
With a factory Audi career running from 2001 to 2018, as well as experience in rallying, rallycross and GT cars, Sweden's Mattias Ekstrom is one of the most accomplished professional racers out there, but even he admits there was a lot to learn about racing electric cars when he first got a taste.
"It's a new chapter of my life; it's exciting but it's also a challenge," he tells us. "I had very limited experience of electric cars, I'd only driven a Tesla once in a test for [German magazine] Auto Bild. 
"Normally when you're driving, you have gears and you get a feel for the sound of each gear as the car accelerates, but here there's zero sound, and then full acceleration. It takes a while to get confident and have a feel for the speed, because you miss a lot of the traditional feedback from gears and revs.
Partnership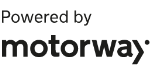 Need to sell your car?
Find your best offer from over 5,000+ dealers. It's that easy.
"The instant power is amazing, though; compared to the inertia from flywheels and the drivetrain weight in a normal car, once you've driven electric, going back to that feels like going from 100 to zero. Once you spin wheels, the car reacts faster. It takes a while to recalibrate."
The Cupra e-Racer is also a different animal under braking compared to its combustion-engined predecessors, as Ekstrom explains: "With regenerative braking, the feeling is different; it seems artificial when you're used to engine braking," he says.
"With engine braking, I can control it by how aggressively I shift down the gears; if you come down fast and lift clutch, you can get a lot of deceleration. Regen is a different way to control it, and it's hard to feel in the beginning. As a driver, you have to be adaptable to get the most out of an electric racer. You have less input as to how things happen, you have to take it as it comes."
Riding on board
Explanations over, it's time to suit up, pull a helmet on and clamber in among the rollcage bars to sit in the snug passenger bucket seat that's been bolted into the e-Racer for the occasion. Door closed and away we go, gliding up the pitlane in the still-hot September sunshine with a noticeable whine from the quad motors.
Once we've cleared the pit exit, Ekstrom pulls on to the racing line and opens the taps. Although we're only in 300kW 'race mode' for these laps, the acceleration is still explosively fast, and in no time he's standing on the brakes for the first corner.
Castelloli is a fast and flowing circuit, and seeing it blur past the windscreen with no engine noise in the background is initially a bit disorientating – like watching a furious action movie with the sound on mute.
It's not completely silent, though: brake and tyre squeal and whooshing wind noise are very evident, and Ekstrom is working hard to keep the car in check as it squirms under braking and twitches under hard acceleration out of the tighter corners. As he explained earlier in the briefing, in the absence of engine cues, it's only when those corners approach rapidly that you realise how fast the car is moving.
After two thrilling laps, our time is up and Ekstrom turns into the pitlane. It's been a brief encounter, but enough to be convinced that this is a proper racing machine – and a proper challenge for anyone who ends up racing it.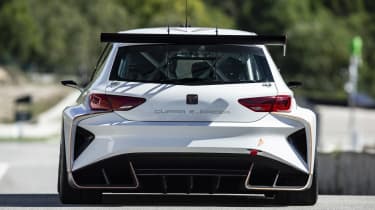 What next?
As to when we'll see the Cupra e-Racer line up on a grid alongside an array of rival ETCR machines, the answer to that question isn't entirely clear yet. Initial plans were to have a full season of ETCR racing in 2020, alongside the established World Touring Car Cup (WTCR) for combustion-engined cars.
Those plans have now been scaled back to a potential four events in the latter part of 2020, ahead of a full season in 2021. Alongside Cupra and Hyundai, Honda is also reported to be working on an ETCR-eligible version of its successful Civic TCR racer, and there are many more manufacturers with existing TCR versions of their road cars that could possibly spawn electric counterparts.
Whatever happens, it seems likely that Cupra will reap the reward of having been 'first to market', with its Cupra e-Racer largely setting the parameters for what an ETCR car will be.
Cupra Raval name for 2025 small EV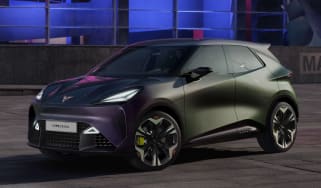 Cupra Raval name for 2025 small EV
All-electric Cupra Tavascan coupe-SUV unveiled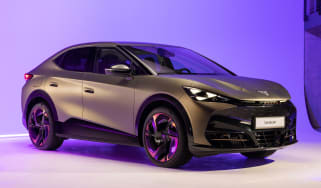 All-electric Cupra Tavascan coupe-SUV unveiled 
BMW i4 facelift to topple Tesla with huge range and tech upgrades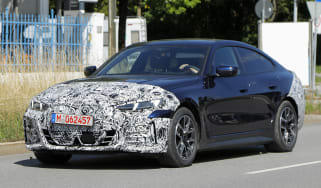 BMW i4 facelift to topple Tesla with huge range and tech upgrades
An updated version of the BMW i4 has been spotted testing, likely sporting a longer range and the latest technology
Electric BMW iX2 is set to take the kidney grille to the next level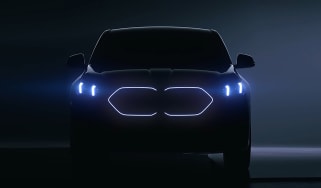 Electric BMW iX2 is set to take the kidney grille to the next level
BMW has teased the highly-rumoured iX2 coupe-SUV, which has been revealed to get enlarged illuminated kidney grilles