Porsche Formula E: 99X electric race car revealed
Porsche 99X electric racer for 2019/20 Formula E season breaks cover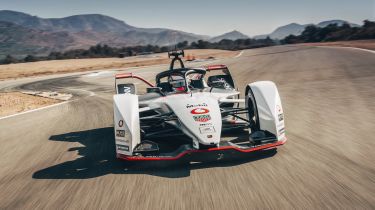 Porsche has taken the wraps off its challenger for the upcoming 2019/20 Formula E season, dubbed the 99X electric.
The single-seater electric car uses the same bodywork and Williams Advanced Engineering battery as the rest of the field, but with an electric motor developed in-house by Porsche.
Porsche works drivers Neel Jani and Andre Lotterer – who previously raced the marque's 919 Hybrid LMP1 car at Le Mans and in the World Endurance Championship – will form the line-up for season.
The duo participated in a 'digital reveal' of the car on the online gaming service Twitch, taking instructions from gamers who directed them where to find the car in the headquarters of Porsche Digital.
Elsewhere, Pascal Zurlinden, the director of GT motorsport for Porsche, will become director of factory motorsport for the brand, adding responsibility for Formula E to his portfolio. He will report to the vice president of Porsche Motorsport, Fritz Enziger.
Porsche says its engineers were able to apply knowledge gained from the 919 programme to developing the 99X's drivetrain, which will use the same 800-volt technology as the forthcoming Porsche Taycan road car.
According to Malte Huneke, Porsche's Formula E project leader: "in hindsight, we laid the foundations for Porsche's future involvement in Formula E during the LMP1 project. We used the insights gained during that time in the development of the Porsche Formula E powertrain.
"In addition, energy management and efficiency are the keys to success in both Formula E and series production. This is where the permanent synchronous motor comes into play which has an important role in optimising the drive concept.
Amiel Lindesay, Porsche's Formula E head of operations, added: "We are very pleased and are optimistic going into the final preparations for the first race."
The 99X will make its first official appearance at pre-season Formula E testing in Valencia, Spain in October. The season then kicks off in Ad Diriyah, Saudi Arabia, in November. For more on Formula E, check out our full guide to the sport.
We've driven the electric Porsche Macan: here's why you should hold off on the petrol model…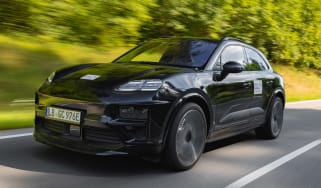 We've driven the electric Porsche Macan: here's why you should hold off on the petrol model…
New Fisker Ocean Sport washes up in the UK: £36k for a 288-mile range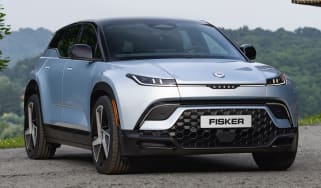 New Fisker Ocean Sport washes up in the UK: £36k for a 288-mile range
American EV startup Fisker has just launched its entry-level Ocean SUV in the UK, with a range of up to 288 miles
First contact: facelifted Kia EV6 will look even more like a UFO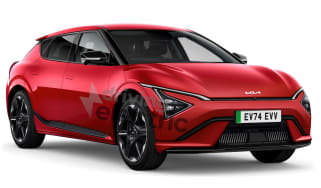 First contact: facelifted Kia EV6 will look even more like a UFO
Kia is readying an update for the EV6 crossover, which is set to include a new face and tech from the larger EV9
Big price cut: Electric Renault Megane prices slashed in time for Christmas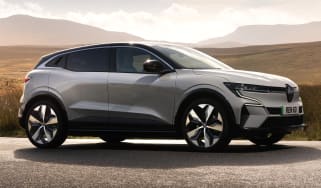 Big price cut: Electric Renault Megane prices slashed in time for Christmas
Renault Megane E-Tech gets a price drop of up to £3,500, bringing the starting price to just £34,495