UK's EV charging network failing to provide equal access for disabled drivers
Lack of accessibility to charging points may be in breach of equality laws according to new campaign, with the UK's Blue Badge holders at risk of being forgotten in the switch to EVs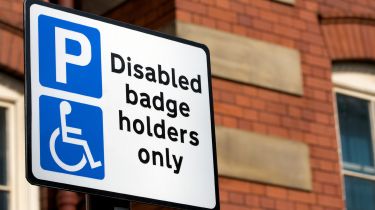 A new campaign is calling for the establishment of specific regulations regarding electric vehicle (EV) charge point accessibility, after research demonstrates the current infrastructure's failure to do so.
The 'Equal Access for All' campaign launched by DrivingElectric's sister brand Auto Express, seeks to raise awareness of this issue, after its research revealed EV charging providers are failing to meet their accessibility obligations under the Equality Act – with the UK government also moving slowly to intervene.
The campaign is calling for the urgent provision of accessible EV charge sites, and for the government to establish regulations on minimum numbers of accessible EV charging bays at any one location. It is also asking for charging point operators to ensure their units and locations meet Equality Act 2010 obligations.
These calls have been backed by elite paralympic basketball player and electric-car owner Ade Adepitan (pictured below), who said the UK's charging network as it stands is often "rubbish" and does not work for the disabled community.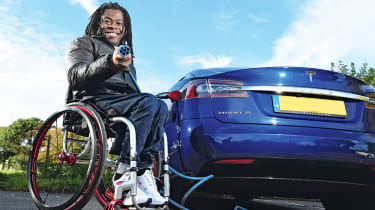 Adepitan, who has driven a Tesla Model S adapted with hand controls since 2016, and has covered almost 40,000 miles in his EV, said: "Is the infrastructure perfect? Far from it. Does it work for the disabled community? Absolutely not."
He added, "I'm so lucky because I'm a really able disabled person, but there are so many charge points that are rubbish. I've been cursing and swearing so many times; if I get too close to the charge point, then I can't open the door to get my chair out, and if I go further away then I'm too close to the curbside. 
"Other chargers are either too high and you can't see the screen, or they're in an awkward position for you to plug the cables in. It's awkward," he said. "But that's just like the public transport system, and challenges aren't new to any disabled person. We need to get more disabled people driving EVs."
An investigation into charging point accessibility led by Auto Express' consumer and features editor, Chris Rosamond unearthed a catalogue of failures, ranging from equipment that was unnecessarily difficult for wheelchair users to access to a lack of appropriate audio-visual support.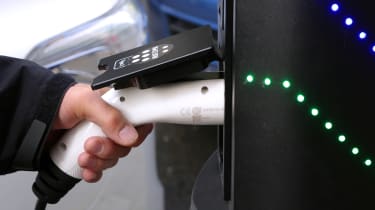 Rosamond said: "There's been a systematic failure to anticipate disabled needs when installing charging infrastructure, and there's no Government regulation as a back-stop to ensure disabled needs are met."
Fazilet Hadi, head of policy Disability Rights UK, explained the implications of charging points that are not accessible for all drivers: "Charging points should be accessible to wheelchair users, those with dexterity issues and people with sensory impairments.
"Those commissioning charging points without considering their duties under the Equality Act are breaking the law," she said. "The Government needs to take urgent action to prevent thousands of inaccessible charging points being installed. It's turning the clock back on the needs of disabled customers."
The charity Motability has been working to develop and set accessibility standards for electric-car charging points in the UK, in partnership with the government and the British Standards Institute (BSI), for some time.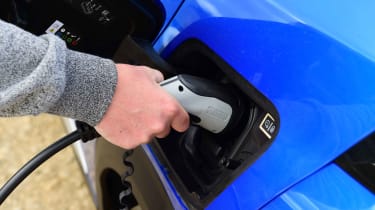 According to the charity's head of innovation, Catherine Marris, by 2035 up to 1.35 million disabled people will be wholly or partially reliant on public charging infrastructure; a network which has not been designed with these individuals' needs in mind.
Partnership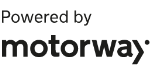 Need to sell your car?
Find your best offer from over 5,000+ dealers. It's that easy.
"As the 2030 ban on the sale of new petrol and diesel cars approaches, it is imperative that disabled people aren't left behind in the race to install the UK's charging infrastructure," Marris commented. 
"Work to secure accessibility standards is vital as the rapidly expanding charging-point market means that many operators may lock in designs and infrastructure for many years without considering accessibility for disabled users," she said.
However, the new standards, which according to Motability, will provide consistent guidance for the industry on how to make charging points more accessible currently aren't expected to arrive until mid-2022. Among the factors they'll look at are the space between bollards, charging units being of a height suitable for wheelchair users, plus size of parking bays and kerb heights.
As part of the campaign, Auto Express spoke to a number of leading EV charging providers, like Osprey, who reaffirmed the need for clear regulations on the standard for charging bays. Meanwhile, Pod Point is "currently working with industry to establish best practice for the provision of accessible charging infrastructure", and BP Pulse, which operates over 8,000 charge points, has set up its own accessibility team to focus on these issues.
Adrian Keen, CEO at Instavolt, whose network currently includes 600 chargers with plans to add another 5,000 by 2025, said: "I often speak to customers directly on these issues and we are engaged with Motability to further understand the challenges that drivers who need accessibility spaces face when trying to charge their car. We know more must be done to make EVs as easy to use and inclusive as possible."
BMW i4 facelift to topple Tesla with huge range and tech upgrades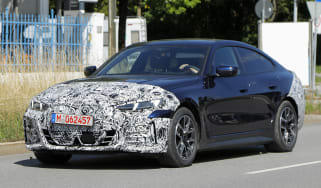 BMW i4 facelift to topple Tesla with huge range and tech upgrades
An updated version of the BMW i4 has been spotted testing, likely sporting a longer range and the latest technology
Electric BMW iX2 is set to take the kidney grille to the next level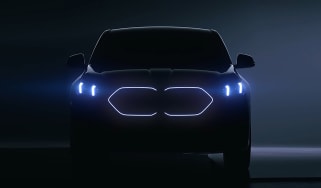 Electric BMW iX2 is set to take the kidney grille to the next level
BMW has teased the highly-rumoured iX2 coupe-SUV, which has been revealed to get enlarged illuminated kidney grilles