New 2021 BMW iX electric SUV: prices, specs and release date
The new BMW iX electric SUV promises a 373-mile range and 200kW charging speed; arrives in the UK November 2021 starting at £69,905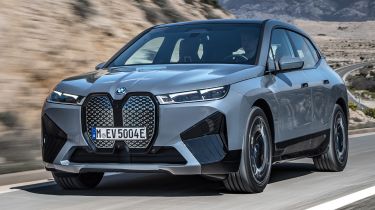 The BMW iX, the German brand's range-topping electric SUV, will go on sale in November in xDrive40 and xDrive50 forms, and there's a more powerful variant already in the works. The iX will be available at launch in Sport and M Sport trim levels.
The entry-level xDrive40 Sport will cost from £69,905, rising to £91,905 for the xDrive50 Sport model. Upgrading to M Sport trim costs an additional £3,000, with prices starting from £72,905 and £94,905 for the iX xDrive40 and xDrive50 M Sport respectively.
The xDrive40 has a 249-mile range, while the xDrive50 offers a 373-mile driving range. That version also brings 200kW charging speed, which takes the battery from 10-80% charge in just 40 minutes, while the entry-level car can charge at speeds up to 150kW, which BMW says will add 56 miles of range in 10 minutes.
Both models have two electric motors, one on each axle, for four-wheel drive. The xDrive40 makes over 322bhp and can go from 0-62mph in just over six seconds, while the xDrive50 has over 516bhp and goes from 0-62mph in 4.1 seconds. However, BMW has also confirmed that there will be an iX M60 variant coming soon, which the brand claims will produce over 600bhp, so we expect a 0-62mph time of well under four seconds. 
Prices for the iX xDrive40 and xDrive50 in Sport trim start at £69,905 and £91,905 respectively. All models feature 21-inch alloy wheels, 12.3-inch digital driver's display, 14.9-inch infotainment screen, and an 18-speaker Harman Kardon sound system, as well as BMW safety systems like parking assistant and driving assistant professional. xDrive50 Sport cars also come with integral active steering and air suspension on top of their 200kW charging capability. 
M Sport models get sportier styling thanks to an aerodynamics pack, which includes new front bumper and side skirts and M Sport brakes. The starting price of the iX is close to that of the plug-in hybrid BMW X5, and it's a similar size and shape to that car. Rivals for the iX include other luxury electric SUVs like the Tesla Model X, Mercedes EQS SUV, Audi e-tron S and Jaguar I-Pace.
However, there are plenty of optional extras, most of which come as part of packs. The list includes a 'skylounge' pack, which adds a panoramic sunroof and sun-protection glass, while the 'comfort plus' pack includes soft-close doors and heated and vented seats and the 'technology plus' pack adds parking assistant, interior camera and a Bowers & Wilkins stereo. Prices for these packs have not been disclosed yet.
BMW iX electric motor, range, charging and batteries
The iX is powered by the fifth generation of BMW's 'eDrive' electric powertrain, which in the iX includes two electric motors that produce 322bhp and 630Nm of torque in the xDrive40, which makes it capable of 0-62mph in 6.1 seconds. The more expensive xDrive50 variant gets 516bhp and 765Nm of torque from its powertrain and a 0-62mph time of 4.6 seconds. xDrive50 models also get a larger 100kWh battery, capable of up to 373 miles on a single charge.
We expect this will be the same unit that the forthcoming iX M60 will use, although so far BMW has only confirmed that its first electric M model will produce over 600bhp. The M60 should be capable of 0-62mph in under four seconds, much like the latest Tesla Model X.
When it comes to charging, you'll be able to replenish your battery at speeds of up to 200kW in the iX xDrive50, if you can find a fast enough charger 'in the wild'. That would allow for a top-up from 10% to 80% capacity in less than 40 minutes, while charging fully from an 11kW home wallbox will take under 11 hours. 
Meanwhile, the entry-level xDrive40 comes equipped with a 75kWh battery, which BMW claims is capable of returning 249 miles of range. The iX xDrive40 is only capable of charging at speeds up to 150kW, which means you can still take advantage of the growing number of ultra-rapid chargers in the UK. At that speed, it also takes less than 40 minutes to charge the battery from 10% to 80% due to the xDrive40's smaller battery.
Design
Aerodynamic touches include the overall streamlined body shape, flush doorhandles and slender door mirrors, as well as adjustable flaps built into the grille and other front surfaces of the car. These stay closed most of the time but can open when extra cooling air is required.
BMW reckons up to 40 miles of the iX's range can be attributed to those measures, while further benefits come from an optional sport package that adds 'Air Curtains' up front to direct air over the wheels without turbulence and 'Air Blade' at the rear to minimise the vacuum effect behind the car, adding another nine miles of range. The standard 21-inch alloys can also be upgraded to other designs or 22-inch 'Air Performance' drag-reducing wheels, promising another nine miles of added range.
Finally on the aerodynamic front, particular attention has been paid to sealing and smoothing the underbody where possible, gaining another six miles of range in the process, according to BMW. Elsewhere, a variety of materials have been used in constructing the iX's body in order to keep weight as low as possible, including high-strength steel, aluminium, thermoplastics and carbon-fibre-reinforced plastic.
Interior
According to BMW, the iX has been designed "from the inside out" with prime consideration given to the passenger environment. As there's no large engine block to fit in up front, the windscreen pillars are further forward on the iX than they would be on an equivalent combustion-engined car. This pays dividends when it comes to interior space.
A large panoramic glass roof and no central tunnel to intrude on legroom are said to contribute to a spacious and airy feeling inside the iX, while on-board technology has been designed to be unobtrusive and user-friendly – something BMW calls a 'shy tech' approach. The iX also features a hexagonal steering wheel – a first for BMW – and a head-up display.
The centrepiece of the iX's interior is a slim instrument panel, incorporating a 14.9-inch curved display screen and 12.3-inch digital driver's display – the first time such technology has been offered in a production BMW. The screen appears freestanding from the occupants' point of view and is made from anti-reflective glass, so does not need to be shielded from sunlight.
Voice control and touchscreen functionality can be used to operate most functions, but drivers can also use the familiar BMW iDrive control wheel to navigate menus and select options if they prefer. The wheel is integrated into a centre console that features a control surface divided up by 'feeler bars' instead of conventional separate buttons.
The space gained from the lack of a central tunnel is also used to create additional storage in the centre console; the lower level houses a pair of cupholders, a smartphone tray with inductive charging, a 12V power connection and two USB ports. The centre console armrest opens to reveal an illuminated storage compartment.
The sports front seats can be specified with integrated speakers, while in the rear BMW is promising a "lounge-style ambience," with a bench seat designed for three occupants, and the two outer seats getting integrated head restraints. Coat hooks, tablet computer mounts and USB charging ports are all fitted for rear-seat occupants to use, while the rear seats split and fold in a 40:20:40 ratio to allow boot space to be extended.
A number of interior upholstery options will be available, including a textile-and-microfibre blend, Sensatec synthetic leather and natural leather. Wood and recycled plastics are also used around the interior, including on the door panels, seats, centre console and floor lining.
As standard, the iX gets a 18-speaker Harmon Kardon stereo. A further possible upgrade is a Bowers & Wilkins concert-hall setup with 30 speakers (including eight built into headrests) and '4D Audio' capability.
Top 10 best seven-seater electric and hybrid cars 2021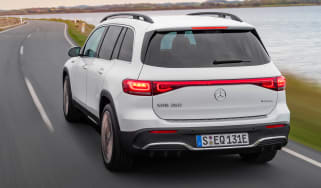 Top 10 best seven-seater electric and hybrid cars 2021
If the regular crop of electrified SUVs and family cars don't provide enough practicality for you, then take a closer look at the range of electric an…
Top 10 best luxury electric cars 2021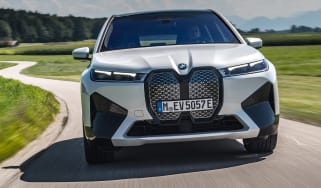 Top 10 best luxury electric cars 2021
From Audi to Tesla, here are our top picks of the most luxurious zero-emissions motoring options on the market right now
2021 Volvo XC40 Recharge electric SUV: single-motor version on sale now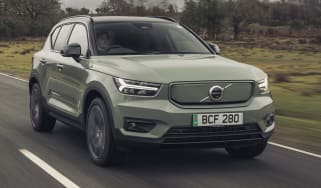 2021 Volvo XC40 Recharge electric SUV: single-motor version on sale now
Volvo has introduced a new single-motor version of its electric SUV, available in two trim levels and with prices starting from £48,300