BMW iX prototype review
Driving a prototype version of BMW's forthcoming flagship electric SUV reveals a thoroughly impressive all-rounder wrapped in love-it-or-hate-it packaging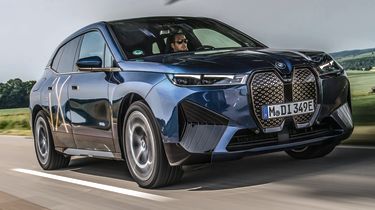 Pros
Impressive range
Masses of space inside
Great to drive despite weight
Cons
Might feel large on UK roads
Very expensive
Divisive styling
| Model | Range | Wallbox charge time | Rapid charge time |
| --- | --- | --- | --- |
| xDrive40 | 257 miles | 11hrs 30mins (0-100%, 7.4kW) | 31mins (10-80%, 150kW) |
| xDrive50 | 381 miles | 16hrs 45mins (0-100%, 7.4kW) | 34mins (10-80%, 200kW) |
A lot has been said about the looks of the BMW iX – the German brand's forthcoming pure-electric flagship model, which takes its recent enlarged 'double-kidney' grille design language to the limit. So much has been said, in fact, that there's little point in adding to the debate here, especially now that we've had the chance to sample a prototype version of the car and so can finally discuss what it's like to drive.
While BMW's early electric cars, the i3 and i8, were quite specialised tools (for city commuting and sporty driving respectively), the iX has all the hallmarks of being a much more versatile all-rounder – albeit an expensive one. It's designed to appeal to those who'd previously run a petrol, diesel or hybrid-engined BMW X5 (or maybe even the larger BMW X7). And unlike the BMW iX3, which effectively sticks battery packs and electric motors into the BMW X3's chassis, the iX has been designed from the ground up as a pure-electric model.
Measuring very nearly five metres from end to end, and with a three-metre wheelbase between the axles, the iX is certainly not short on space inside. Adults can stretch out no matter where they're sitting, with the lack of a transmission tunnel protruding from the floor adding to the sense of plentiful space in the rear.
With the batteries integrated into the car's floor, there's no protrusion into the boot, leaving a 500-litre luggage capacity with all seats in place, or 1,750 litres if you lower the rears. And if you have even more stuff to shift (or a horsebox, caravan or other trailer), the iX can haul up to 2,500kg behind it. Standard all-wheel drive further boosts its towing effectiveness.
Our test-drive prototype was the larger-batteried and more expensive xDrive50 variant, which will cost just short of £92,000 in the UK. Dual electric motors (one each on the front and rear axles) produce a combined total of 516bhp and 765Nm of torque. Those numbers are why, despite weighing 2.5 tonnes, the iX pulls away easily and swiftly when you squeeze the accelerator. On the move, power is constantly shuffled between the two motors and four wheels by the iX's electronic brain, but all you notice from behind the wheel is a feeling of surefooted grip and serene progress on almost any type of road.
That's aided by standard air suspension, which ensures a super-smooth ride however pockmarked the road, and the trademark near-silent progress offered by any electric car. Turn in to a corner and you'll immediately notice how delicate and precise the iX's steering is – but this doesn't also mean it's nervous and fidgety when you just want to cruise in a straight line down the motorway.
Indeed, the iX is one of those cars where you have to be very careful not to inadvertently exceed the speed limit: on a dual-carriageway, 60mph feels more like 30mph, while 120mph on a German autobahn feels more like the UK motorway limit of 75mph. Incidentally, unlike most German luxury cars of recent times, the iX doesn't top out at an autobahn-friendly 155mph; instead it's limited to just over 120mph in order to preserve range.
There is plenty of range to preserve, though, thanks to the xDrive 50's hefty useable battery capacity of 105kWh: enough for over 380 miles, according to official tests. And even the cheaper xDrive 40 (starting at just under £70,000) should be able to exceed 250 miles in ideal conditions. And like nearly every electric car these days, the BMW iX draws energy back into the battery when you slow down using a regenerative braking system.
But as well as allowing you to adjust the strength of regeneration manually, it also features an adaptive mode that can automatically vary the level to what works best with the prevailing road and traffic conditions. So you won't find yourself jerked forward if you lift off having just accelerated onto a near-empty motorway, even if the system was previously regenerating heavily in stop-start traffic.
It's another clever touch in a car that's full of them, and they all add up to a very impressive overall package that will give potential Tesla Model X buyers pause for thought. The wider car-buying public, however, will be hoping some of them trickle down to more affordable models before too long.