New Bentley Bentayga Hybrid revealed
Facelifted Bentley Bentayga gets plug-in hybrid power and 443bhp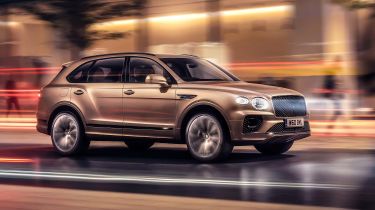 Following its comprehensive facelift in 2020, the Bentley Bentayga has regained plug-in hybrid power. Simply named Bentayga Hybrid, the new car is set to challenge the likes of the Porsche Cayenne Turbo S E-Hybrid and Range Rover PHEV P400e when it goes on sale later in 2021. 
Power comes from a 3.0-litre V6 petrol engine and an electric motor that's closely related to the powertrain in its Porsche rival; the cars have very similar mechanical underpinnings.
A 17.3kWh battery provides electric power and can be charged in two-and-a-half hours according to Bentley, although no official charging speed is given. Bentley also claims a 31-mile electric range and a total 536-mile range with the petrol engine factored in, but these figures were measured using the now-discontinued NEDC testing procedure.
There are three main driving modes: EV Drive, Hybrid and Hold. These perform the usual functions of allowing for pure-electric running (at up to 84mph), automatic shifting between petrol and electric power, or holding onto the battery's charge until it's needed later in a journey.
In EV Drive mode, the Bentayga's accelerator pedal has a pressure point that lets you feel where the switchover point to petrol power is. Bentley says that this encourages the driver to use electric power as much as possible.
Like its purely petrol-powered counterpart revealed in 2020, the facelifted Bentayga Hybrid benefits from a new look inside and out. Its exterior takes styling cues from the latest Continental GT, with a new grille, smaller headlights and oval tail lights. Inside, a revised dashboard houses an upgraded 10.9-inch infotainment screen that supports Android Auto and wireless Apple CarPlay.
The options list is as long as you would expect, with Bentley's usual focus on bespoke customisation. A huge array of leather colours and wood trim is available, along with a choice of a four or five-seat layout
A Bentley-branded home wallbox is a no-cost option and all cars come with a set of charging cables. A dedicated 'My Bentley' app allows for remote monitoring and control of features like cabin temperature, battery charging and driving data.
Best plug-in hybrid SUVs 2021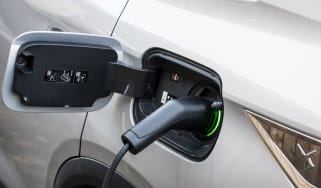 Best plug-in hybrid SUVs 2021
A good plug-in hybrid SUV should combine low running costs with excellent practicality. These are some of the best on sale right now
Where can I buy hydrogen and where is my nearest hydrogen filling station?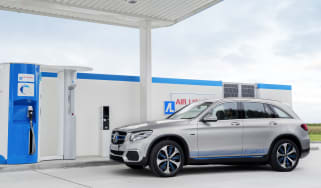 Where can I buy hydrogen and where is my nearest hydrogen filling station?
A guide to where you can find UK hydrogen fuel stations for filling up a hydrogen fuel-cell car
Best electric SUVs 2021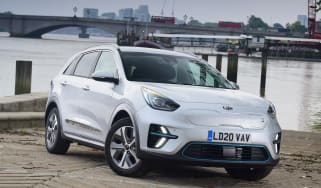 Best electric SUVs 2021
Our selection of the best electric SUVs you can buy features cars that promise to mix style, practicality and rock-bottom running costs