Audi Q7 e-tron (2016-2019) engines, drive & performance
There's a tempting combination of performance and economy in the Audi Q7 e-tron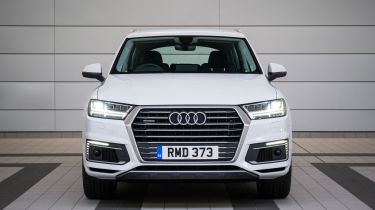 You may well come to the Audi Q7 e-tron because of its low emissions and good fuel economy, but they're not its only attractions. In fact, its combination of a powerful V6 diesel engine with an electric motor means it can supply some equally impressive performance, too. And, thanks to its soft suspension, you get a comfortable ride, while the four-wheel drive gives it extra traction and versatility.
Audi Q7 e-tron hybrid engine, 0-62mph and acceleration
Thanks to its combination of a powerful 3.0-litre V6 diesel engine and an electric motor, the Q7 e-tron has a total of almost 370bhp. That means it's remarkably punchy and very fast. With a 0-62mph time of 6.2 seconds, it's as quick as a hot hatch. There's enough low-down power to make overtaking a breeze and it'll carry on all the way to a top speed of 143mph.
What's still more impressive is how quiet the Q7 e-tron is. It's almost silent under electric power and barely any noisier when the diesel engine is called into action.
Handling
Although the Q7 is as quick as some sports cars, it's no great surprise that it handles very differently in corners. Rather than being sharp and agile, it concentrates on providing a very comfortable ride – which, in all honesty, is what most want from what is effectively a big family car. The good news is that the Q7 is very impressive in this regard. Plus, as ever, Audi's famous quattro four-wheel-drive system provides fantastic grip and traction in all conditions.
Compared to the Volvo XC90 T8 hybrid, the Q7 e-tron feels more comfortable and makes a great car for cruising along the motorway. The downside is that the Q7's extra weight and softer suspension mean it tends to feel less agile when driven hard and more prone to lean in corners.
Considering its size and weight, though, it handles pretty well. Although there's some body lean, it's well controlled and the steering is accurate. If you want comfort above all else, it's worth finding a model fitted with the optional adaptive air suspension – a £2,000 option when the car was new.