Audi Q7 e-tron (2016-2019) running costs
The more you can run it on electric power only, the cheaper the Audi Q7 e-tron will be to run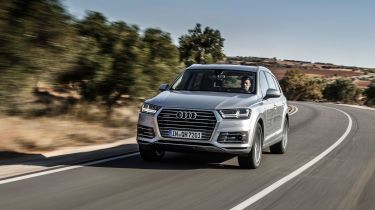 Costing just shy of £70,000, the e-tron was one of the more expensive Q7s when new. Instead, buyers can hope to save money through the excellent fuel economy. Of course, achieving the headline-grabbing official figure of around 150mpg is a tall order in real-world driving. However, as long as you can keep the batteries charged up and use electric power as much as possible, an average of 70mpg is feasible – still a great return for such a large and heavy SUV.
What's also attractive is that the Q7 e-tron is exempt from the London Congestion Charge, as it emits less than 75g/km of CO2. Sadly, as you can see below, it isn't such good news when you look at the road tax.
Audi Q7 e-tron insurance group
Sitting in insurance group 44, the Q7 e-tron is a few notches higher than a 3.0-litre TDI diesel Q7 of the same age. However, its insurance costs will be more on par with those of the equivalent BMW X5 and Volvo XC90 models, which all fall within a couple of groups of the Audi.
Warranty
There was no special warranty for the Q7 e-tron or any of its components, so it's covered by the same three-year/60,000-mile guarantee that comes with every new Audi. This was extendable in one of two ways: for a one-off fee of £565, the cover applied for four years and 75,000 miles; for £1,335, your car was covered for five years and 90,000 miles.
Servicing
Perhaps confusingly, Audi owners can choose from two servicing schedules for their Q7. The Fixed plan (with services every 9,000 miles/one year) is recommended for lower-mileage drivers who do more city and town-centre driving. In contrast, the Flexible plan (with up to 19,000 miles/two years between services) is better suited to people who drive longer distances, typically on motorways and main roads.
On top of that, there are several different ways to spread the cost of servicing. Under the Audi Complete scheme, for instance, you can make a monthly payment to cover your car's servicing, maintenance and (if you want) tyres. The plan is tailored around the number of miles you drive each year, from 5,000 to 40,000, up to a total of 120,000 miles at the end of the contract
You can also pay up front for an Audi Service Plan, which will cover two services. For a Q7 e-tron, this costs just under £600 or 18 monthly payments of £33.
Road tax
Sadly, it isn't as good news as you might expect here. Although the Q7 e-tron will only cost £10 to tax in the first year, after that you'll pay the £130 yearly tax rate for alternative-fuel vehicles; and, on top of that, you'll also pay an annual £310 surcharge for five years thanks to the Q7's £40,000-plus list price.
Depreciation
As you'd expect of an Audi, the Q7 e-tron holds on to its value pretty well. After three years and 36,000 miles, it should still be worth about half what it was when new. Impressive as that is, though, it's still not quite as good as other non-hybrid versions of the Q7 or the equivalent BMW X5 or Volvo XC90. It's very good news for those in the market for used model, however.